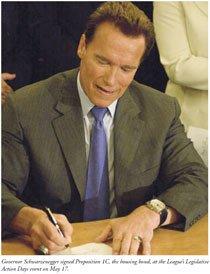 Giving Credit Where Significant Credit Is Due
One of the first things I read after coming to California in 1999 was Peter Schrag's thoughtful book Paradise Lost: California's Experience, America's Future. The author, a columnist and former editorial page writer for the Sacramento Bee, provides a critique of the social and economic forces that led to a reversal in the late 20th century of California's reputation as a leader in democracy, public works, excellent schools and higher education system, and more.
Schrag's analysis is relentless, accurate and sobering. He examines the state's freefall as an aging group of voters became reluctant to continue investing in California's infrastructure for many reasons.
Every generation has its moments when the past is viewed wistfully as an era of "milk and honey" — when everything was easier, less expensive and more ethical. In looking back we have to exercise care not to turn every observation into the equivalent of those "in my day" stories we tell our children and grandchildren. Schrag's book and other reports of our state's arrested and declining development over the past two decades are anything but that. As with any social trend, it's also possible that the downward course we have been on may have finally hit bottom, and California may begin regaining its position as a national leader in public services.
Could This Be a Turning Point?
Perhaps the most vivid example of this potential turnaround is the recent passage by the Legislature of five separate measures concerned with rebuilding and expanding the long-neglected infrastructure of our state. As I write this column, we have just concluded the League's Legislative Action Days in Sacramento, where we celebrated this incredible success. Joining us for the celebration were Governor Schwarzenegger, legislative leaders and key legislators like Senator Bob Dutton (R-Rancho Cucamonga), who played such an important role in securing passage of the package, including the transportation bond package (Proposition 1B) that contains $1 billion each for city and county road maintenance, substantial funding for state highways and transit, goods movement funding and other important features.
At that event on May 17, the governor signed the housing bond, Prop. 1C, and reflected with us on the significance of the investment contained in that and other bond measures. Our First Vice President Maria Alegria then presented the governor and a number of legislators with commemorative shovels, marking the achievement of the Legislature and governor for all Californians. Thanking the roughly 30 legislators and 500 city officials present, the governor reminded us that the job is far from done. We all need to help secure passage of the infrastructure package on the November ballot.
Acknowledging Leadership
The League honored six legislators that day, all of whom came to the Legislature from local government. Leading the list and deserving of most praise was Senate President Pro Tempore Don Perata (D-East Bay), former Alameda County supervisor, who has made infrastructure a priority for many years, especially the past two. He was the first legislator to put an infrastructure package on the table, and he was relentless in his advocacy for substantive and comprehensive legislative action. There would not be a housing bond in the infrastructure package if not for Sen. Perata's personal commitment and effort. Furthermore, that package contains substantial funding for infrastructure and parks in conjunction with infill and transit-oriented housing and business development in the future. Few, if any, states have proposed making similar commitments to this type of "smart growth" development and infrastructure expansion. Sen. Perata spoke twice at Legislative Action Days about the importance of this type of incentive to help redevelop our central cities.
Also honored were:
Sen. Dick Ackerman (R-Tustin), former Fullerton mayor and council member;
Sen. Tom Torlakson (D-Antioch), former Antioch council member and Contra Costa County supervisor;
Sen. Alan Lowenthal (D-Long Beach), former Long Beach City Council member;
Sen. Bob Dutton (R-Rancho Cucamonga), former Rancho Cucamonga City Council member; and
Assembly Member John Laird (D-27), former Santa Cruz mayor.
How They Helped
Sen. Ackerman, Senate minority leader and last year's League "Legislator of the Year," devoted many months to detailed discussions about the infrastructure package. When the package did not come together in mid-March in time for the June ballot, he worked with the governor, his caucus colleagues, Sen. Perata, and other legislative leaders and members to continue producing options and negotiate the many trade-offs necessary to produce a final package.
Sen. Torlakson approached the League and other transportation stakeholder groups more than a year ago and suggested we sponsor an initiative to reform Prop. 42 and close its loophole that allows the Legislature to divert this important transportation revenue source. In the final negotiations, the senator's own legislation on this subject, SCA 7, became the vehicle for the first leg of the package, which is now known as Prop. 1A. It borrows from the provisions of our own Prop. 1A of 2004 to limit the Legislature's ability to divert the gasoline sales tax revenue to the general fund.
Sen. Lowenthal, another former League "Legislator of the Year" and chair of the Senate Committee on Transportation and Housing, led his committee in producing a comprehensive report on the infrastructure investment needs of our state, calling for important investments to facilitate goods movement, air quality enhancements, affordable housing and other essential needs. He was a stalwart force in the ongoing negotiations, supporting a balanced investment package.
Sen. Dutton was a key leader in the minority caucus, working with Sen. Ackerman to negotiate many aspects of the final package, including the transportation and housing bonds. Our staff worked closely with him on the inclusion of $1 billion for both cities and counties in the final transportation bond package for street, road, transit and other transportation improvements. He was steadfast in the effort to include this in the package and was an able supporter of the final five-bill package when it came to a vote on the Senate floor.
Assembly Member Laird, chair of the Assembly Budget Committee, worked closely with Speaker Fabian Núñez (D-46) to craft the Assembly's position on the infrastructure package. Laird has become an expert on the state budget and is looked to by his peers as a "go to" person on all aspects of the state budget, including any new bonded indebtedness. He and Núñez provided valuable leadership in putting together the final infrastructure package.
The five legislators and former local elected officials were joined by Speaker Núñez and Assembly Minority Leader George Plescia (R-75) in finalizing and securing legislative support for a proposal for the most significant investment in the state's infrastructure in modern history. In light of our infrastructure deficit, however, most agree that it is a significant start in reversing our decades-long trend of walking away from our responsibility to maintain and build the infrastructure needed for our growing state and its future generations. In acting to protect both our state's legacy and its future, these forward-thinking leaders are helping California become a national and world pacesetter again.
Governor Plays Key Role
It would be inappropriate to overlook Gov. Schwarzenegger's substantial contribution to this accomplishment. When circumstances called for him to set the tone and direction of the debate, he did it with his proposals last January. When prodding and pushing were needed in early March, he did it. And he provided steady, but less visible, leadership and support when the legislative leadership took a more prominent role toward the end of the process in early May. Both Democratic leaders publicly recognized the importance of the governor's role at the end, even though he let the Legislature shine and take its proper role in the governance of our state.
Does the fact that the Legislature and governor approved this important infra-structure investment package secure California's position as a leader again? Of course not, but it is a critical and substantial beginning upon which we can all build. Many other challenges lie ahead, including a divisive fight on eminent domain that could diminish the value of the infrastructure bond package. All of our state leaders have clearly set a foundation for future success — a direction that the League will surely support.
Looking Ahead
Finally, it is with considerable satisfaction that I note the prominent role that so many former local elected officials played in the formulation of the infrastructure investment package. For those who have wondered in recent years whether these legislators would leave their mark, this leaves little room for doubt. This is one of the many reasons the League board was particularly happy to lend its unanimous support to the entire infrastructure investment package at its May meeting. There are many more challenges ahead to tackle, and we hope these legislators will lend their considerable skill and experience to those efforts as well.
Congratulations to all on a job well done! Now let's go on to win in November.
---
This article appears in the July 2006 issue of Western City
Did you like what you read here? Subscribe to Western City
---