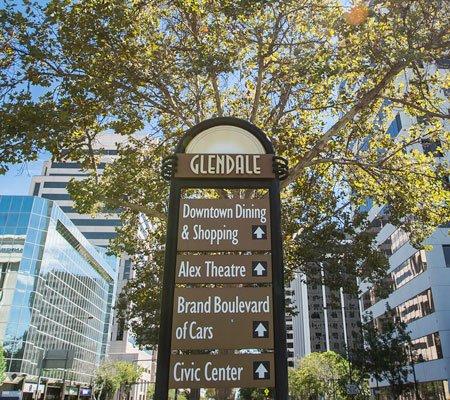 Glendale's Economic Development Programs Revamp Its Image
Scott Ochoa is city manager for Glendale and can be reached at sochoa@ci.glendale.ca.us. Sharon Mann Garrett is principal economic development officer for Glendale and can be reached at sgarrett@ci.glendale.ca.us.
---
The City of Glendale (pop. 192,654) in Los Angeles County has transformed itself from a sleepy suburban community to a bustling regional destination.
City leaders credit two key elements. First, the city council implemented business-friendly economic development programming, whereby every city department supports the business community and has economic development priorities woven into its performance goals. Staff has streamlined internal systems to eliminate red tape and inefficiencies. Even in the wake of severe budget and staffing cuts related to redevelopment dissolution, the city council directed management to forge ahead.
Second, a decade of public-private partnerships in development has provided the impetus for change. A super-regional shopping center opened downtown in 2008 and spurred a wave of new private investment in Glendale's downtown retail and Class A office core. An adjacent center completed a major renovation in 2013, adding a wing of new luxury retail stores. As retail shaped up, the city approved more than 3,000 housing units for development in the downtown area. The allure of new luxury apartments is also driving up interest in surrounding older and historic properties.
Another recently completed development, Disney's Grand Central Creative Campus in Glendale's industrial corridor, is prompting high demand for nearby industrial and creative office space. A burgeoning cluster of employment in digital entertainment, production and other creative industries has resulted.
In concert with development, city leaders spearheaded projects to enhance the quality of life for residents and visitors to Glendale. Recognizing that arts and culture can attract a vibrant population, the city council approved renovations to the Alex Theatre, rehabbed the Brand Library and art galleries and committed funding to reinvent the city's Central Library. The Museum of Neon Art is being constructed along a new pedestrian paseo that will enhance circulation between the shopping areas, civic areas, and arts and cultural venues.
Although Glendale was once considered painfully unhip, now numerous mentions of its restaurants and amenities appear in the lifestyle press. Glendale was named one of Los Angeles' best neighborhoods by the popular Curbed LA lifestyle e-zine in January 2014.
Challenges of Infill Development: Parking Demand and More
Still, the city faces economic development challenges. The downtown core comprises Class A office towers that were hard hit when financial, real estate and insurance companies contracted during the recession. Landlords still struggle in a buyers' market for long-term tenancies.
New trends in office use are compounding the office vacancy issue. Prospective companies are squeezing more employees into less space than their predecessors. They demand state-of-the-art offices with new features like collaboration spaces, varied ceiling heights, outdoor rooms and theater- style conference rooms. As a result of higher employee density, parking demand is increasing. In a city that's already built out, accommodating the need for additional parking is a tough problem to solve.
Understanding that the Class A office community is critical to the success of retail and service merchants in the downtown area, the city is responding with an aggressive campaign to improve occupancy. The economic development team hosts frequent meetings with property representatives, service providers and hoteliers to help craft sales approaches and encourage resource sharing. Recent successes include several new Fortune 500 tenants.
Contact: Phil Lanzafame, director of economic development, City of Glendale; phone: (818) 548-2005; email: planzafame@glendaleCA.gov.
---
Best Practices
The city's economic development programs encompass a broad range of efforts.
Concierge Service. The hallmark of Glendale's success in economic development has been its concierge-level customer service. Any business, from a mom-and-pop shop to a major corporation, receives one-on-one assistance from a seasoned project manager.
Site Location Assistance. The Glendale team maintains close ties with the property community to stay current on available real estate and responds to requests for site assistance with customized information. City staff escorts prospective companies on neighborhood tours and arranges property visits with brokers and landlords.
Pre-Inspection. Any property owner, broker or prospective tenant can request a pre-inspection of property systems. The pre-inspection offers an advance expert look at a property. This can help parties formulate business terms well in advance of any hard-money negotiation.
Business Recruitment. The city maintains a two-way dialogue with businesses that could take advantage of pent-up demand in the Glendale market area. The economic development team also conducts canvassing visits in competing trade areas to keep abreast of hot concepts and develop leads.
Community Benefit Districts. Glendale has long utilized its community benefit districting authority to help commercial neighborhoods pool their resources. Currently two districts assess themselves annual fees for community benefit. Montrose Shopping Park is a district of quaint shops and restaurants in a village north of the downtown. For decades, this district has maintained street festivals, community events and promotions that drive shopping and nightlife traffic to its retailers. The Downtown Glendale Association is a newer community benefit district that aims to keep the downtown area safe and clean to enhance marketability.
Online Marketing and Social Media. Glendale provides marketing brochures and data analyses to the business community for use in attracting and retaining customers. The city uses Twitter, Facebook and Instagram @MyGlendale to create buzz about news in #MyGlendale. Glendale refreshed its website to be interactive and friendly. A monthly e-newsletter delivers important city news to the public.
Regional Collaboration. Glendale actively participates in the Los Angeles regional policy arena as a member of the League, Los Angeles County Economic Development Corporation, California Association for Local Economic Development, Valley Economic Alliance, chambers of commerce and numerous local professional, business and social organizations.
Staffing Assistance. Through its regional Verdugo Jobs Center, economic development staff assists with mass recruitments and layoff aversion projects. This partnership has resulted in expedited staffing for hundreds of new retail and industrial jobs.
---
This article appears in the May 2014 issue of Western City
Did you like what you read here? Subscribe to Western City
---