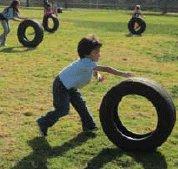 HEAL Cities Campaign Supports Healthy Communities
Charlotte Dickson is director of the Healthy Eating Active Living (HEAL) Cities Campaign at the California Center for Public Health Advocacy and can be reached at cd@publichealthadvocacy.org. For more about the HEAL Cities Campaign, visit http://healcitiescampaign.org.
---
Obesity and related diseases threaten the health of cities' most vulnerable populations, particularly children and youth. As part of an effort to address obesity, California cities are participating in the Healthy Eating Active Living (HEAL) Cities Campaign and adopting land-use, economic development and employee wellness policies that support health.
The HEAL Cities Campaign, launched by the League and the California Center for Public Health Advocacy in 2008, offers workshops, technical assistance, model policies and a website to help cities become healthier places to live and work. The campaign also works closely with the U.S. Department of Health and Human Services Region IX on the Let's Move Cities, Towns and Counties initiative.
How HEAL Makes a Difference
Communities that lack ample grocery stores, sidewalks or adequate accommodations for pedestrians and bicyclists pose significant challenges for people who live or work there and want to make healthy choices. To address these challenges, the HEAL Cities Campaign supports cities in adopting policies that:
Promote walking, biking and physical activity; and
Enhance access to fresh fruits, vegetables and other healthy foods.
Implementing these policies makes it easier for residents and municipal employees to buy wholesome food and walk, bike or use public transit to get to school, work and stores. In a HEAL city, families might follow a walking path to a vibrant city park, shop at a local farmers market or buy healthy snacks at the public pool.
More than 100 California cities have joined the campaign, adopting policies and resolutions supporting healthy communities. At its November 2011 meeting the League board of directors passed a motion supporting 100 percent participation in the campaign by cities with representatives on the board. The League's Community Services Policy Committee also took similar action in early 2012 to encourage its member cities to participate in the HEAL Cities Campaign. Encouraging cities to adopt policies and programs that promote health and wellness in the community is a League policy. The National League of Cities has also resolved to support HEAL's expansion, and state municipal league executives in Maryland, Oregon and Virginia are actively exploring similar projects.
Cities Take Action With HEAL
Cathedral City has a population of 51,200 and a childhood obesity rate of 28 percent. Council Member Greg Pettis, who also serves on the League board of directors, first heard about HEAL at a League conference and encouraged his city to join. Pettis works with HEAL to keep Cathedral City's attention focused on solutions to the obesity problem. The city recently partnered with the local Rotary Club to establish community gardens at two low-income housing projects. Cathedral City will add a sustainability chapter addressing HEAL principles to its General Plan and is working on a program to get residents walking outdoors.
Council Member Leonard McNeil represents 29,139 residents in San Pablo, a city with a 37 percent childhood obesity rate. McNeil learned about the HEAL Cities Campaign while serving on the League's Community Services Policy Committee. Since joining the campaign, the San Pablo City Council unanimously passed a General Plan Health Element and established a new Health Commission to support the effort. San Pablo has adopted a wellness policy that replaces unhealthy snack foods with healthier options at city-sponsored events, and the city staff launched a walking club. San Pablo is also hosting 60 low-income residents in a series of classes about maximizing nutrition on a budget; topics include cooking, financial literacy and smart shopping.
Eight cities in Los Angeles County — Baldwin Park, Bell Gardens, El Monte, Huntington Park, La Puente, Pasadena, San Fernando and South El Monte — have adopted policies to offer healthy beverages and snacks to employees and residents who use municipal facilities and programs. Following the example of local schools, these cities offer only items that meet nutrition standards aimed at supporting health. Sugary drinks such as sodas and sports beverages are being replaced with fruit juice, low-fat milk, diet drinks and water. According to Mayor Pro Tem Marlen Garcia of Baldwin Park, this policy reflects her city's commitment to do everything possible to raise a healthy generation of young people.
For More Information
It's easy to join the HEAL Cities Campaign and make a healthy difference for your community. To learn more, visit http://healcitiescampaign.org/. Download the HEAL Cities Campaign Toolkit, including a sample resolution, at http://healcitiescampaign.org/toolkit.html. For more information, contact Charlotte Dickson, director; phone: (510) 302-3387; e-mail: cd@publichealthadvocacy.org.
---
This article appears in the April 2012 issue of Western City
Did you like what you read here? Subscribe to Western City
---