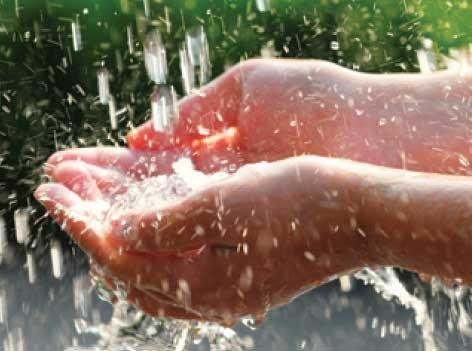 Helping Your Community Save Water
Jennifer Persike is director of strategic coordination and public affairs for the Association of California Water Agencies (ACWA) and can be reached at JenniferP@ acwa.com. For more information about ACWA, visit www.acwa.com.
---
Summer is that time of year when many Californians heed the refreshing call of our rivers, lakes and ocean. We spend our free time playing in the warmth of the sun and cooling off with a dip in the pool. We tend our gardens, water landscaping — and use more water than at any other time of the year. As California faces its third consecutive year of drought conditions, it is more critical than ever that cities help create a legacy of strong water conservation behavior for the benefit of current and future generations.
Population growth, climate change, legal protection for species and an aging infrastructure are creating very real water supply challenges. A third dry year is adding to the problem. But leaders in cities throughout the state are working to advance lasting solutions, including needed investments in the state's water infrastructure and environmental protections in the Sacramento-San Joaquin Delta, the hub of the system that provides water to two-thirds of California's residents. They are also promoting wise investments in local resource strategies such as water recycling and desalination.
However, many of these efforts will take years to come to fruition. To bridge the gap in the meantime, the state Department of Water Resources and the Association of California Water Agencies have launched a public education program called Save Our Water to encourage Californians to reduce their water use.
Developed in direct response to Governor Schwarzenegger's proclamation of a statewide drought emergency and his call for an education program to immediately reduce residential water use, Save Our Water complements local conservation efforts while encouraging residents throughout the state to conserve water.
According to a recent state-wide survey, more than two-thirds of Californians are concerned about having a sufficient water supply. More than eight in 10 indicated they are willing to cut their water usage by up to 20 percent.
The good news is that it's not difficult to save water on a daily basis. Just as Californians have embraced compact fluorescent lamps and recycling, people can easily make a habit of reducing water use inside and outside their homes on a daily basis. As California has seen with energy conservation, small changes in daily habits add up to make a difference.
But the new Save Our Water program alone can't "move the water needle." It needs the support of California's 480 cities to be optimally successful. Each city plays a vital part in ensuring that we not only make it through this year's drought season, but pave the way for efficient water use in years to come.
By becoming active partners in the Save Our Water program, cities can help their residents learn how simple changes in their everyday lives — such as taking shorter showers, turning off the faucet while brushing teeth and keeping a pitcher of cold water in the refrigerator instead of running the tap until the water is cool — can add up to big water savings for the state. These are all easy, painless ways to stretch the state's water supplies.
Cities can have an enormous impact on how residents view their individual water usage. Even in the middle of summer, it's not too late to take action. Please join this important effort to save our state's water. Together, we can make a difference for California.
For more information about how to conserve water or about the Save Our Water public education program, visit www.saveourh2o.org or join the effort on Facebook or Twitter.
---
This article appears in the August 2009 issue of Western City
Did you like what you read here? Subscribe to Western City
---