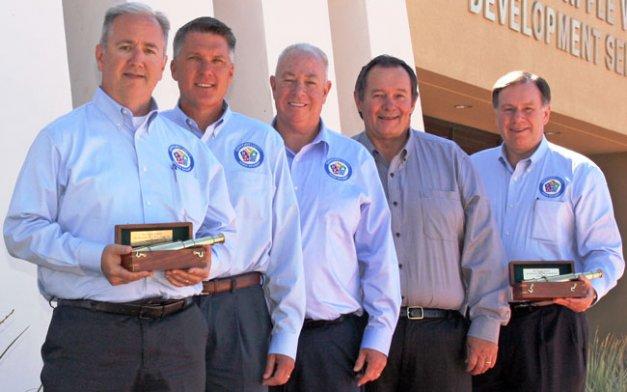 High Desert Cities Collaborate for Economic Development
Kim Summers is deputy city manager of Hesperia and can be reached at ksummers@cityofhesperia.us.
---
Proposals with mysterious code names, clandestine meetings with real estate developers looking to relocate businesses, and fierce competition for every retail outlet, restaurant, office building, industrial facility and warehouse characterized the dynamic among five neighboring municipalities — until recently. "That was the typical description of economic development efforts in the High Desert region in Southern California prior to the dissolution of redevelopment," says Adelanto City Manager Jim Hart. "But no more."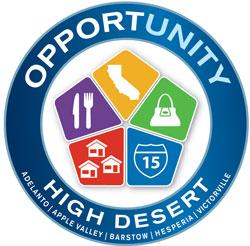 With the loss of redevelopment, the city and town managers of the High Desert region — the Town of Apple Valley and the cities of Adelanto, Barstow, Hesperia and Victorville — realized the future of development for the entire area depended on letting go of deeply entrenched habits, forging stronger relationships and co-operating at the staff level. The result was the creation of a new entity for economic development marketing, known as Opportunity High Desert.
The region saw revenues falling dramatically as the result of plummeting property values, one of the highest foreclosure rates in the nation and unemployment that peaked at 16 percent. The combined population of 393,449 was hungry for services and impatient with infighting between neighboring communities for needed jobs and development.
Located in the High Desert of San Bernardino County, between Rancho Cucamonga and Las Vegas, the 321-square-mile area saw more than half of its residents leave daily to travel 30, 60 or even 90 miles to work, often taking their purchasing power with them. The five government entities share the same demographics, transportation system, water and sewer issues, use the same landfill and have plenty of affordable land available. What wasn't plentiful was funding. "With revenues being cut at every turn and businesses leaving California for less expensive locales, the future of commercial development in the region was looking grim," says Hesperia Mayor Thurston Smith.
"The idea for Opportunity High Desert came about due primarily to the loss of critical funding used to let business owners and developers know that there was still a highly affordable area left in Southern California and an available employment base," says Hesperia City Manager Mike Podegracz. "We knew that the only way we could continue to get that message out and have a presence in what was already a highly competitive market was to put the past behind us and join efforts."
The impetus came at the monthly city managers' breakfast during a discussion about the expense of funding each entity's booth at the annual International Council of Shopping Centers (ICSC) RECon Conference held each May in Las Vegas. The tough economy was forcing some to drop out. All were questioning the expense despite the positive returns in jobs and new businesses. The managers discussed combining forces. "Instead of five separate and expensive booth spaces, one booth could be converted to feature the logos and information of all five cities," explains Barstow City Manager Curt Mitchell. "We agreed to take it back to our councils and staff for discussion."
With the endorsement of all five managers, staff members joined together under the coordination of Hesperia Economic Development Director Steven Lantsberger to create a new identity, Opportunity High Desert, with a logo depicting the strengths of the combined communities. Using seed money from the San Bernardino County Board of Supervisors, a new display booth was born.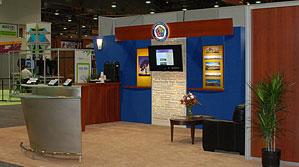 When the ICSC convention opened, the managers and staff stood ready in matching shirts displaying the new Opportunity High Desert logo and handing out newly printed marketing materials. "Politics aside, we are really lucky that the city managers get along — creating a cohesive campaign, working the booth side by side, taking meetings with developers and even referring some visitors to a neighboring city when appropriate," says Adelanto Mayor Cari Thomas.
The success of Opportunity High Desert has grown exponentially, with developers excited to meet with an entire region that is business friendly and works to make sure they find the right fit. It is the residents, however, who are the big winners as new businesses in the High Desert mean much-needed jobs.
"This area was badly hit by the recession and has one of the highest unemployment rates," says Apple Valley Town Manager Frank Robinson. "Wherever a company locates, if they bring jobs to our citizens, we all benefit."
This collaboration has expanded into other areas of daily governing with a one-day, five-city leadership seminar held for top executives to learn and get to know each other better and a monthly lunch meeting aimed at mentoring aspiring future leaders. The five cities are now exploring joint public safety options and other cost-sharing measures.
"We all have the same opportunities and challenges. If we can place the effort we put into competing against each other into collaborating, who knows what we can accomplish?" says Victorville City Manager Doug Robertson.
---
Tips for Creating a Multicity Economic Development Strategy
City managers must drive the effort. They have the ability to pull staff together and get elected officials' support.
Elected officials need to publicly approve — if not actively support — the idea.
Create a team of people from each city's economic development staff who coordinate the details of the campaign under the direction of the managers.
Create a new identity that equally represents all of the participating cities. The new marketing campaign should include highlights of the area's overall benefits and key benefits for each city.
Ask for help. The five High Desert municipalities received $25,000 from San Bernardino County for funding to develop the logo and convert the booth and marketing materials.
Agree to a budget and stick to it. Cities with funding constraints can contribute existing staff resources or materials to make up the difference.
Determine the amount of staff time that will be required and divide it equally if possible. Provide opportunities, such as informal lunch meetings, for team members to get acquainted.
Expand into other areas. Encourage joint leadership training for executive management staff to get to know each other. Pool resources to host a regional training for all cities in specialized areas such as information technology, human resources or planning.
Fully commit to the endeavor, and have fun. The alternative is to continue on the current path alone and limit opportunities.
---
This article appears in the May 2014 issue of Western City
Did you like what you read here? Subscribe to Western City
---