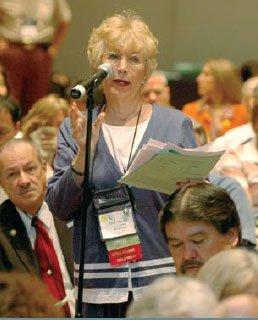 How to Help Your Council and Staff Do Their Best Work in Hard Times
Cities throughout California are looking for ways to cut nonessential expenses. In many cases, this involves scrutinizing every line item in the budget to find things that can be eliminated. There is one area in particular, however, where making cuts has both immediate and far-reaching repercussions — education and training for elected officials and municipal staff.
The League highlights the importance of education in its mission statement: "To restore and protect local control for cities through education and advocacy in order to enhance the quality of life for all Californians." The list of core beliefs that accompanies the mission statement affirms, "We believe that well-informed city officials mean responsive, visionary leadership and effective and efficient city operation."
It may be challenging to justify to your community the cost of sending your city officials and staff to League-sponsored education and training events, but there are many good reasons for doing so. Here are a few.
Keeping current on the latest developments. Whether they are legislative, legal or regulatory developments, your local elected officials and staff need to stay informed about what's happening and what it means for your city so they can make informed decisions. Attending a League briefing or workshop that presents new information in the context of its implications for your city gives your council members and staff immediate access to experts and provides the knowledge they need to serve the public most effectively. This type of training also enables your council and staff to focus on the subject in depth, using a format that conveys essential information in a concentrated session. While they may be able to gather some of the information in other ways, such a scattershot approach often yields incomplete results and takes longer. Attending a League workshop ensures that they have the facts at their fingertips and can speak with assurance about what it means for your city.
Learning from the experiences of other cities with common issues. The term "networking" can be a red flag; for some, it evokes a picture of socializing and exchanging chitchat. However, the concept of networking takes on a different meaning at League training events. For city officials, networking provides the opportunity to share questions about and solutions for their community's most urgent challenges. At League education and training events, your council members and staff will meet colleagues facing similar situations and learn about what worked in other communities — and, perhaps just as important, what didn't. This kind of pragmatic approach to problem-solving can save your city time, money and headaches.
Building statewide contacts and resources. Attending League education and training sessions puts your council and staff directly in touch with key individuals and agencies throughout California. When your city faces a problem, calling on these resources for assistance is expedited if a relationship already exists. And knowing who to call is often just as important as knowing what to ask.
Avoiding costly lawsuits. Your city's elected officials need to understand the legal and ethical limitations associated with their work on behalf of the public. Without a solid understanding of these limitations, a well-meaning but uninformed council member can inadvertently expose the city to considerable liability. League training and education sessions for mayors and council members prepare them for the demands of office and provide an ongoing understanding of the laws, both long-standing and new, that govern their actions.
Taking advantage of the League's resources. I recently heard a council member telling a colleague that her city relies on the League staff for critically important information that would other-wise take her staff a significant amount of valuable time to research. On a related note, we are one of the few state leagues that offer discipline-specific conferences and continuing professional education for city staff, including programs for city clerks and city attorneys.
Developing leadership skills and capacity. The League's education and training programs for mayors, council members and city managers provide essential leadership development that's designed to help them serve their community more effectively and efficiently. In recent years, a record number of local elected officials have gone on to win seats in the state Legislature, where they continue serving their community in a larger capacity. Among them is Assembly Member Anthony Portantino (D-44), who also served as a city council member, president of the League's Mayors and Council Members Department and a member of the executive board of the League's Los Angeles County Division. Portantino said, "The League is an excellent organization to get involved with for local officials who want to learn how Sacramento impacts local government."
Investing in the leadership skills of your city's elected officials and staff builds their ability to communicate with constituents and serve them more effectively. In turn, well-informed leaders can build your community's trust in local government.
The Importance of Reporting Back to Your Community
Having said that, it's vitally important to share with your constituents and community what your council members and staff learn by participating in League education and training programs. Prior to an education or training session, tell community members why it's important: "Council Member Smith will be learning about the latest legislative developments that directly affect our city." Make sure those who attended report back immediately and share the knowledge they acquired, including practical tips that can be put to work right away and insights on any fiscal implications for your city. These reports should be disseminated at council meetings, included in community newsletters and also posted on the city's website.
Hard Times Dictate Tough Decisions
Public service is a challenging and demanding profession, and the economic crises and resulting budget deficits of the past year have made serving our communities more challenging than ever before. Every city in the state is looking for ways to cut costs, but cutting your budget for education and training may prove to be short-sighted. Keeping your council's skills honed has both immediate and long-term benefits for your city. Making sure your staff has the resources to serve the community should not be sacrificed in an effort to slash expenses; in the long run, doing so is likely to incur more costs than savings.
The League is here to help your council and municipal staff do their very best work in the face of fiscal adversity. We have 110 years of experience to draw on; we offer you the collective knowledge of thousands of your colleagues, along with practical information from experts. Put it to work for your city by taking advantage of the professional development opportunities that we provide. Education and training is not just another expense — it's an investment in your city's future.
---
New Annual Conference Format
The League of California Cities 2009 Annual Conference and Exposition offers a new condensed schedule that begins Wednesday, Sept. 16 and concludes in the early evening, Friday, Sept. 18. See page 13 for a preview of conference events or visit www.cacities.org/AC.
---
This article appears in the July 2009 issue of Western City
Did you like what you read here? Subscribe to Western City
---