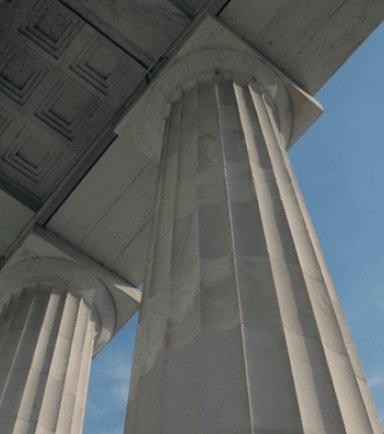 If You Rebuild It They Will Come: How State-Local Partnerships Have Changed the Face of California and Its Cities
The movie "Lincoln" generated much excitement earlier this year, with 12 Academy Award nominations and a story line that demonstrated President Lincoln's extraordinary leadership in times of national peril. However, many Americans are probably unaware that President Lincoln was also responsible for what was likely the most significant public subsidy of private business in our nation's history: the Transcontinental Railroad. While it was controversial, that sweeping decision nevertheless opened up the nation to commerce, growth and the expansion of American culture and democracy. It also ensured that our newest states would enter the Union as "free" states at a time when the president was understandably concerned about the nation's future.
Construction of the Transcontinental Railroad was not financed with private capital alone. The vast majority of the investment capital for the railroad was raised through the sale of federal government-guaranteed bonds, granted per mile of completed track, to interested investors. The bonds were retired through the sale (by the railroads) of government-granted land and prospective passenger and freight income.
In a companion measure, Congress also passed the Homestead Acts that allowed eligible applicants to purchase 160 acres of unclaimed government-owned land, typically called a "homestead," at a great discount in exchange for the applicants' sweat equity. This induced tremendous population growth that encouraged many other railroads to be built and connected to the Transcontinental Railroad to serve communities and states off the original main track.
Grit, Determination and Vision
President Lincoln and Congress took a leap of faith in providing financial incentives to spur expansion of the Transcontinental Railroad. Such a leap probably could not have been totally justified even by today's sophisticated economic modeling techniques. Lincoln's judgment and the support of Congress were informed by decades of life experience and an uncompromising vision for the nation. Two years after Lincoln's assassination, the widely criticized Secretary of State William Seward persuaded a skeptical Congress to ratify a treaty with Russia to convey the Alaskan territory to the United States — known for decades as "Seward's folly." Yet today no one questions the wisdom of that investment of public funds and the manifold benefits it brought to the nation.
In California our state leaders decades ago showed the same grit, determination and vision when they constructed the best public university system in the country, an astonishing state water project and a complex system of freeways. All of these became the envy of the nation if not the world. While our leaders didn't do it alone (the federal government and private sector assisted), their vision for California and its cities justified a major role for the state in funding these public assets. In doing so, they also provided the foundation for incredible private investment as California grew and began to lead the world in science, technology and the arts and culture. In the process they ushered in years of economic development and progress and helped provide education and jobs to millions of Californians.
As California was making its post-World War II investments in its physical and social infrastructure, in 1952 the voters of the state adopted Article XVI, Section 16, of the California Constitution and thereby embarked on a remarkably innovative and collaborative program. Its purpose was to rebuild the abandoned and blighted industrial, commercial and residential neighborhoods of its cities through a combination of public and private investments. Based on the understanding that rebuilding older urban areas often requires much more public infrastructure investment than it does to develop vacant land, the program authorized the use of a new tool known as tax-increment financing (TIF). In a financing arrangement not unlike that used by President Lincoln and Congress in the Transcontinental Railroad project, more than 400 cities eventually put TIF to use in eliminating blight, creating jobs and rebuilding urban California.
Essentially, TIF dedicates future property tax growth for a fixed period of time to retire the cost of public bonds issued to:
Acquire and clear property;
Install required public infrastructure; and
Finance the not-insubstantial overhead costs associated with a 20- to 30-year build-out plan.
In the process, the state (on behalf of schools), county, special districts and cities temporarily devote their property tax growth in the project area to finance the infrastructure and other public investments that set the stage for much greater private developer investment and jobs. In the long run, all levels of government gain from the increased tax revenue growth — from income, sales, utility, property and other taxes — that ensues from the investment and jobs created.
Phenomenal Results
This state-local partnership produced truly phenomenal results. Economic studies demonstrated that the TIF program at its height in 2006 contributed more than $40 billion annually to the California economy in the generation of goods and services and increased the state's construction sector output by $19 billion annually. The TIF program supported 304,000 full- and part-time private-sector jobs in a typical year, including 170,600 construction jobs. Most of those jobs were created in neighborhoods and cities that otherwise would never have seen the same level of private investment due to the blight and economic obsolescence of the affected areas. These construction activities generated more than $2 billion in state and local tax revenues in a typical year.
TIF was also the lynchpin in the construction of more than 98,000 units of affordable housing since 1993. In recent years, many of those affordable units have been provided in connection with mixed-use, infill development projects. Typically such projects first required brownfields cleanup and major public infrastructure investment. Only then would developers commit to the private investment needed for sustainable development in hard-to-develop areas.
A Short-Sighted Triage Decision
Many Western City readers are aware that the unique name in California for tax-increment financing and its related activities is "redevelopment" — the program that the governor and Legislature dissolved almost two years ago because they concluded the state and other local units of government could no longer afford to be partners in these job-creation endeavors during a serious recession. In one of the strangest legislative acts of its kind, state leaders eradicated an extremely successful job-creation and blight-eradication program as part of the state's budget triage efforts. Soon thereafter many legislators regretted their decision, but were unable to muster the collective will to turn back.
Moving Forward
Today multiple bills are pending to recreate tax-increment financing, albeit in a different form and a more modest fashion. Many returning and most of the new state legislators express strong support for again using this powerful state-local partnership for job creation. In doing so, they will be following in the footsteps of some great leaders, including their predecessors in the California state Legislature, Governor Pat Brown, President Abraham Lincoln and scores of others, including many city officials. These leaders understood that creating jobs and thriving state and urban areas is not rocket science. It requires vision, persistence and enough public investment to attract private capital and development that produce much-needed jobs for Californians.
If we all play our cards right, this year we can summon up our inner Lincolns and lay the groundwork for investing in the kind of California we want for our children and grandchildren.
---
This article appears in the May 2013 issue of Western City
Did you like what you read here? Subscribe to Western City
---