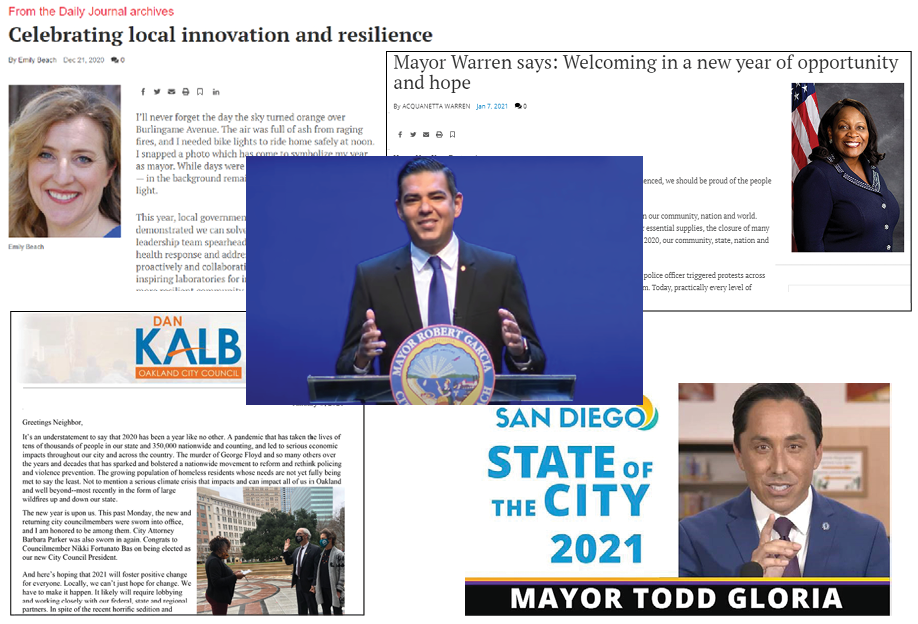 Inspiring city leaders prepare to meet challenges head on
At the end of each year, millions of people around the world pause to reflect on the previous 12 months, take stock of the triumphs and challenges, and make resolutions or set intentions for the New Year.
Last year was not one that many will look back on with fond memories. 2020 brought our cities, our nation, and our world a global pandemic that impacted all aspects of our daily lives in ways we could have never imagined. 2021 has already brought its own challenges. In January, on the eve of a presidential transition, a violent mob stormed the U.S. Capitol in an attempt to overturn the results of the presidential election, and our country crossed a threshold we hoped never to come close to – 400,000 Americans sadly lost their lives to COVID-19.
We mourn those who are no longer with us and long for the "good old days" just as the light at the end of the tunnel is starting to brighten, and as vaccination rates climb, our dreams of hugging our loved ones, reopening businesses, and returning to school and work offices become more of a reality.
Through it all, city officials continue to fulfill their responsibilities to govern and serve their communities. City halls remain open – oftentimes virtually – for business, trash is picked up, permits are issued, council meetings are held, police continue to patrol, and fire and emergency personnel stand ready to respond to 911 calls for service, all are essential services residents depend on.
City officials lead with resilience and hope
Over the past year, the strength and enduring spirit of our cities and our local leaders shined bright. Local officials not only continued their everyday services and duties to keep our cities running, they lead our communities with resilience and hope for the future. Local leaders demonstrated, more than ever, why local government is the most trusted level of government. As I read messages from city leaders throughout the state about their reflections on the last year and intentions for 2021, I am filled with inspiration and hope for what is to come.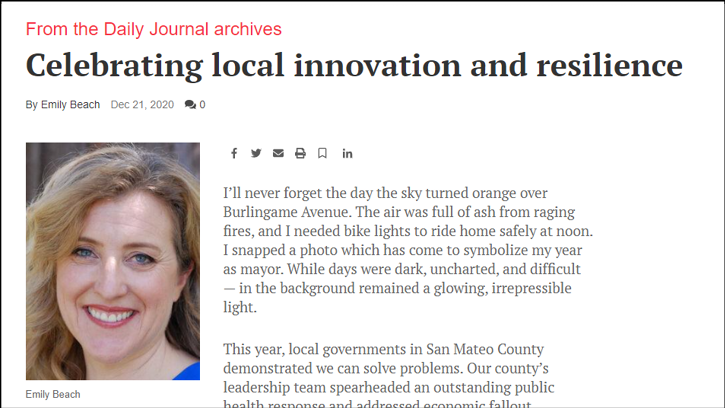 In an op-ed in her local paper in December 2020, Burlingame Mayor Emily Beach celebrates the local innovation and resilience of her city in the past 12 months, highlighting the city's progress and problem-solving spirit in a challenging year. "While days were dark, uncharted, and difficult – in the background remained a glowing, irrepressible light," Mayor Beach said. While the pandemic brought new challenges, Burlingame city leaders addressed economic fallout proactively and collaboratively, and embraced partnerships with community groups to develop local business support programs, deliver meals and groceries, and create home libraries.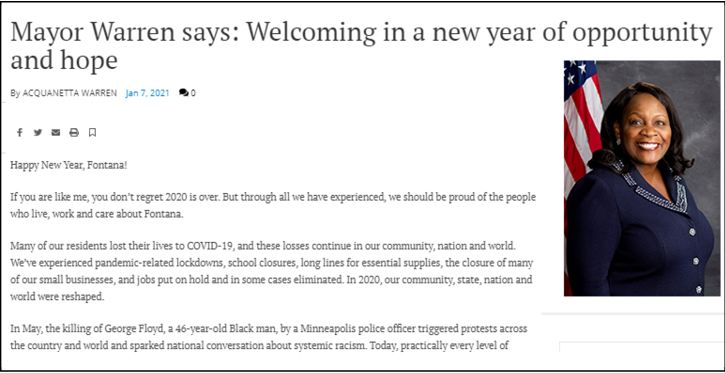 For Fontana Mayor Acquanetta Warren, 2020 brought significant challenges to her city, but hope, and heroism, prevailed. "Last year was a year unlike any other. There was pain. There was suffering. But I also witnessed acts of inspiration and heroism," said Mayor Warren. "A hero is defined as someone who shows great courage and valor – who puts others first, even at your own peril. Amid all the challenges we faced, so many in Fontana were determined that they would provide resources for residents in need. That is the definition of #FontanaTogether at its core."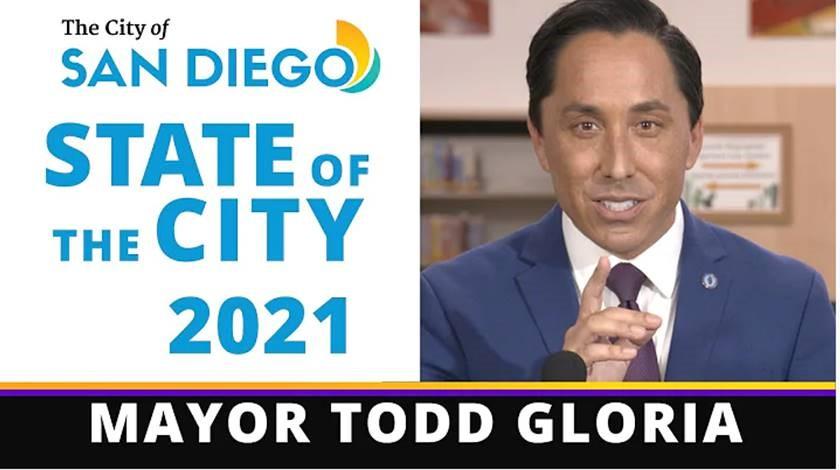 In his State of the City address last month, new San Diego Mayor Todd Gloria's message of hope and recovery is grounded by the connectedness of his community. "Together, I believe that we can and will solve the biggest problems of our time. We will lift each other up and create a future that is better for all of us." Mayor Garcia also committed to serving the residents of San Diego more equitably and is creating an Office of Race and Equity at City Hall, which will help ensure that the work of local leaders is viewed through a lens of equity.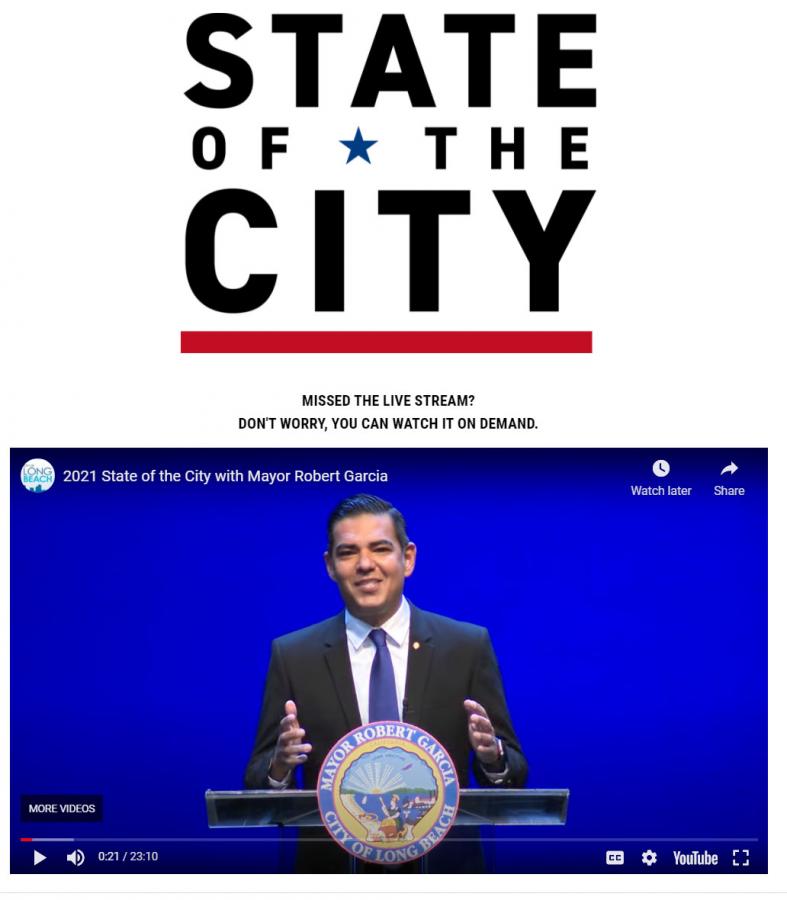 Long Beach Mayor Robert Garcia also vowed to advance equity in his city in his 2021 State of the City address. "We must acknowledge that structural racism exists in all of our institutions – in policing, in education, the workplace, and in health care," said Mayor Garcia. "Now words alone won't address racial injustice. But there is no question that the arc of justice in this city and this country is bending towards equity."
While our local leaders have lofty aspirations for an equitable recovery, they also recognize that our hopes and dreams cannot be accomplished without a strong local-state-federal partnership. 2021 will be a year when we will need to fight for our cities more than ever before.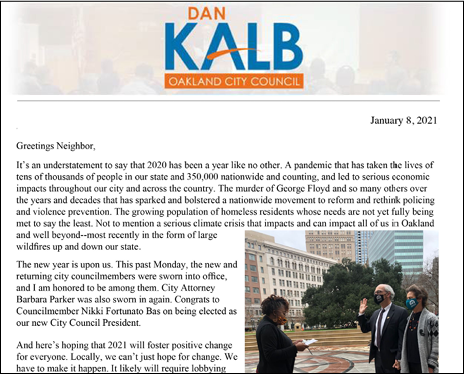 Oakland Council Member Dan Kalb echoed these sentiments during his swearing-in ceremony in Jan. 2021. "And here's hoping that 2021 will bring positive change. But locally, we can't just hope for change. We have to make it happen. It likely will require lobbying and working closing with our federal, state, and regional partners," said Council Member Kalb.
Drawing on the words of the late Supreme Court Justice William J. Brennan, Jr., Council Member Kalb said, "We must meet the challenge rather than wish it were not before us."
Since the beginning of the pandemic, cities have been on the front lines responding to crises and addressing the needs of their communities. In order to remain resilient throughout this pandemic and accelerate a strong recovery, direct state and federal investment in our cities is crucial. Working side by side with the inspiring local officials leading our communities, the League of California Cities remains committed to helping cities meet these challenges head on in 2021.