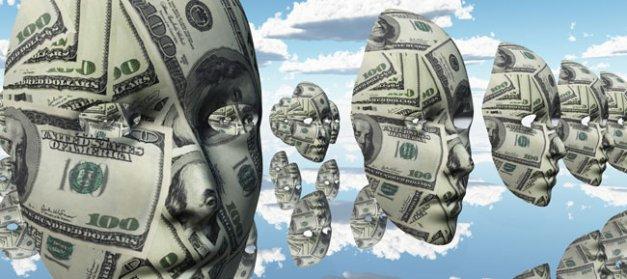 Inspiring the Creative Economy: How Cities Increase Economic Activity Through Innovation and The Arts
Craig Watson is director of the California Arts Council and can be reached at cwatson@cac.ca.gov.
---
When the concept of creativity is combined with "community," it evokes images of vibrancy, activity and prosperity. In terms of economic development, how important is California's creative economy?
Quite important, according to The Otis Report on the Creative Economy, released in late January 2014. The report notes that 7.8 percent of California's gross state product is directly attributable to the creative industries, with an impact of more than $270 billion annually. The creative economy employs some 1.4 million people, either directly or indirectly. "Those are big numbers," says Kish Rajan, director of the Governor's Office of Business and Economic Development (GO-Biz). They include more than the obvious arts jobs. Rajan explains, "The creative economy encompasses literally creative activities like art, film and entertainment. And from another perspective, it can include the software, innovation and technology industries that thrive here."
California's $100 billion tourism industry also benefits from the creative economy's appeal. "People are attracted to the creativity and innovation that California is all about," says Rajan.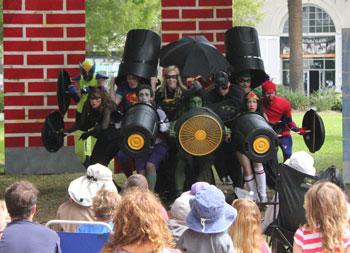 Neighborhoods Come Alive
Making investment in arts-related activity can help drive other local economic development. San Francisco's "Invest in Neighborhoods" initiative led by the city's Economic and Workforce Development agency includes the arts, says Tom DeCaigny, director of cultural affairs. Festivals, temporary arts displays and other activities foster community interaction in San Francisco (pop. 812,538).
"At our 3rd on Third Street event in the Bayview area, there's a beekeeper who makes honey as a hobby, but never saw it as an economic opportunity," says DeCaigny. Now he has found customers and created a business through the monthly arts and culture event. "This intersection of people exploring culture together is inspiring individuals to discover new entrepreneurial pathways. We see the value of the arts in helping people, and the interconnection between the arts is fostering growth in the entrepreneurial community," says DeCaigny.
The City of San Jose (pop. 971,372) has taken a different tack: investing directly in creative businesses with the Creative Industries Incentive Fund, a partnership with the nonprofit Center for Cultural Innovation, which supports arts entrepreneurship statewide. The competitive program offers micro-grants of $2,000 to $5,000 to arts-based businesses, such as magazines, fashion designers, photographers and more.
"It helps promote San Jose — from making an artistic product and selling it abroad to driving a better profile of San Jose locally," says Kerry Adams Hapner, the city's director of cultural affairs and deputy director of economic development.
San Jose also works with local nonprofit ZERO1 to establish artists in residencies in unusual places: corporations. Hapner believes efforts like these are responsible for the 29 percent rise in the number of creative industries in San Jose since 2010.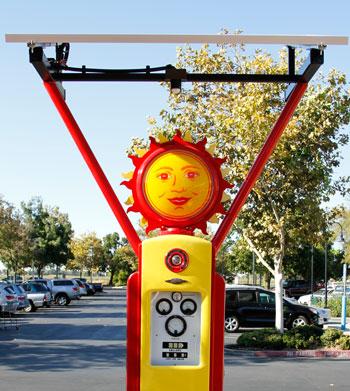 Opportunities for Smaller Cities
Arts organizations can also play a role in attracting companies to a city, according to Julie Baker, executive director of the Center for the Arts, an independent nonprofit performing arts complex in Grass Valley (pop. 12,638). "We do a lot with local employers," says Baker. "When people come to this community and see what's happening, they can't believe what we're doing in a small town. Then they say, 'I guess I could leave the city and live in a small community.'"
Grass Valley City Council Member Lisa Swarthout agrees with Baker. "When we're working to bring jobs here, the arts and culture set us apart from other communities," she says. "The arts play a vital role in our local economy. The Center for the Arts really helped put Grass Valley on the cultural map with artists of high caliber. Local businesses benefit directly. People travel here to see a show or performance at the center and stay for the weekend in local inns. They eat in our restaurants and shop in the stores and galleries." The center also offers classes, workshops and a dance studio, creating synergy in the community.
Musicians Wynton Marsalis and Ted Nash recently performed in Grass Valley at the center. Marsalis says, "We've played here several times, and we always have a great time." Nash adds, "It's one of our favorite places — a community of people who really appreciate music."
The City of Winters (pop. 6,839) experienced a similar phenomenon with a performing arts venue that consistently draws audiences who also patronize local restaurants and businesses. The Palms Playhouse had been located in an old barn in South Davis for decades but lost its site due to planned development. The City of Winters convinced the owner that it was the best place to relocate. The Palms Playhouse opened in Winters in 2003. Winters City Manager John Donlevy Jr. says, "The economic impact was immediate. When you have between 70 and 200 people coming into town three to four nights a week, it creates almost instant vitality for downtown businesses. The local business community rose to the challenge of meeting the new demand created by the playhouse visitors. And then those visitors return to explore other aspects of Winters that they found appealing." In a small city, one popular performing arts venue can draw tourists from throughout the region and beyond, benefiting the local economy without the need to use public resources.
Some of the most successful uses of the arts as an economic driver involve partnering with other local major industries. The Yolo County Arts Council (YoloArts) has the Art and Ag project that ties the arts to the county's main economy. "We work directly with farms, food, wineries and downtown businesses," says Dani Whitmore, executive director of YoloArts.
YoloArts found the intersection of agriculture and arts to be a catalyst that gained the interest of major employers like biotech seed companies. "Their people are highly educated, have families and want to put down roots here and invest in the culture and the arts," says Whitmore.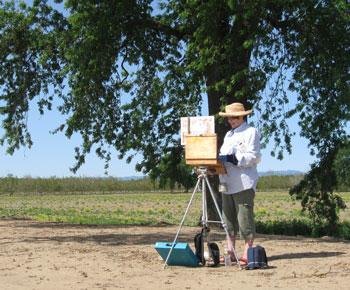 The arts can also help keep younger generations in Yolo County. "We have three and four generations of farm owners, and they've got kids who are leaving and not coming back," says Whitmore. She contends that an effort to create robust local arts and arts education opportunities can help keep farmers' families in Yolo, as well as bring in new talent.
City Council Member Lucas Frerichs of Davis (pop. 65,052) concurs with Whitmore. Frerichs says, "YoloArts' Art Farm program solicits farmers to volunteer their farms for monthly visits by local artists and the public. People come to work on different types of art — painters, photographers and more. Then typically in the fall, there's an 'Art Harvest' fundraiser where you can 'pick' the art that was created. It's immensely popular."
Planning for the Creative Economy
Strategic investment for the arts can positively impact cities within the entertainment hotspot of Los Angeles County. For years Culver City (pop. 38,000) was quiet after work hours. The few restaurants that catered to corporate employees for breakfast and lunch would be shuttered by the mid-afternoon, says Susan Obrow, performing arts and special events coordinator for Culver City. Once older facilities were converted and turned over to local performing arts nonprofits, things changed. "All of a sudden the restaurants were staying open at night," says Obrow.
Much of this arts-related growth benefited from redevelopment investment, from the facilities to parking structures. In the recent absence of redevelopment funds, the city has changed its strategy. Serious thought is being given to which kinds of facilities may be repetitive, according to Obrow. The city adjusted its public art ordinance so if a developer has a 1 percent requirement of $75,000 or less for public art, he or she can contribute that amount to the city's Art Fund for performing arts grants, temporary art programs, maintenance of existing public art or the city's public art collection.
The arts can promote a city's brand, and San Jose uses this concept to its advantage. "We've been doing a lot of work related to thinking about San Jose as the epicenter of global innovation," says Hapner. "We have an art-in-technology public art program at the San Jose International Airport demonstrating that this is the gateway to Silicon Valley."
Post-Redevelopment Strategies
Many California communities received a significant amount of arts investment through their local redevelopment agencies and had to get creative after redevelopment was eliminated. San Francisco found one partnership with the Community Arts Stabilization Trust, launched with a $5 million seed grant from the Kenneth Rainin Foundation. The program aims to help long-time arts organizations acquire space and move out of the competitive rental market. For example, the trust supported the acquisition of a former porn theater for a performing arts group that will run a capital campaign and purchase the building back. The funds are then returned to the trust for the acquisition of another asset.
Other strategies include temporary arts. "We've seen great success in the idea of a 'pop-up,'" says San Francisco's DeCaigny, explaining that collective economic interaction in underutilized areas started with food trucks. "Now we've seen it evolve to parklets," he adds, a concept where neighbors take over parking spaces and build a temporary mini-park with art provided by local residents.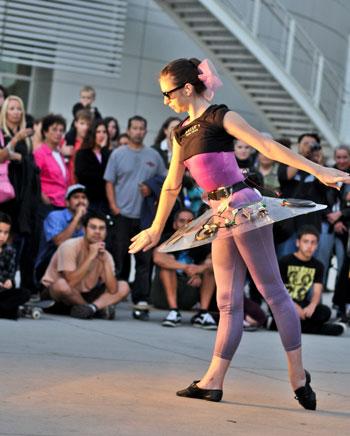 Most arts experts support centrally locating creative-economy businesses. Sometimes this happens organically, like the art galleries in Culver City attracted by cheap rents or the creative businesses in downtown San Jose and San Francisco neighborhoods, whose owners and staff like being part of an innovative community. Or consolidation occurs through planning, where artists participate in temporary displays in vacant storefronts during arts events. "I've seen cultural areas thrive in response to real organic growth, but they can't grow at the same rate without some type of strategic investment," says San Jose's Hapner, who supports a state-sanctioned cultural district program that could put a spotlight on these unique communities and drive tourism.
In the absence of redevelopment, Frerichs explains that Davis, like many other cities, is moving away from publicly funded art programs toward a more hybrid model that engages businesses, nonprofits and others in a collaborative effort to weave the arts into the fabric of the community and enhance tourism and the local economy. The Davis Cultural Arts and Entertainment Committee, the Davis Mural Team and the Yolo County Visitors Bureau recently launched an effort to transform the gray walls of the Regal Cinemas' parking garage with murals painted by dozens of residents and artists. The murals depict 60 years of Davis history and highlight cultural events such as Oktoberfest, the Whole Earth Festival and Picnic Day.
GO-Biz's Rajan notes that California is home to a collection of distinct regional economies, each with its own assets and attributes. "We're quite aware at GO-Biz of the importance of the creative economy and its impact on a number of economic sectors in California's overall brand," he says. Policy-makers will be able to obtain more detail about the creative economy's composition in 2015, when the Otis Report will present state data broken out by regions.
Putting It All Together
The arts can be an important economic engine for cities, no matter how large or small. The key elements for successfully using the arts to enhance the local economy include identifying unique local assets, embracing a communitywide collaborative approach and harnessing the unlimited power of creative imagination.
---
---
---
This article appears in the May 2014 issue of Western City
Did you like what you read here? Subscribe to Western City
---