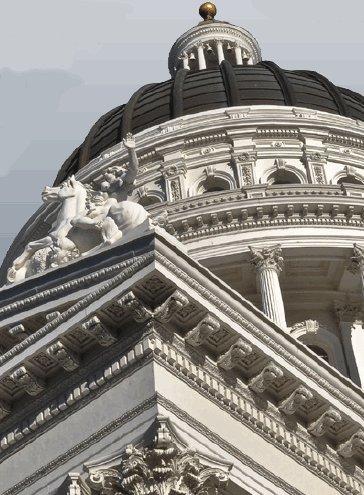 Interactive End-of-Session Legislative Briefings Set for November
Lauren Kimzey is a policy analyst for the League and can be reached at lkimzey@cacities.org.
---
The Legislature and Gov. Jerry Brown worked on a wide variety of issues this year that will significantly impact California local governments. New policies affecting everything from broken parking meter ticketing practices to prevailing wage requirements reached the governor's desk in this session. With so many mandates coming down the pipeline, ensuring that your city is compliant can be a daunting task for even the most seasoned city official. To take the pressure and guesswork out of understanding new complicated state policies, the League will offer Legislative Briefings.
Two Sessions Provide Choice and Convenience
For added convenience, the League will host two Legislative Briefing presentations this year, one in-person and one via webinar. Both sessions are designed to provide participants with the most up-to-date policy information in an interactive forum. The League introduced the webinar format in 2009 to help city officials cope with the issues of limited funds for travel and increased workloads. The webinar makes it possible for city officials and staff to participate and access valuable information while saving travel costs and time.
The League's Legislative Briefing Report
As in previous years, registered attendees of the in-person briefing will receive a hard copy of the League's 2013 Legislative Briefing Report; webinar participants will receive an electronic copy on the day of the briefing.
Organized for easy reader navigation, the report provides informative descriptions of legislation relevant to local government operations and responsibilities. Brief descriptions will be provided for most chaptered measures to afford more in-depth coverage of crucial legislation prioritized by the League. All measures listed in the briefing booklet have been signed by Gov. Brown and, unless otherwise specified, will take effect Jan. 1, 2014.
Hear From League Capitol Insiders
During the briefing presentations, League lobbyists will cover and provide expert insight on key developments of the 2013–14 session to date. Legislative Director Dan Carrigg will be on hand to share his years of Capitol experience and moderate both sessions. Presentation participants are invited to ask questions and engage the League's lobbying team in policy discussions during the briefing forum.
Topics to be covered may include:
Public agency contracting requirements;
Post-redevelopment dissolution proposals;
Local economic development activities;
Pension reform and workers' compensation death benefits;
Charter city prevailing wage requirements;
Inclusionary housing;
State water bond update;
California Environmental Quality Act (CEQA) reform;
Medical marijuana regulations;
Local fee collections; and
Constitutional amendments regarding local special tax vote thresholds.
More Details
The in-person Legislative Briefing will be held Monday, Nov. 4, from 1:00 to 4:00 p.m. at Redding City Hall. The webinar will be offered Wednesday, Nov. 6, from 9:30 to 11:00 a.m. For additional information and updates, visit www.cacities.org/Education-Events/Calendar.
---
This article appears in the October 2013 issue of Western City
Did you like what you read here? Subscribe to Western City
---