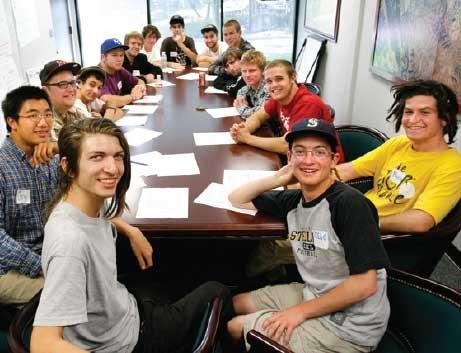 Involving Youth in Local Planning
Terry Amsler is program director of the Institute for Local Government's Public Engagement and Collaborative Governance program and can be reached at tamsler@ca-ilg.org. Greg Keidan, program coordinator of the Public Engagement and Collaborative Governance program, also contributed to this article.
---
More and more frequently, young people are being asked — and are asking — to play a larger role in discussions and decisions about local land use and other plans in their community. A growing number of California cities are involving youth in planning processes as local officials discover the capacity of young people to participate and the value of their insights.
Why Involve Young People?
In California, city and county elected officials have broad authority to regulate the development and use of land to advance the public's health, safety and welfare. Engaging youth in such land-use issues and local planning processes offers several significant benefits, including:
Improved plans. The participation of young people provides local officials with perspectives and input that can improve plans, particularly (but not exclusively) with regard to youth needs and issues.
Leadership opportunities. Participating in planning processes offers young people the opportunity to acquire new knowledge and skills, learn responsibility and accountability and develop meaningful relationships with other youth and adults.
Citizenship and service. Involvement in local planning allows youth to better understand their local government and community, address community issues and develop the habits of participation and good citizenship.
Optimal use of youth-serving resources. Being better informed about the needs and interests of young people and how to most effectively reach, involve and serve them helps local agencies make the best use of financial and staff resources.
Exposure to careers in local government. By participating in local government, youth learn about planning and planning-related professions and positions and may consider careers in public service.
Different Roles for Youth In Planning
Learning about planning departments and land use helps local youth commissions or councils to understand local government's roles and functions and how public input is received and decisions are made.
Youth commission members may choose to research their city's General Plan or other plans to familiarize themselves with the long-term goals and policies that guide local land-use decisions in their community. They may also want to learn about a forthcoming General Plan update or other local planning process.
If opportunities for youth engagement in local planning don't currently exist, Planning Department staff and youth commissions can sit down together and consider appropriate ways for young people to join adults in providing input to local planning.
Youth commissions can be asked to help research the different approaches to youth engagement that have been tried by other cities or counties throughout the state. In general, youth are especially helpful in determining how to best inform and involve other young people in local planning.
If a city wishes to do more to engage young people in planning but does not have a youth commission, planning staff may want to explore what other cities have done. In addition, consulting youth from local high schools or youth serving in leadership groups is likely to provide the most guidance in developing a realistic youth engagement plan.
It may be tempting to appoint one or two young people to a planning body and then consider your community's youth engagement work complete. However, efforts seeking broader youth engagement typically yield the most useful results and sustained outcomes. California cities are at the forefront of exploring ways to involve youth in planning.
Emeryville Offers Real-World Opportunities
The City of Emeryville's local high-school students participated in a model of youth engagement in city planning, called Youth — Plan, Learn, Act, Now! (Y-PLAN), directed by the Center for Cities and Schools at the University of California, Berkeley. Under Y-PLAN, university mentors, local high-school students and teachers partner with government agencies, the private sector and other community organizations to work on real-world planning issues. By working in tandem with the Emeryville General Plan Update, the students developed strategies for creating accessible community spaces, housing opportunities and a vibrant street life. The students also created a presentation, detailing their experiences and visions, for the city council and a proposal for implementing their strategies.
San Carlos Gives Youth a Voice
The City of San Carlos formally included youth in city planning for the first time in 2006 by asking high-school students from the city's Youth Advisory Council to serve as rotating members of a voting position on the General Plan Advisory Committee. This committee organized a series of forums to generate input from the larger community. One session, attended by 60 middle- and high-school students, provided input that encouraged the city to zone additional areas for commercial development to attract more youth-friendly entertainment options.
Santa Monica's Toolkit Makes Involvement Fun
Through partnerships with public schools and local youth programs, the City of Santa Monica involved more than 500 local students of all ages in its General Plan update. City staff developed a youth planning toolkit with recommended activities to make it easy and fun for young residents to choose from a variety of issues to discuss and make recommendations.
Lafayette Includes Youth in Downtown Planning
The Lafayette City Council invited a member of the city's youth commission to serve on a citizens' advisory committee that selected and advised a consultant for a two-year downtown planning process. The high-school student attended almost all of the 23 committee meetings, and many of the ideas he contributed were reflected in the draft plan that the city released in 2009.
Pleasanton Considers Youth Involvement Crucial
The City of Pleasanton has involved its young residents in another type of planning process. The city launched an effort in 1998 to determine the needs of residents ages 0–22, which culminated in a Youth Master Plan ultimately adopted in 2001. By 2009, another generation of Pleasanton youth had different needs, prompting an update to the original plan. The city considered youth involvement in the process paramount to the update's success, so it established a 26-member Youth Master Plan Implementation Committee (YMPIC) that included nine middle- and high-school students.
Pleasanton conducted 30 community focus groups as part of the plan update process, and YMPIC members participated in several facilitated discussions to outline their interests and the critical components associated with the plan update.
"I really enjoyed participating in this project," says Daniel Zakaria, one of the YMPIC youth members. "It gave me the opportunity to interface with people I normally wouldn't meet and see a whole new world of ideas and perspectives that I hadn't considered before."
Feedback from young residents was positive and plentiful. Many participants reported a new sense of empowerment about their access to local government and affirmation that their voices are being heard. YMPIC youth members also gained new insights about other people's viewpoints, values and concerns and the challenges facing their community.
Beyond California: Putting Youth Planners to Work
Hampton, Va., created two part-time positions for teens as youth planners in 1997. The youth planners work 15 hours a week after school for two years and are responsible for overseeing the youth component of the city's Comprehensive Plan. Beginning with the 2010 Comprehensive Plan, each document has had an entire section written entirely by youth and focused on young people's strategic issues. A recognized leader in youth engagement, the City of Hampton provides young people with training so they can survey their peers, make recommendations to the city council, serve on city boards and commissions and participate in the city's Planning Department.
---
For More Information
See the following organizations' websites for information and guidance on youth engagement and planning.
The following resources may also be useful for local officials exploring a role for youth in city planning processes.
Youth Participation in Community Planning (PAS Report #486), a report from the American Planning Association (1999), provides an overview of successful participation program form around the country. Available in photocopy; visit www.planningbooks.com.
Youth Voices in Community Design: A How-to Guide for Adults on Involving Youth in Community Planning, by the California Center for Civic Participation, online at www.californiacenter.org/docs/Youth_Voices_in_Community_Design_2004.pdf
Youth Participation in Public Policy at the Local Level: New Lessons from Michigan Municipalities, from the Winter 2009 National Civic Review, highlights strategies for strengthening youth participation in public policy at the local level. Download the articles at: http://deepblue.lib.umich.edu/bitstream/2027.42/64901/1/273_ftp.pdf
---
This article appears in the September 2010 issue of Western City
Did you like what you read here? Subscribe to Western City
---