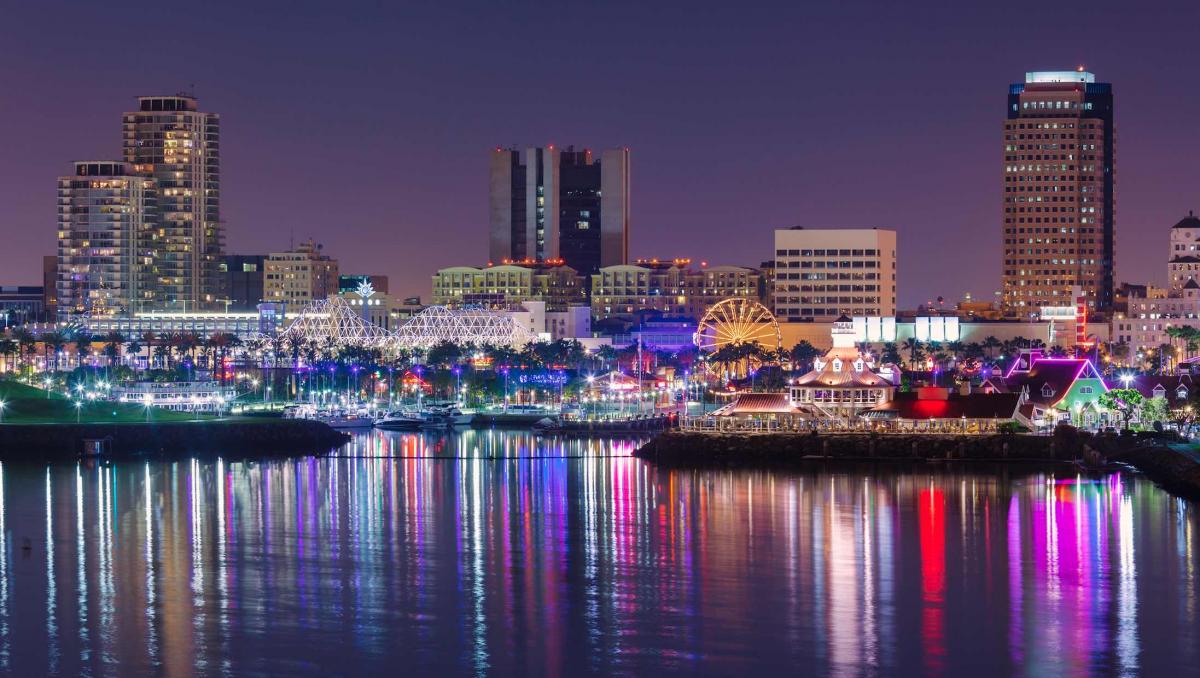 Join the League in Long Beach to Celebrate Its 120th Anniversary
Katie Pebler is a conference program manager for the League and can be reached atkpebler@cacities.org.
---
Next month, California city officials will gather in Long Beach to gain useful information, hear speakers with inspiring ideas, develop valuable contacts and participate in crafting League policy. The 2018 League of California Cities Annual Conference & Expo, Sept. 12–14, brings together leaders and those engaged in local government. Don't miss this opportunity to develop your professional skills and improve your understanding of critically important issues affecting local government.
This year, the League is celebrating its 120th anniversary. The City of Long Beach hosted the conference during the League's 50th anniversary in 1948 and again in 1998 when the League commemorated its centennial. Long Beach is planning a special welcome for conference attendees at the Host City Reception on Wednesday evening, Sept. 12.
Conference Sessions Cover a Wide Range of Timely Issues
With over 45 sessions to choose from, the conference is a great place to refocus and re-energize as you head into the final weeks before the November 2018 election. Educational sessions provide city officials an opportunity to connect with colleagues from throughout California while learning from experts about the latest developments on some of the most important issues facing California cities today. Sessions cover a wide range of topical themes, including the following.
Disaster Preparedness. Explore best practices to help cities become more resilient before, during and after devastating emergencies.
Economic and Community Development. Get tips on how to restore the financial viability of annexations. Find out how to implement economic development activities while complying with state housing and sustainability mandates. Discover how to attract land uses that thrive in a digital economy.
Finance. Learn about major developments in California city revenues, spending and financing. Discover how to overcome obstacles and pass your city's sales tax measure.
Leadership. Understand what can happen when a lack of transparency leads to a multimillion dollar judgment. Become familiar with actions that organizational leaders can take to create future success. Participate in discussions about challenges and opportunities in rural California cities. Dive into the concept of unconscious bias.
Housing. Hear from four major state agencies working to help create and preserve affordable housing for very low-, low- and moderate-income Californians. Explore how you can tackle the homeless crisis in your city.
Cannabis. Get the latest update on critical aspects related to implementing California's regulatory structure for legalized cannabis sales.
Pension and Other Post-Employment Benefit (OPEB) Costs. Identify strategies to consider within the labor relations framework and pension regulations to mitigate pension rate cost increases and avoid diverting funds from other important priorities and projects. Gain an understanding of the impending cost increases of providing active and retiree health benefits and the means to minimize liabilities for OPEBs.
Personnel. Discover how to make your city's workplace a strong, diverse and inclusive community by making a cultural shift in practices and breaking down barriers. Explore recommendations from the California chapter of the International City/County Management Association (Cal-ICMA) Talent Initiative Report and discuss best practices that help cities optimize their talent. Explore how to overcome challenges in adopting flexible workplace policies.
Planning. Hear how proposed California Environmental Quality Act (CEQA) Guidelines may affect municipal efforts to implement the newly enacted affordable housing package, plan for energy-efficiency and amend General Plan elements. Join officials from coastal cities as they focus on current trends in Local Coastal Plans recently approved by the California Coastal Commission.
Public Engagement. Learn how cities are inspiring homegrown talent and community connection by increasing civic engagement through model programs like Summer at City Hall, Youth@CityCouncil and Foster Youth@Work.
Technology. Discuss emerging planning technologies and how cities use them to convert documents into interactive websites, enhance public outreach and enable innovative and cost-effective delivery of municipal services.
Expo Highlights
This year, the Expo showcases more than 250 cost-saving services and state-of-the-art products, including 60 first-time exhibitors. The Expo will be open Wednesday, Sept. 12, 5:00–7:00 p.m. and Thursday, Sept.13, 9:00 a.m.–4:00 p.m.
Check with your city departments and purchasing staff in advance to learn which items they might find helpful for saving money while improving services, and schedule time now to meet with these vendors at the Expo, making note of the products and services that can benefit your city. Visit www.cacities.org/ac for more information.
In the Expo, you'll also find displays of city projects that have won the League's prestigious Helen Putnam Award for Excellence. Each year, the award program honors and promotes the outstanding work of member cities statewide that have developed innovative solutions to increase efficiency and deliver quality services.
Valuable new information about developments affecting cities will be presented in the Speaker Theater in the League Partner Village on the Expo floor. These presentations will be listed at www.cacities.org/ac before the conference.
Gather with city officials and staff for a unique learning experience.
City Attorneys' Track
With topics geared toward city attorneys and covering trends and issues affecting public law, the City Attorneys' Track at the conference is an educational element open to all attendees. We invite you to check the schedule for this track in advance, which features legal updates in four litigation areas: general municipal law, labor and employment, land use and CEQA, and municipal torts and civil rights.
This popular track offers minimum continuing legal education (MCLE) credit for all attending attorneys and will also include specialty credit during the sessions offered. The League is a State Bar of California MCLE-approved provider. Materials for this track consist of session papers and presentations, which can be found at www.cacities.org/cle when available prior to the conference.
State-Mandated Training
While educational sessions will focus on a variety of topics ranging from pensions to fiscal stability, planning and housing, the conference will also offer state-mandated training for attendees.
For elected and appointed officials, state law requires training in specified ethics laws and principles every two years. Newly elected and appointed officials must receive this training within one year of becoming a public servant. Hear advice from a panel of experts on navigating ethics laws and principles.
California law now also requires basic training in workplace harassment prevention for officials, managers and supervisors. Local agency officials are required to receive two hours of sexual harassment prevention training and education within the first six months of taking office and every two years thereafter if the agency provides a type of compensation, salary or stipend to those officials.
Make Plans Now for the Conference
Join us at the conference to learn, network and celebrate the League's 120th anniversary. Make it your chance to be part of League history. For more information, visit www.cacities.org/ac and plan your time at the conference.
---
Photo Credit: Jeremy Sykes, courtesy of League of California Cities.