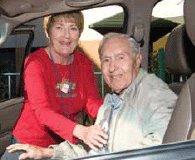 La Mesa Gives Seniors a Lift
The City of La Mesa won the Award for Excellence in the Public Works, Infrastructure and Transportation category of the 2011 Helen Putnam Award for Excellence. For more about the award program, visit http://www.helenputnam.org/.
---
As the City of La Mesa prepared to celebrate its centennial in 2012, staff and elected officials focused on the community's aging population. La Mesa's population of 58,000 is significantly older than that of San Diego County. Residents age 65 and older represent 16 percent of La Mesa's total population; 3 percent of the total population is 85 or older. "That's the highest percentage in that age bracket in a single community in San Diego County, and many of those individuals live more than a quarter-mile from a transit service area," says La Mesa City Manager Dave Witt.
Generally described as "the frail elderly," people in this age group often have disabilities, live on a fixed income and are most likely to depend on transit. Seniors who cannot drive often suffer from decreased independence, feelings of isolation, missed medical appointments, lack of access to grocery and personal needs shopping, and a general decline in health due to limited social contact. Transportation is a high priority for seniors and the frail elderly. "With the significant population of Baby Boomers continuing to age, we expect this transportation need trend to continue to grow exponentially," says Witt.
City staff researched existing transportation options and found significant gaps in availability for seniors. A popular service called Dial-a-Ride once provided door-to-door transportation for $1.00 per ride within the city's geographic boundaries but was discontinued in the early 1990s due to lack of available funding. While some transportation programs with limited geographic coverage operated in other areas of San Diego County, none were readily available to La Mesa residents. Alternative transportation for older adults and those with disabilities was clearly needed.
Because La Mesa has a history of successfully enhancing and supplementing city services with community volunteers, the city looked at developing a volunteer driver-based program. Staff determined this option offered the most efficient use of limited resources, and the Rides4Neighbors program was created.
Finding the Funds
Rides4Neighbors provides a comprehensive approach to flexible transportation options for eligible residents. The program was launched in 2007 with federal and local transportation grant funding obtained through the San Diego Association of Governments (SANDAG). The SANDAG funding was extended with a local grant from the Grossmont Healthcare District, which was used to support extensive community outreach and partnership development.
How It Works
Staff recruits, screens and trains volunteer drivers who use their own vehicles to accommodate eligible riders. These trained volunteers receive mileage reimbursement at the federal rate, and the program provides secondary liability insurance. Potential riders must submit an application and release form to be approved for service.
Rides are provided for medical, dental, essential shopping and personal care appointments. Depending on driver availability, rides are available Monday through Friday between 8:00 a.m. and 5:00 p.m. "I enjoy meeting such nice people who are willing to give of their time, and I appreciate Rides4Neighbors," says Chris, who uses the service every week to visit his wife in a nursing facility.
To supplement volunteer driver rides, approved riders may purchase taxi coupon booklets at a 50 percent discount. Coupons are used like cash with Yellow Cab. This allows riders greater flexibility to schedule shopping or appointments outside volunteer driver hours. The coupon program also allows staff to schedule a taxi for a rider whose request has not been accepted by a volunteer and ensures riders don't miss essential appointments.
A twice-weekly shopping shuttle, provided by contract with a local church, offers door-to-door service from riders' homes to the local mall, picking them up at a designated time and place for the return trip home.
Rides4Neighbors added a wheelchair transport program for non-ambulatory riders in 2010. The transport driver can assist with door-to-door or door-through-door service as needed, and the van can accommodate spouses or caregivers. Riders who have previously paid full price for wheelchair transport see this reduced-rate, grant-funded service as a tremendous benefit.
A Travel Training component was developed in 2011 for adults age 60 and older who want to learn to navigate transit. A travel trainer provides instructions on how to use web-based public transportation schedules and routes. Groups of up to 12 go on weekly excursions via bus, trolley and train, accompanied by their travel trainer. To participate, seniors must purchase a two-month senior bus pass.
Results Reflect Success
The Rides4Neighbors program has proven immensely popular. In its first full year of operation, Rides4Neighbors logged 1,998 one-way volunteer-driven trips. In addition:
The program provided 7,025 one-way trips in 2011, a 250 percent increase in ride activity since program inception;
The combined elements of the program, including taxi voucher rides, volunteer driver rides, wheelchair transport and shopping shuttle trips, logged 10,393 one-way trips in 2011; and
Volunteer-driven miles increased 84 percent — from 24,072 in 2010 to 44,301 in 2011 — with only 10 additional drivers added.
"I love being part of Rides4Neighbors — my riders are the absolute greatest!" says Susan, a busy volunteer driver.
"Committed volunteer drivers bear the burden of this increasing demand for services," says Mayor Art Madrid. "Recruiting and retaining volunteer drivers continues to be our biggest challenge amidst high fuel costs and slow economic recovery throughout our region." Despite these ongoing challenges, Rides4Neighbors offers an excellent model of a long-term, sustainable, alternative transportation program and community service.
Contact: Yvonne Garrett, assistant city manager/director of community services, Community Services Department, City of La Mesa; phone: (619) 667-1311; e-mail: ygarrett@ci.la-mesa.ca.us.
---
This article appears in the April 2012 issue of Western City
Did you like what you read here? Subscribe to Western City
---