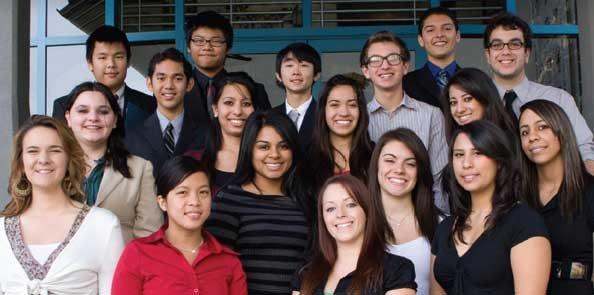 La Mirada Creates Opportunities for Youth
The City of La Mirada won the Ruth Vreeland Award for Engaging Youth in City Government in the 2009 Helen Putnam Award for Excellence program. For more information about the program, visit www.cacities.org/helenputnam.
---
The City of La Mirada has created several innovative programs to help its young people develop professional and volunteer skills, engage in leadership activities and foster personal growth. These programs grew out of the city's recognition of the need to provide youth with an opportunity to participate in meaningful activities. La Mirada's Youth Council, Leaders In Training and Youth In Government programs emphasize teamwork and cooperation and offer concrete examples of the positive contributions young people can make to their community.
Youth Council Helps Shape the Community
The Youth Council comprises students from La Mirada middle and high schools and gives them a way to express and address youth needs. The Youth Council serves as an advisory body to the city council and provides a presence in community affairs for local youth.
In 2002, the Youth Council initiated a study and research process that resulted in the creation of the city's Basement Youth Center. The Youth Council played an active role in choosing the center's location and identifying the types of activities to be held and equipment needed. Since its inception in June 2003, nearly 600 young people have joined the Basement Youth Center.
Members of the Youth Council work on many of the city's communitywide special events, volunteering in city information booths and game booths as well as serving as judges in La Mirada's Spring Beautification program, which recognizes outstanding homes in the community.
Ariana Ricarte, 16, has served on the Youth Council since 2005. She participates in many events and routinely volunteers in the Helping Hands program, which helps residents remain in their homes despite physical or financial challenges. Helping Hands volunteers provide assistance with household chores, yard work and home maintenance for residents who are elderly, low income or have disabilities. "I love helping out where I can, and I'm honored to help represent the youth of La Mirada," says Ricarte.
Leaders In Training Get Hands-On Experience
The city designed its Leaders In Training program to teach teens the importance of workplace responsibility, accountability and professionalism. Teens age 13 to 16 submit an application, participate in a formal employment interview process and attend an orientation. Program participants volunteer in a variety of recreational activities, including summer day camp, youth sports leagues and after-school programs. They also provide office assistance in the city's community centers, which gives them experience in a professional work environment.
Leaders In Training participants learn how to organize and conduct activities, develop teamwork skills and explore the field of recreation as a possible future career. The program gives teens an opportunity to share their abilities and talents with others, develop new skills and fulfill requirements for community service or school service learning on a year-round basis.
Participation in Leaders In Training grows steadily. In summer 2008 the program had more than 100 registered participants, an increase of about 30 percent compared with the previous summer. Program participants contributed more than 6,400 volunteer hours in various city programs and facilities, assisting with youth sports activities, summer day camp and Basement Youth Center programming, and working in crafts and game booths at city-sponsored events.
Daniel Gonzalez, age 14, has been a Leaders In Training volunteer for two summers. He enjoys it and says, "Leaders In Training has prepared me for what a real job is going to be like." Gonzalez has volunteered at numerous events and programs. He believes the program has helped him mature and given him a sense of responsibility.
Youth In Government Involves Teens in Community Issues
Established in 1960, the Youth In Government program partners with the La Mirada Ebell Service Club and La Mirada High School to give students an opportunity to work with city officials and learn about municipal government. These students are given the assignment of reviewing community issues or existing programs and services, developing alternatives and providing recommendations for enhancing services and programs.
As part of the Youth In Government program, the Student City Council and staff are paired with their city counterparts at a special La Mirada City Council meeting where they conduct business just as a regular city council meeting would be conducted. The Youth In Government program has actively contributed to the development of the La Mirada Community Gymnasium and the installation of left-turn signals at busy intersections.
In 2009, the Youth In Government group proposed that the city create and implement a Go Green Action Plan to assess current energy usage, identify new energy efficient practices, establish partnerships and promote a green and environmentally conscious city. The group also recommended that staff pursue grant funding to develop a community bike trail along Coyote Creek. These proposals were well received, and city staff is working on a Go Green Action Plan to be implemented in 2009–10 and pursuing grant funding to develop the bike trail.
Each year, members of Congress and the state Assembly and Senate recognize the efforts of the Youth In Government students at the program's annual concluding ceremony. "The Youth In Government program teaches you to work together with different people who have different ideas," says Michelle Acosta, 17, who served as a council member during the 2008–09 school year.
Helping the Community in Many Ways
In addition to getting youth involved in local issues and volunteer work, these successful programs provide many benefits to the community; for example, the Leaders In Training program saves $57,000 annually in staffing costs.
More than 200 young people participate in the youth development programs each year. "When the city launched these programs, the goal was to reach out to the youth of the community and encourage them to be active civic participants," says Community Services Director Lori Thompson. "We have found their love of service to be remarkable and their contributions valuable."
---
Contact: Lori Thompson, community services director, City of La Mirada; phone: (562) 943-0131; e-mail: LThompson@cityoflamirada.org.
---
This article appears in the September 2009 issue of Western City
Did you like what you read here? Subscribe to Western City
---