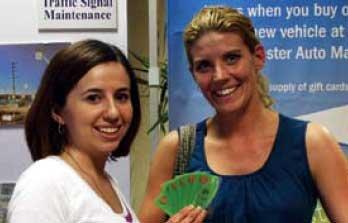 Lancaster's Economic Stimulus Package Pays Dividends
The City of Lancaster won the 2010 Helen Putnam Award for Excellence in the Community Services and Economic Development category. For more information about the program, visit www.cacities.org/helenputnam.
---
The City of Lancaster (pop. 145,875), located approximately an hour north of Los Angeles, was hit hard by the recession that began in 2008. Lancaster faced some dismal statistics — a 10 percent decrease in the number of licensed businesses, retail sales down by 8.5 percent and nearly 15 percent of area residents unemployed in late 2008.
The Lancaster City Council agreed that fast action was needed to stimulate the local economy and bring neighborhood businesses back from the verge of extinction. As the federal government debated how to deal with the economic crisis, Mayor Rex Parris and the city council launched Lancaster's own Economic Stimulus Package. Designed to create $110 million in local economic activity by leveraging $400,000 in redevelopment agency funds, Lancaster's stimulus package ultimately generated $123 million in economic activity.
This temporary, timely and targeted package focused on getting dollars flowing through the local economy, with a variety of programs that encouraged people to shop in Lancaster and explained how doing so helped local services. The stimulus package targeted four major categories — merchant assistance, infrastructure and construction projects, hospitality and developer/broker incentives. The city sought considerable public input, including discussions with the Antelope Valley Chambers of Commerce and the Antelope Valley Board of Trade, in creating the programs.
"Our goal was to engage the local business community and our residents in a united effort to protect local jobs and services," says Parris. "To accomplish this, we had to do everything in our power to encourage residents to shop locally by helping them understand how essential their purchases are to public infrastructure, city services and local businesses."
Innovative Programs Spur Broad Participation
The merchant assistance program included Shop & Dine Lancaster, which encouraged consumers to shop locally and underscored how doing business in Lancaster supported the community and city services. From March 30 through April 29, 2009, when a shopper accumulated $300 in sales receipts from one or more Lancaster businesses, the consumer could exchange those receipts for a $30 Shop & Dine gift card that could be used at more than 400 participating businesses in the city. Shop & Dine distributed 5,300 gift cards to families throughout the Lancaster area.
"The final day of the Shop & Dine program was one of the most rewarding days in my career," says Economic Development Director Vern Lawson Jr. "More than 1,300 people poured into Lancaster City Hall to claim their gift cards. Every city staff member, from the city manager down, worked side by side at the finance counter to serve our residents. In a time of great economic difficulty, we were able to provide thousands of local families with economic help, while simultaneously guaranteeing more than $1.7 million in purchases at local businesses."
A similar program, Shop & Drive, was offered in conjunction with the Lancaster Auto Mall. From March 30 through June 30, 2009, people who purchased new vehicles at the auto mall qualified for a rebate of the registration fees in the form of a Shop & Dine gift card. As a result, car sales skyrocketed, and 273 new vehicles were sold or leased in the first month, totaling more than $7.4 million in new car transactions. When the three-month program concluded, Shop & Drive had prompted more than $25 million in local new auto sales.
The infrastructure and construction program rehabilitated more than 100 foreclosed homes and supported the construction of two new parks and an art museum. The developer/broker incentives program streamlined planning and permitting processes and offered incentives to commercial and industrial real estate brokers.
Lancaster's Convention & Visitors Bureau, which was established in partnership with the private sector and other agencies including the Antelope Valley Fairgrounds, created new destination ventures as part of the hospitality program. One such event, the inaugural Streets of Lancaster Grand Prix go-karting event, attracted approximately 20,000 attendees. Expanded national sports tournaments and other events infused $21.8 million into the local economy through the hospitality sector. As a result, the city received national media attention from the Wall Street Journal, NBC Nightly News, CBS Evening News, Fox Business News, CNN and all major regional television stations.
Exceeding Expectations
"The feedback regarding the stimulus package has been outstanding. For some local businesses, these programs meant the difference between closing and thriving," says Mark Bozigian, Lancaster's city manager.
Lancaster has added nearly 700 new businesses since launching its Economic Stimulus Package, which puts the city close to achieving its peak level of 6,259 businesses in 2006. Overall, the package helped the city reconnect with local businesses, build new partnerships and restore consumer confidence. Lancaster's effort provides an excellent example of how a community can pull together during tough economic times.
---
Contact: Luis Garibay, senior redevelopment project coordinator, City of Lancaster; phone: (661) 723-6110; e-mail: lgaribay@cityoflancasterca.org.
---
This article appears in the May 2011 issue of Western City
Did you like what you read here? Subscribe to Western City
---