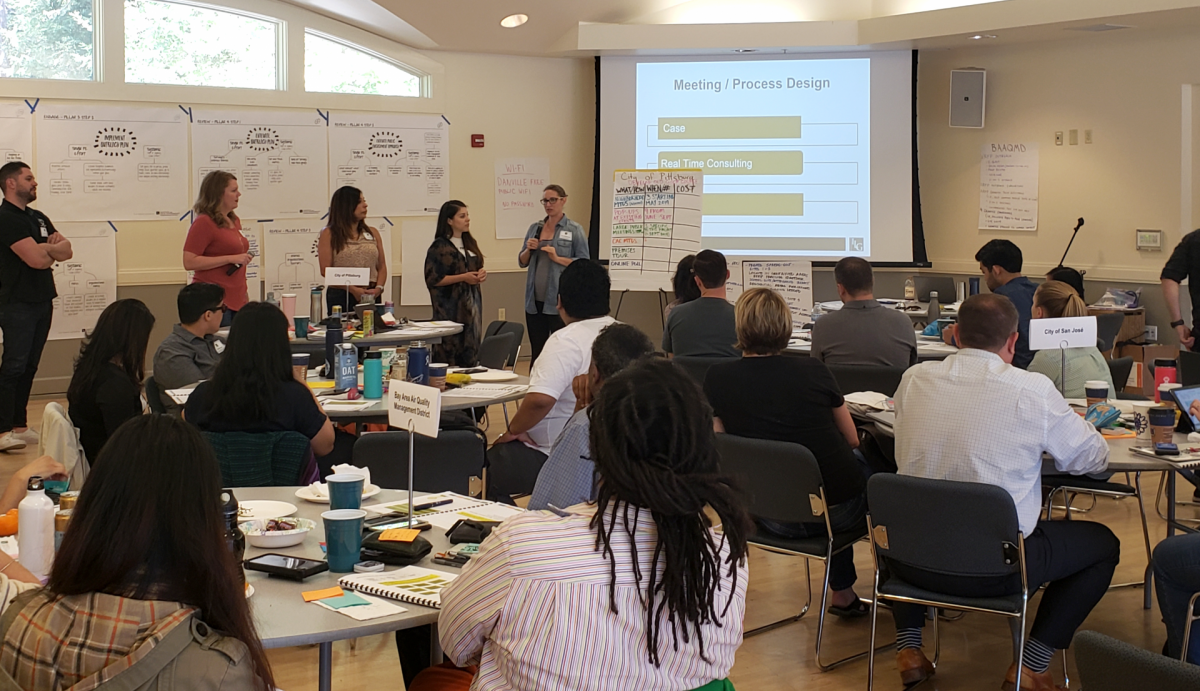 Leadership and good governance in the time of COVID-19
Erica Manuel is CEO and executive director of the Institute for Local Government and can be reached at emanuel@ca-ilg.org.
---
In times of crisis, people often turn to their community leaders for guidance and support. That leader may be a spiritual guide, a community advocate, or an elected official. During this particular time of economic uncertainty, when residents' health and wellbeing is also at stake, local government leaders have the unique opportunity to rise to the challenge of being that role model for the communities they serve. But effective leadership is no small task. It requires diligence, integrity, and a deep understanding of good governance — trust, accountability, responsiveness, and transparency.
Right now, many cities are swearing in new mayors and council members. Dozens of newly elected leaders are poised to begin their public service. During this critical time frame, it is important for incumbent and newly electeds to make a concerted effort to begin productive dialogue with their new colleagues. Maintaining an open mind and a willingness to explore new perspectives can build a culture of respect, efficiency, and openness on a city council that makes it possible to more effectively serve your community.
The Institute for Local Government (ILG) knows that California's local governments face a myriad challenges. For that reason, we strive to help local government leaders build their foundation of good governance, develop leadership skills, and increase public trust. We are non-profit, non-partisan, and committed to local government success.
ILG serves local leaders
With a 65-year history of serving the needs of local governments in California, ILG is committed to helping city, county, and special district leaders tackle their most pressing and evolving issues. We strive to be a trustworthy collaborator and neutral advisor on topics related to leadership and governance, public engagement, workforce and civics education and sustainable and resilient communities. Our sole mission is to empower local government leaders and deliver real-world expertise to help them navigate complex issues, increase their capacity, and build trust in their communities.
ILG provides training and resources for newly elected officials
Each year, ILG provides a wide range of trainings and resources for local government leaders to help them build and maintain a solid foundation of good governance. Understanding ethical conduct is critical for any local leader and core to a well-functioning government. ILG helps local officials comply with state-mandated ethics requirements and offers numerous training sessions each year. City leaders are invited to attend the Cal Cities New Mayors and Council Members Academy where ILG will host two ethics-related sessions:
Public Service Ethics Laws and Principles: AB 1234 Training. State law requires elected and appointed officials to receive two hours of training in specified ethics laws and principles every two years. Newly elected and appointed officials must receive this training within one year of becoming a public servant. Hear from a panel of experts as they help local officials navigate the ethics laws and principles.
Harassment Prevention Training for Supervisors and Officials: AB 1661 Training. This informational and interactive workplace harassment prevention training will focus on current and emerging issues resulting from the #MeToo movement, and teach mayors and council members how to identify, prevent, and properly respond to workplace harassment, discrimination, retaliation, and abusive conduct in order to avoid personal and agency liability in compliance with AB 1825/2053/1661 and SB 396.
Registration is required for the Academy, but the ILG training sessions are open to all conference registrants. Register here.
Leadership and governance
In addition to hosting numerous ethics sessions each calendar year, ILG also offers comprehensive resources and customized consulting services to help elected officials and staff collaborate and promote a positive governance culture. For decades, ILG has helped local government leaders develop leadership skills, navigate complex ethics laws, comply with ethics training requirements, and operate more effectively as a civic leadership team. Visit the ILG website or contact us to learn more about our turnkey tip sheets and customized training opportunities for your city, such as ethics and leadership resources.
Orientation materials for newly elected officials
ILG has also developed a wide range of written resources to help electeds, staff, and community members understand the roles and responsibilities of local government officials and local government agencies. ILG orientation materials cover topics such as:
Responsibilities and powers
Budgeting and finance
Engaging the public
Leadership skills
Making decisions
Planning basics
Public trust and transparency
Working with staff
Public service is an honorable calling. Those who devote their time and energy to supporting their communities in this way are integral to the fabric of our democracy. The team at ILG wants every local leader to begin their term of service with the right information and the right tools to guide their constituents through good times and bad, and lead by example.
Learn more about our work and how we may be able to help advance your city's leadership and governance goals by visiting the ILG website.