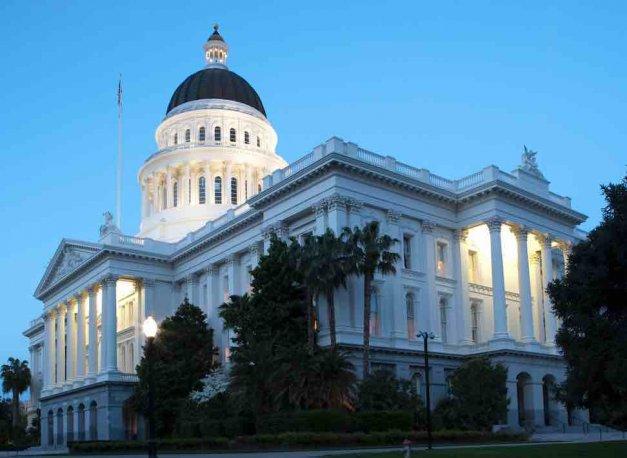 League of California Cities 2017 Annual Conference & Expo Highlights
Jennifer Whiting is director of education and conferences for the League and can be reached at jwhiting@cacities.org. For more information about the conference, visit www.cacities.org/events.
---
Join approximately 1,800 city officials from throughout California at the League of California Cities 2017 Annual Conference & Expo, Sept. 13–15 in Sacramento. Attend educational sessions and hear about inspiring ways to better serve your city and residents. Visit the Expo to find state-of-the-art products and cost-saving services and explore the League Partner Speaker Theater presentations. And while you are at the conference, use this opportunity to advocate for your city at the state Capitol during the final days of the legislative session.
Expo and Grand Prize Giveaway
This year's Expo will showcase more than 255 exhibitors, including 80 first-time exhibitors. Be sure to schedule time to meet with vendors and learn how your city can benefit from their products, services and resources. Join us on Wednesday, Sept. 13, at 5:00 p.m. for the Expo Grand Opening, held in conjunction with the Host City Reception.
Is your city prepared for an emergency? U.S. Communities, the League-sponsored government purchasing program, returns to the Expo this year with an Emergency Preparedness zone. Walk the red carpet on the Expo's 2nd Street aisle and dis-cover products and solutions to help ensure that cities are ready in the event of an emergency. Exhibiting suppliers include Club Car, Farber Specialty Vehicles, Graybar, HD Supply, Insight Public Sector, Premier Inc. and TAPCO. Be sure to also visit the second U.S. Communities red carpet zone on the Expo's 7th Street aisle and meet representatives from Amazon Business, GameTime, Columbia Vehicle Group and Trane.
One lucky city will win the Grand Prize Giveaway this year — a $3,000 voucher that may be used for products or services from any exhibiting U.S. Communities supplier. The 2017 drawing will be held Friday, Sept. 15, during the Closing General Assembly. Entry details can be found inside the two U.S. Communities zones. A representative from the city selected in the random drawing held during the Closing General Assembly must be present to win.
League Partner Village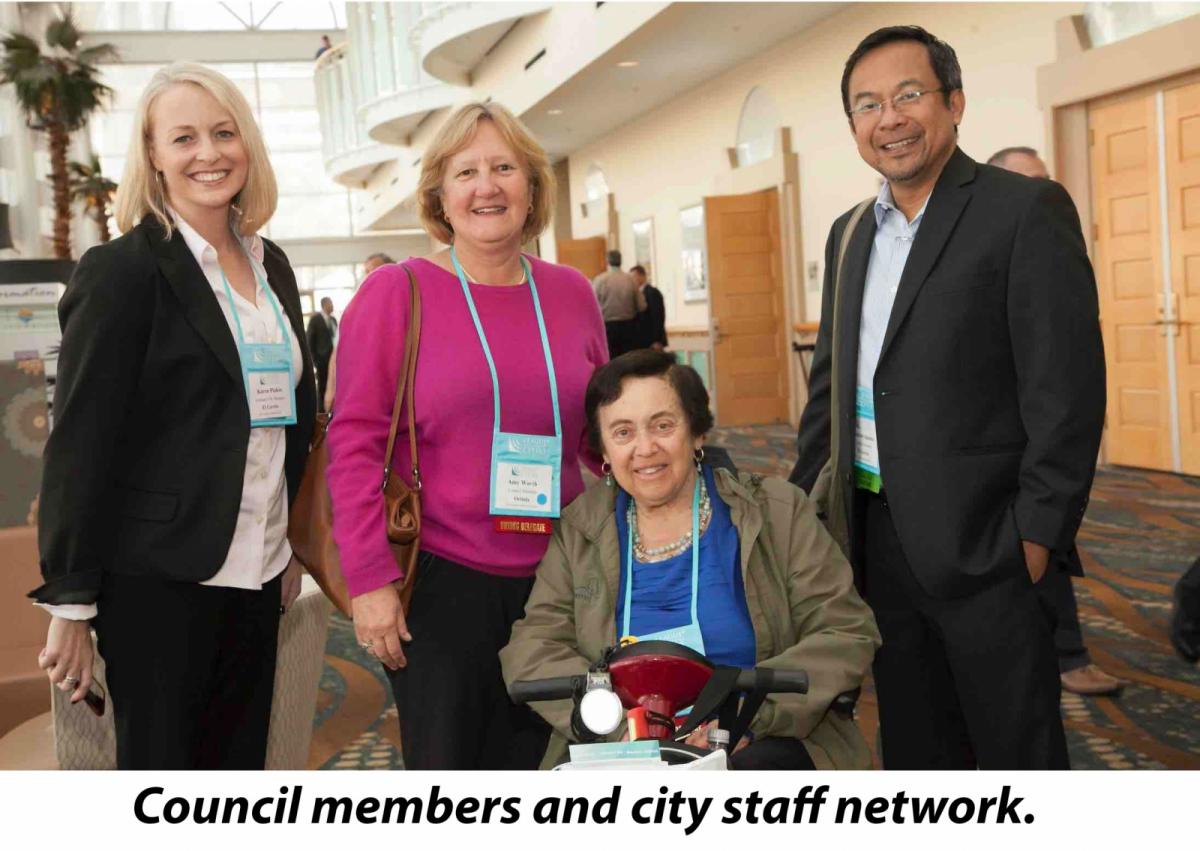 In the Expo Hall, you can find the League Partner Village, an area featuring highlights and successful examples of public-private partnerships. Explore case studies of innovative projects and programs that have worked in California cities. Gain insight from elected officials, city staff and industry experts who offer creative solutions to some of the challenging problems that cities face. The League Partner Village also showcases the work of the Helen Putnam Award for Excellence winners. Stop by to learn firsthand from the city staff who implement these award-winning projects and programs.
Networking Opportunities
The conference offers attendees many ways to connect with colleagues and experts from throughout the state to discuss common concerns, exchange ideas and share solutions. Be sure to take advantage of the networking events hosted during the conference by the League's diversity caucuses, regional divisions and the League Partners.
League Professional Departments
The League's members comprise 11 professional departments, all of which play an integral part in developing and delivering educational events and networking opportunities. These departments include:
City attorneys;
City clerks;
City managers;
Community services;
Fire chiefs;
Fiscal officers;
Mayors and council members;
Personnel and employee relations;
Planning and community development;
Police chiefs; and
Public works officers.
Each professional department is represented on the League board of directors and plays a key role in League policy-making. Most department business meetings will be held in the late morning, Wednesday, Sept. 13.
Regional Divisions
The League's 16 regional divisions function as a grassroots advocacy team and give city officials a way to become more involved in activities that enhance the quality of life in their communities. The divisions provide the League board of directors with a diverse range of perspectives and give a voice to member cities throughout the state. All divisions are staffed locally by the League's regional public affairs managers. League divisions also hold networking events during the conference. Contact your regional public affairs manager (www.cacities.org/yourmanager) for more information.
Brown Act Requirements and League Conferences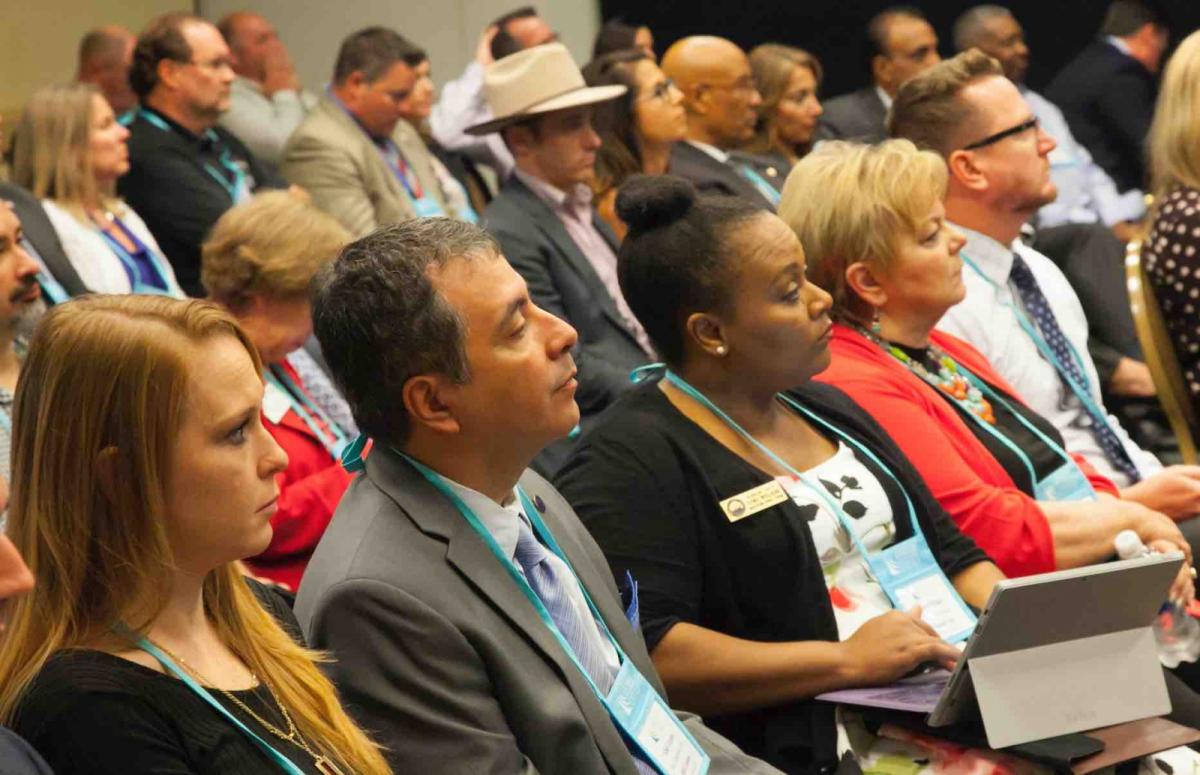 Please note that the Brown Act, also referred to as California's Open Meeting Law, permits a majority of the members of a legislative body to attend a conference (or similar gathering open to the public) that addresses issues of general interest to the public or public agencies of the type represented by the legislative body. However, a majority of the members cannot discuss among themselves — other than as part of the scheduled program — business of a specific nature that is within the local agency's jurisdiction.
The League has long been a strong advo-cate for open government and transparency. City officials believe this compliance serves the best interests of their communities and helps foster public trust and transparency in local government.
Explore the Conference Online and With the Mobile App
Visit the League's annual conference page at www.cacities.org/acsessions to plan your conference schedule. You can also download our free mobile app, designed to help maximize your time at the conference. The app allows you to view the schedule of events, customize your schedule, import your selected sessions into your calendar, access session materials and speaker bios, find exhibitor information and more. Find the app by searching in the App Store for "League of California Cities" or "CACities."
Receive Updates on Key Legislative Developments
While you attend the conference, stay informed about the latest developments across the street at the state Capitol and take a short walk to advocate for your city. You can join the League's Legislative Advocacy Team by signing up for the League's advocacy app on your smartphone or tablet. Team members receive calls to action on high-priority legislative issues and instant updates on legislation that affects cities. The app's special features make it easy to take action in several ways.
To sign up for the app, contact your regional public affairs manager to obtain a registration form (information on how to reach your regional public affairs manager can be found at www.cacities.org/regionalmanagers) or email Bismarck Obando, director of public affairs, at bismarck@cacities.org.
---
Photo credit: Jeremy Sykes, courtesy of the League of California Cities (both photos)
---
This article appears in the September 2017 issue of Western City
Did you like what you read here? Subscribe to Western City
---