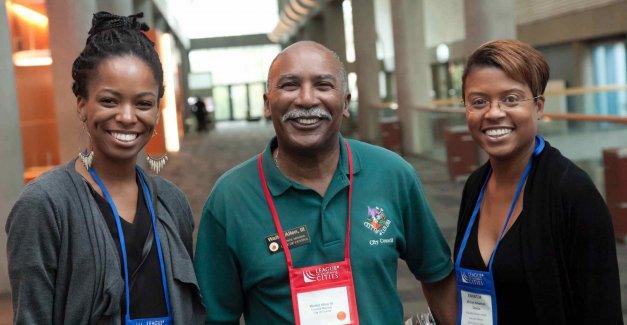 League Diversity Caucuses Unite Members in Networks, Education and Advocacy
Eva Spiegel is communications director for the League and can be reached at espiegel@cacities.org.
---
The League's five diversity caucuses play a fundamental role in engaging members, building networks and developing strong city leaders. Each caucus is unique in its membership, history and operations, but all share a common mission to bring diverse voices and perspectives to the League's work. The caucuses' involvement strengthens the League and helps ensure that it represents the diversity of California cities and their residents.
The League's diversity groups, in chronological order of formation, are the:
Latino Caucus;
African-American Caucus;
Asian-Pacific Islander Caucus;
Gay, Lesbian, Bisexual and Transgender Local Officials Caucus; and
Women's Caucus.
The League's diversity caucuses began in 1990 with the creation of the Latino Caucus. In many ways, the mission and structure of this first group established a strong foundation for the four caucuses that were created subsequently. The caucuses provide a way for city officials to become involved with the larger organization by introducing both elected city officials and staff to the League and colleagues from cities throughout California who share similar challenges and experiences.
This networking supports leadership development and offers a forum for sharing information and best practices and connecting with other affiliate groups at the state and national levels. The caucuses host educational events designed to increase their members' leadership skills in many areas and further engage members in the League's advocacy activities. Although most caucus members come from their identified constituencies, membership is open to all individuals interested in caucus priorities.
Under the League's bylaws, each diversity caucus is entitled to have one voting member on each of the League's eight standing policy committees. This participation gives the caucuses a voice in League policy development. Caucus leaders also attend the annual League Leaders' Conference in November to help set the next year's strategic priorities.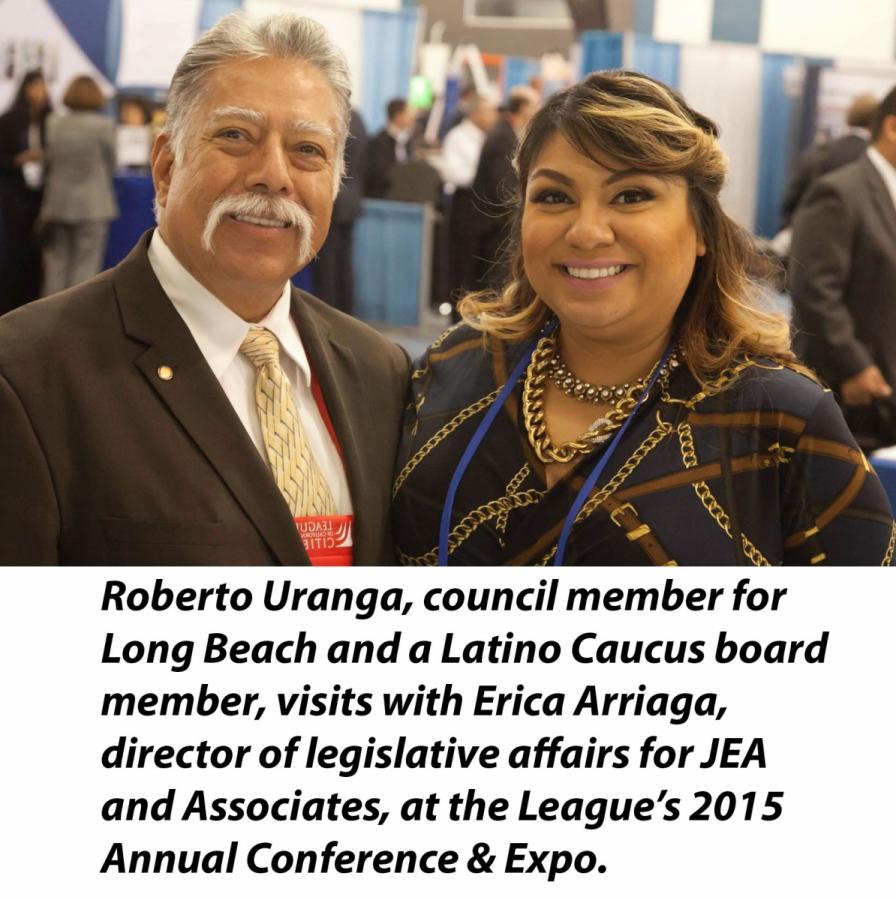 Latino Caucus: An Early Emphasis on Leadership Development
A group of Latino city officials formed the Latino Caucus in 1990 to help the growing numbers of California's Latino elected officials network, collaborate and develop their leadership skills through a League-affiliated sub-organization. They wanted to focus attention on issues of importance to the Latino community, help shape League policy and support the League in engaging the Legislature on those issues. Developing leaders to run for higher office has been a longstanding Latino Caucus priority.
A number of former Latino Caucus members have gone on to win higher offices, including California Secretary of State Alex Padilla, who represented Los Angeles in the California State Senate after serving on the Los Angeles City Council; U.S. Representative Tony Cárdenas (D-Los Angeles), a former member of the Los Angeles City Council; former California Business, Consumer Services and Housing Agency Secretary Anna Caballero, also a former Assembly member and city council member from Salinas; and the late Nell Soto, who served on the Pomona City Council and in both the Assembly and Senate.
According to Latino Caucus President and Redwood City Council Member Alicia Aguirre, the caucus serves an integral role for elected Latino officials. "The League's Latino Caucus represents a large segment of the population in California and brings leadership representation to the League to assist in addressing local and statewide issues that affect all of our cities," says Aguirre.
African-American Caucus Promotes Diversity
Following the lead of the Latino Caucus, in 1998 a group of city officials recognized a similar need and created the African-American Caucus. In addition to providing leadership development and networking opportunities, the African-American Caucus connects members with the Legislative Black Caucus at the state Capitol. That caucus, now with 12 members — the highest number of African-American legislators thus far — is helping to spark greater interest in the League's African-American Caucus.
Covina City Council Member Walter Allen has been involved with the caucus since just after its inception and now serves as its president. He is passionate about the support the caucus provides. "The African-American Caucus can inspire minority city officials involved in the League to play a greater leadership role within the organization," says Allen. "It's also important to maintain a connection with African-American elected officials to help them in any way we can with their communities."
Two years ago the caucus focused on funding for African-American infant health and partnered with the March of Dimes as part of a coalition that lobbied legislators. The caucus has also partnered with Water Education for Latino Leaders to provide education on water issues in African-American communities.
The caucus is currently working on an initiative to promote diversity in city management to help increase the number of African-Americans in management positions in cities. During the past year, the caucus has conducted interviews with individuals in management positions, such as fire chiefs, police chiefs, parks and recreation directors, public works directors and others, about how to bring more minorities into management at the city level. A white paper of best practices developed from these interviews will be presented in a special session titled "Café Style Discussion: Diversity in City Management" and facilitated by Allen at the League's 2016 Annual Conference; see "Caucus Educational Sessions at the 2016 Annual Conference" below for more details.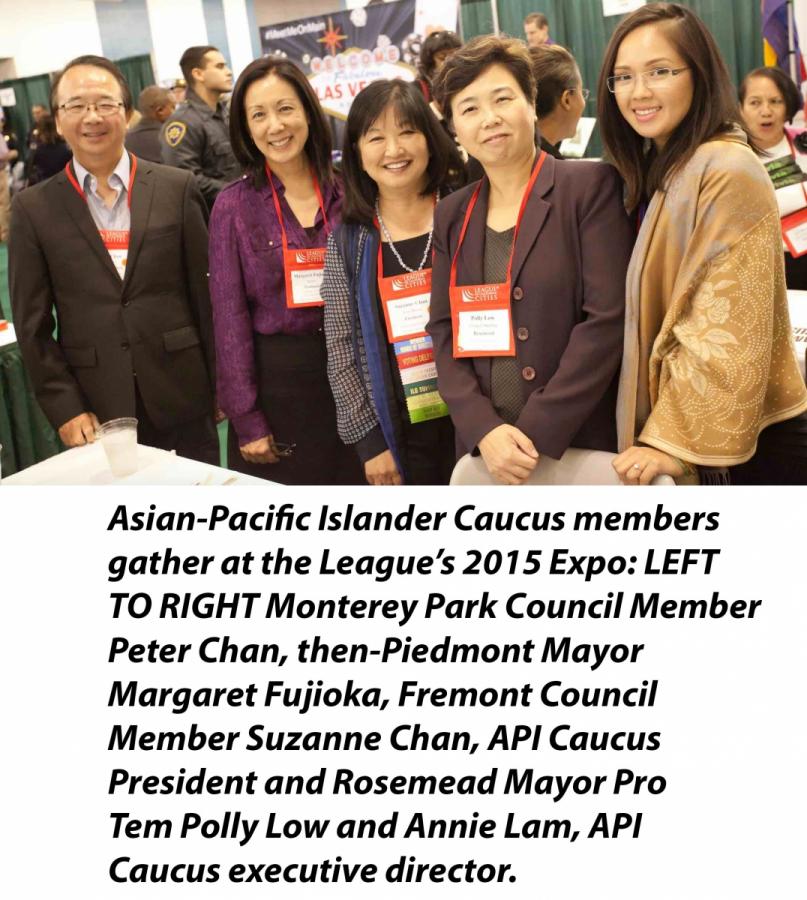 Asian-Pacific Islander Caucus Develops Skills for Leaders
Asian-Americans are the nation's fastest-growing ethnic group, according to information released by the U.S. Census Bureau in June 2016. The Associated Press reports that 1.7 million of the 21 million Asians in the United States live in California.
Formed in 2000, the League's Asian-Pacific Islander (API) Caucus represents a wide array of city officials of Asian, South Asian, Southeast Asian and Pacific Islander descent. Its founders joined forces to increase participation of API members in the League and provide a place where members can share ideas.
"The API Caucus is a strong asset for API municipal officials," says API Caucus President and Rosemead Mayor Pro Tem Polly Low, who also serves on the League board of directors. "We offer a robust network of support and advancement training opportunities and serve as a great conduit to communicate with our state's API constituency."
The caucus emphasizes training and education and often works with other organizations to provide candidate training and leadership skill development. It has conducted communications training for its members in Southern California and plans to offer another session in Northern California. This is the second year that the API Caucus has co-sponsored an economic development conference with the League's Los Angeles County Division. Each year the API Caucus sends 10 members to the University of Southern California's Local Leaders Program. In addition, in August 2016 the API Caucus awarded three scholarships to API youth to participate in an Asian Union Election Committee Education Fund conference.
Not only does the API Caucus engage with state legislators and members of Congress, but in 2016 it was also invited to several small key congressional meetings on the status of Asian-Pacific Islanders. These meetings are the result of the caucus's efforts to foster greater visibility and engagement among members.
Gay, Lesbian, Bisexual and Transgender Local Officials' Caucus Raises Level of Discussions
When the Gay, Lesbian, Bisexual and Transgender Local Officials (GLBTLO) Caucus formed in 2007, its leaders took action to raise the level of discussion about GLBT people's access to government institutions and participation. They viewed involvement in the League and on policy committees as a powerful way to increase leadership and help support GLBT city officials who may ultimately seek higher office.
Signal Hill City Council Member Larry Forester serves as the GLBTLO Caucus president. He believes that the caucus continues California's tradition of being a leader in implementing positive changes. "America's cities are facing ever-greater challenges in encouraging and implementing diversity in their communities and at city hall," says Forester. "Our caucus provides California municipalities with the tools and key building blocks to achieve a better understanding where LGBT diversity and acceptance become the norms of a healthy society and healthy city government."
During the League's Legislative Action Day held each spring, participating GLBTLO Caucus members also meet with the Legislature's LGBT Caucus to discuss policy issues. The caucus produces a quarterly newsletter for its members and allies. It also offers a model city ordinance to accommodate transgender residents.
The GLBTLO Caucus sees the League's Annual Conference & Expo as an effective way to engage the entire League membership. It has moderated a session each of the past four years on GLBT issues, such as bullying and what cities need to know about implementing domestic partnership policies in their cities. This year's session topic is transgender issues. See "Caucus Educational Sessions at the 2016 Annual Conference" on page 40 for more details.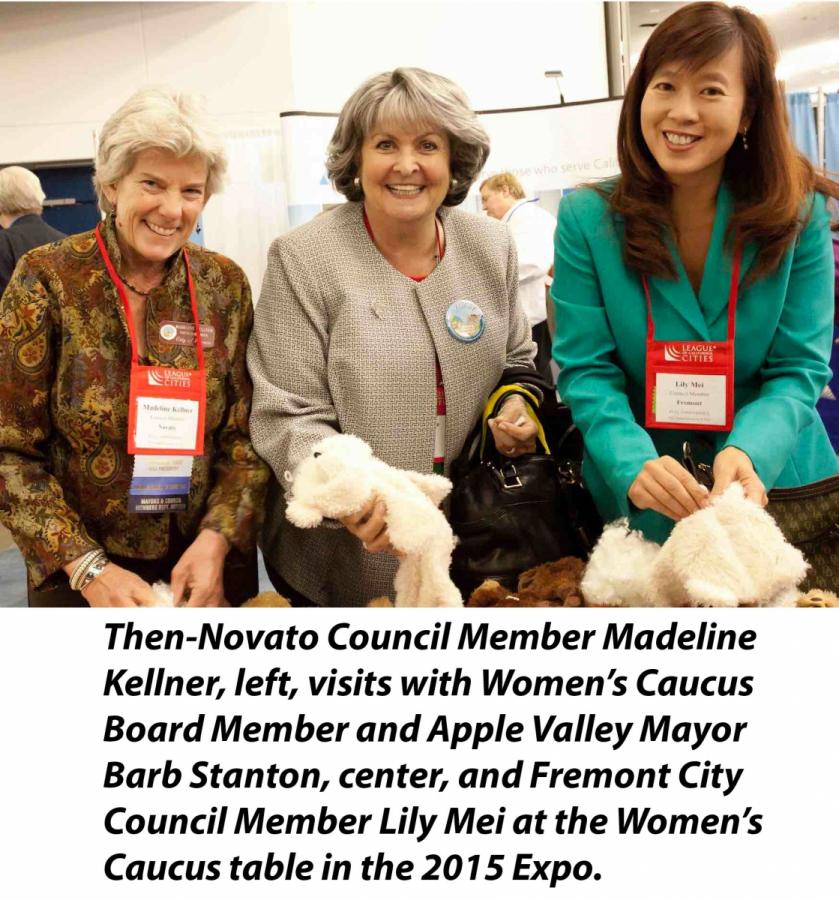 Women's Caucus Supports Public Policy Benefiting Women and Children
According to the Leadership California Institute's 2014 report, An Examination of the Status of Women in California State and Local Government, women comprise just under 30 percent of city, county and state elected officials. Caucus organizers believed that a need existed to create a forum within the League to increase participation and representation of female elected officials and established the caucus in 2010. This most recently formed caucus is engaged in supporting the League's goals.
The Women's Caucus partnered with the nonprofit California Women Lead (www.cawomenlead.org) in 2014 and 2015 to report about female representation on California city councils. In 2014, 706 women served on California city councils; the number increased by 21 in 2015. Only one California city council — in the City of Eureka — in 2015 comprised all female council members. Between 2014 and 2015 the number of councils with a female majority increased by 15 percent from 61 to 76.
Grass Valley City Council Member Jan Arbuckle serves as caucus president and believes the caucus fills a crucial role within the League. "The goal of the Women's Caucus is to increase support of public policy benefiting the women and children of California," says Arbuckle. "Women are underrepresented in elected office; therefore, the caucus is committed to engaging women and creating educational opportunities to promote more diversity in elected and appointed bodies."
Like the League's other diversity caucuses, the Women's Caucus focuses on providing a combination of education and networking to help members develop leadership skills and connect with colleagues to share experiences and resources. Networking is essential to women running for office because it is closely related to fundraising, which is a crucial component of a successful campaign. With that in mind, the caucus is developing training sessions on candidacy, media and fundraising.
Networking is the topic of the Women's Caucus session, "Developing a Power Leadership Network in Your Community," at the League's 2016 Annual Conference. See "Caucus Educational Sessions at the 2016 Annual Conference" below for more details.
How to Get Involved
The League's diversity caucuses inform participants about pressing issues for each constituent group and familiarize members with the League and its work. The caucuses encourage and welcome membership from all city officials, not just the diversity group each represents.
For more information on the caucuses visit www.cacities.org/caucuses. Some of the caucuses have web pages, including the Latino Caucus (www.cacitieslatinocaucus.org) and the API Caucus (www.cacitiesapicaucus.org).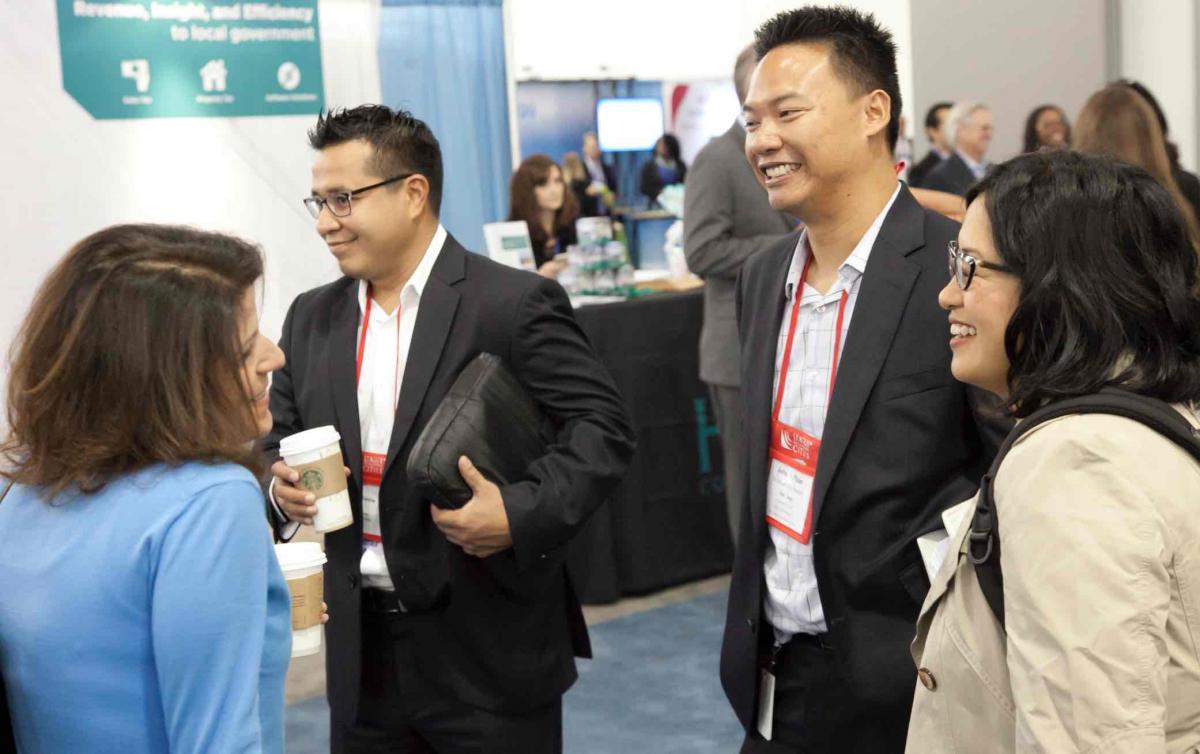 Meet Caucus Members at the Annual Conference
Each year the caucuses host educational and networking events designed to bring members together for professional development. The League of California Cities Annual Conference & Expo serves as the largest venue for the caucuses to gather and reach out to all League members. At the 2016 conference, most of the caucus-related activities will take place on Thursday, Oct. 6. Each caucus will have a table in the Expo where representatives will be on hand to offer information about the caucus's work, mission and benefits of membership. In addition, the caucuses will hold their annual business meetings on Thursday, Oct. 6, from 2:15 to 2:45 p.m. Several caucuses are scheduled to facilitate sessions on topics of interest to the general membership (see "Caucus Educational Sessions at the 2016 Annual Conference" below).
All conference attendees are invited to join the caucuses for their networking events on Thursday night, Oct. 6. Details with time and locations of sessions and networking events can be found in the on-site program, League conference app and at www.cacities.org/acsessions.
---
Caucus Educational Sessions at the 2016 Annual Conference
Developing a Power Leadership Network in Your Community, Wednesday, Oct. 5, 10:30–11:45 a.m.
Presented by the Women's Caucus, the panel will focus on the importance of meeting and fostering relationships with the people who can help candidates reach their goals as well as strategically assessing important community events and how to leverage relationships to help in leadership development.
Who in Your City Will Determine the 2016 Elections? Wednesday, Oct. 5, 10:30–11:45 a.m.
The Latino Caucus is facilitating this session about the increasingly influential role of Latino voters in politics and how California's changing demographics will impact state and local elections.
Transparent Cities: Building Communities for Everyone, Thursday, Oct. 6, 2:45–4:00 p.m.
Presented by the GLBTLO Caucus, this session will cover the political and jurisdictional issues confronting local officials. Panelists will provide tools on how to address public misunderstanding about transgender and gender-nonconforming people.
Café Discussion: Diversity in City Management, Thursday, Oct. 6, 4:15–5:30 p.m.
The African-American Caucus will host this discussion of diversity in city management, which has become a national topic of interest, due in part to the recent high-profile shootings of African-Americans by law enforcement officers. The conversation has moved beyond the realm of public safety to city leadership in general. This session looks at the people leading our cities, the extent to which they reflect the communities they serve, how to diversify key departments to include more people of color and women, and more.
This information was current as Western City went to press. Check the on-site conference program, the League app or www.cacities.org/acsessions for updated information.
---
Photo credit: Jeremy Sykes, courtesy of the League of California Cities (all photos)
---
This article appears in the September 2016 issue of Western City
Did you like what you read here? Subscribe to Western City
---