League Honors Legislators of the Year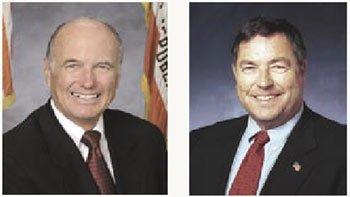 Presented in appreciation of the legislators' support for local government on a variety of issues throughout the legislative session, the awards were announced at the League's annual conference, held in October 2005 in San Francisco.
"These legislators previously served in local government," said League Past President Pat Eklund. "They understand that local democracy works best when decisions are made at the level closest to the people. We deeply appreciate their efforts."
Senator Ackerman previously served for 12 years on the Fullerton City Council, including two full terms as mayor. He was recognized for his long-term support for local control and for ensuring that funds owed to local governments by the state are repaid to local governments. Senator Ackerman was very supportive of the League's efforts to protect local government revenues, which culminated in the passage of Proposition 1A. In the 2005 budget negotiations, he supported the full repayment of the Vehicle Li-cense Fee loans to local government as part of the final adopted state budget.
Assembly Member Mullin is a former planning commissioner and city council member from South San Francisco. He was recognized for his thoughtful leadership as chairperson of the Assembly Housing and Community Development Committee in dealing with difficult issues affecting redevelopment, measures that would undercut local housing programs and eminent domain. Assembly Member Mullin has been both firm and fair in dealing with difficult issues affecting redevelopment (including legislation that threatens local inclusionary housing programs) and taking a prudent approach on eminent domain.
"Senator Ackerman and Assembly Member Mullin both understand that solutions to major state issues begin with maintaining healthy local governments that can provide solutions to fit their communities," said Eklund. "They know what it takes to make a community work at the local level and that heavy-handed mandates really won't work."
"We are very pleased to be able to give not one, but two awards this year — and to two legislators so deserving of the recognition," said League Executive Director Chris McKenzie.
The Legislator of the Year award was instituted more than
20 years ago and is given only in those years when the League determines that a legislator is deserving of the honor.
---
This article appears in the January 2006 issue of Western City
Did you like what you read here? Subscribe to Western City
---