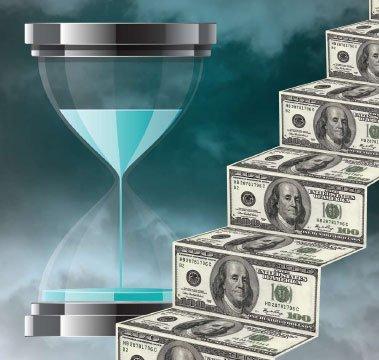 The League Steps Up on Pension Reform
Rod Gould is city manager of Santa Monica and can be reached at Rod.Gould@smgov.net. Dwight Stenbakken, deputy executive director of the League, also contributed to this article and can be reached at DStenbakken@cacities.org.
---
The League board of directors took action on the issue of public pension reform in late July by adopting the City Managers Department Pension Reform Action Plan as League policy. This signaled the League's willingness to engage directly on an issue that has far-reaching financial, political and labor-relations implications for all cities in California. By adopting the plan's recommendations, the League is taking a leadership role in advocating responsible public pension reform. This is critically important because public agencies can't sustain the long-term costs of current pension practices, and action is urgently needed due to the growing momentum of a frontal attack on public employee retirement security, orchestrated by partisan politicians and fueled by media seeking conflict and controversy.
he League board identified sustainable pensions as one of the organization's three strategic priorities this year. The city managers drafted a set of recommendations over six months, involving numerous statewide discussions and consultation with industry experts and the California Public Employees' Retirement System (CalPERS) officials. The League's Employee Relations and Revenue and Taxation policy committees also weighed in with their support of the city managers' work.
Political and media interest in pension reform statewide has increased during 2011. Pension reform was at the vortex of the budget discussions between Gov. Jerry Brown and Republicans this spring, and the governor and Democratic leaders continue to refine a legislative package of pension reforms. Several groups are also seeking to place pension reform initiatives on upcoming ballots if they can get the funding to circulate the petitions and finance a credible campaign. The language in some of the proposed initiatives could portend cures far worse than the disease.
Increasing Costs Are Unsustainable
The central issue is that pension costs for most California municipalities are likely to increase 25 percent or more in the next three years. Despite sizable recent investment returns by CalPERS and the other major pension funds in California, contribution rates are likely to remain high for a decade or more, and the stock market — so critical for pension investments — continues to be volatile. Indeed, analysts say that by 2013–14 it will be common for local governments to budget 50 percent of a police officer's salary, 40 percent of a firefighter's salary and 25 percent of a miscellaneous employee's salary for their pensions alone. Clearly such contribution rates are fiscally unsustainable.
The causes of these increased costs include:
Large losses on pension investments due to the Great Recession in 2008;
Enhanced benefit formulas granted after 1999;
Increased lifespans of retired employees; and
Increased salary levels driving retirement formulas.
Most cities in California have experienced various levels of fiscal distress since 2007–08, resulting in service level reductions, layoffs, furloughs, aggressive take-back negotiations with labor, deferral of preventive maintenance on infrastructure, and use of one-time reserves for operating costs. If sizable increases in pension costs are not mitigated, many cities will be forced to further reduce services and staffing to fund the pensions of those who remain on the payroll or are retired from service. When combined with the fact that state and local government pensions are significantly more generous than those typically offered to private-sector employees, this creates a situation that is both fiscally unsustainable and politically untenable.
The good news is that even a casual review of media articles and reports from throughout California indicates that a majority of cities are engaged in various levels of pension reform. A survey conducted by the League's City Managers Department in February presented evidence that pension reform is picking up steam.
Principles for Reform
The League's policy on pension reform is based on four key principles:
Public retirement systems are useful in attracting and retaining high-performing public employees to design and deliver vital public services to local communities;
Sustainable and dependable employer-provided defined benefits plans for career employees, supplemented with other retirement options including personal savings, have proven successful over many decades in California;
Public pension costs should be shared by employees and employers (taxpayers) alike; and
Such programs should be portable across all public agencies to sustain a competent cadre of California public servants.
The policy guidelines for pension reform adopted by the League focus on the actions cities can take now under existing law and regulation to manage pension costs, as well as those steps that would require legislative action and perhaps even a constitutional amendment.
Steps Cities Can Take Now
Even without changes in state law, there are a number of sensible steps advocated by the League that cities can initiate now through the collective bargaining process.
The employee, not the employer, should pay the employee's share of CalPERS costs — 7 to 8 percent for miscellaneous employees and 8 to 9 percent for safety employees. Further, some cities may wish to negotiate for employees to pick up a portion of the employer's CalPERS costs — up to current CalPERS limits — to better share the costs of pensions.
Pension calculations should be steered away from using the single highest salary year to calculate retiree pensions and instead move toward an average of the three highest salary years worked during an employee's career. Further, cities should negotiate to eliminate the CalPERS contract option of including Employer Paid Member Contribution (EPMC) in the calculation of an employee's base pay for retirement purposes.
Moreover, cities are negotiating — and should — for less costly retirement plans for newly hired employees while still providing fair and dependable benefits. Numerous court rulings have held that current employees have vested rights to the pension programs offered to them at the time of hiring. Thus, it is legally questionable as to whether or not cities can alter those pension offerings for current employees. A reduced pension plan or "second tier" for new employees does not provide immediate budgetary relief, but will generate savings as employees retire and turnover occurs in the years and decades to come. (The City Managers Department survey in February indicates that one in five cities has already implemented a second tier for new hires and that 61 percent of cities are currently negotiating pension reforms along the lines suggested here.)
Action Needed at State Level
Successful pension reform also depends on action at the state level:
The League supports the repeal of SB 400/AB 616, which offered enhanced pension benefit formulas for state and local employees. These formulas are largely unsustainable and are not defensible in the public debate over public pension levels. Instead, the League board would like to see more formula choices with lower-benefit local options that can be tailored to community needs and ability to pay.
The League board believes that final retirement salary should be based on the three highest paid years worked and should not include overtime, vacation or sick leave in the pension calculation to eliminate "spiking." Further, EPMC should be eliminated as it lacks a cogent public policy basis. Purchase of so-called "air time" — meaning time not actually served — should also be eliminated. Legislation ought to require employees to pay their share of pension costs (7 to 8 percent for miscellaneous employees and 8 to 9 percent for safety employees) and allow employers to negotiate contracts whereby employees pick up a larger portion of the employer's cost for pensions.
Legislation should also allow government agencies to extend retirement ages for miscellaneous employees up to Social Security retirement ages and seek a minimum age of 60 for miscellaneous employees and 55 for safety employees before earning full retirement benefits. Retroactive pension increases should be completely banned. The League would like to see more retirement alternatives for part-time employees, including deletion of the 1,000 hours rule for part-time employee mandatory enrollment in CalPERS. Employees and employers should be prohibited from skipping their full contribution in any year.
The League would like to see the development of a hybrid pension option that combines a cost-effective defined benefit pension with an annual maximum retiree benefit equal to 70 percent of the retiring employee's eligible base pay (determined by averaging the three highest years' pay) combined with a risk-managed defined contribution plan. This combined defined benefit-defined contribution offering should be of significant interest to local agencies statewide.
There is controversy over recent calls to reduce future pensions yet to be earned by current public employees in California. The League has convened leading attorneys with appropriate expertise in the area to opine on the status of the law as it applies to questions of employee vested rights to pension benefits and the constitutionality of making such prospective adjustments to pensions for current employees. The board will consider the results of this symposium as it refines its policies regarding pension reform.
For additional system improvements, the League would like to see an increase in the number of independent public members (preferably with financial expertise) on pension boards statewide to ensure greater representation of taxpayer interests with regard to pension decisions. Furthermore, the League urges greater clarity of standards and definitions for disability benefits. It also recognizes that Other Post-Employment Benefits (OPEB), such as retiree health care, represent another unfunded liability for many local agencies and must also be addressed through comprehensive reform measures. The League fully supports greater transparency of reporting and actuarial evaluations of unfunded components of both OPEBs and pension plans, and would support legislation stripping pension benefits from any public employee convicted of a felony related to fraudulently enhancing pension benefits.
The League is reaching out to legislators of both parties and Gov. Brown's administration to seek discussion of these pension reform recommendations. Moreover, the League is engaging its partners, including labor leaders, to seek common ground. In this way, the League hopes to positively influence pension reform at the state and local levels. As pension reform gathers momentum, the League will play a vocal and constructive role.
---
Understanding Pension Fund and Labor Relations Terminology
To assist local officials in their consideration of pension policy issues, the Institute for Local Government (ILG) has prepared a plain-language glossary (www.ca-ilg.org/PensionGlossary) that explains key terms and concepts related to pension plan benefits, funding and governance. The glossary is also a tool that local officials can make available to the media and the public to help them understand the issues local agencies are grappling with in this area.
In addition, because any employer proposals that change employee benefits are subject to state labor relations requirements, ILG has also prepared a separate glossary (www.ca-ilg.org/LaborRelationsGlossary) that contains key concepts related to the collective bargaining process.
These glossaries are a service of ILG, whose mission is to promote good government at the local level with practical, impartial and easy-to-use resources for local officials and the communities they serve. ILG is the nonprofit 501(c)(3) research and education affiliate of the League and the California State Association of Counties.
ILG welcomes links to all of its resources from local agency websites. For more information about ILG resources designed to improve understanding about local government issues, visit www.ca-ilg.org/localgovt101.
---
This article appears in the November 2011 issue of Western City
Did you like what you read here? Subscribe to Western City
---