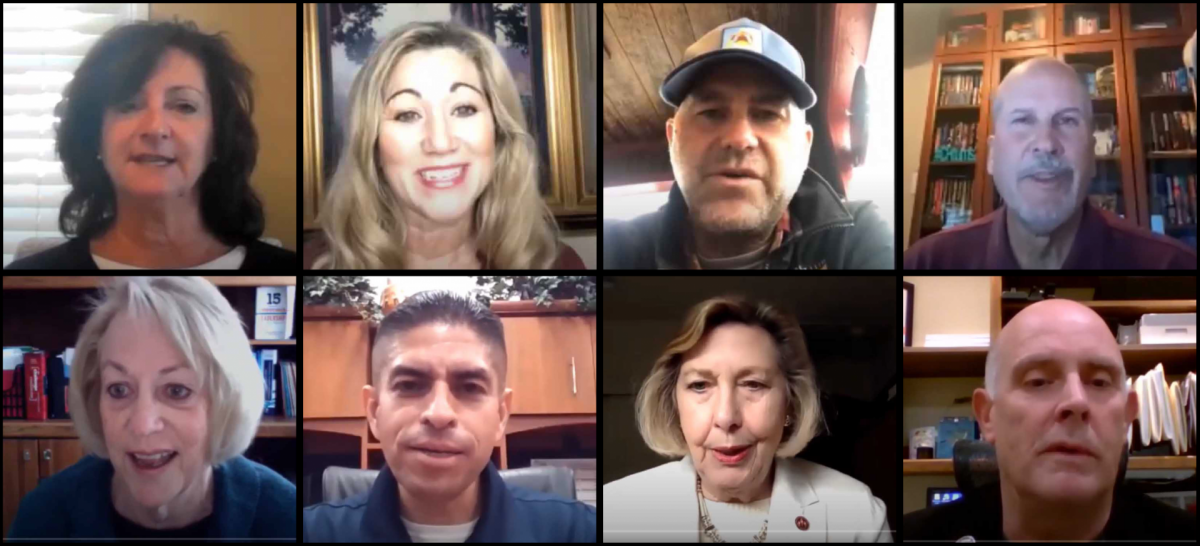 Lessons in Leadership: Outgoing mayors and city council members share advice on what it takes to be an effective leader
Jill Oviatt is the director of communications and marketing at the League of California Cities and Editor in Chief of Western City; she can be reached at joviatt@cacities.org.
---
Lisa Yarbrough works at KP Public Affairs and is managing editor of Western City; she can be reached at editor@westerncity.com.
---
Leadership at the local level has taken on new importance as we collectively navigate the COVID-19 pandemic and work to strengthen access to critical city services and community-wide support for residents and businesses. Looking ahead at the challenges and opportunities for 2021, we interviewed eight outgoing mayors and council members from cities throughout the state about the lessons they had learned about leadership and the valuable advice they had for incoming local elected officials.
Former Napa Mayor Jill Techel advised new city leaders to take the time to get to know their fellow council members and create a team environment from the beginning. She also emphasized the need to be a visible leader, treat people with respect, and express gratitude on a daily basis.
"I try to remind myself every morning to do something that makes someone else feel good about what they are doing for our community," said Techel.
In talking about Napa's renaissance, Techel is particularly proud of how the city worked with residents and stakeholders to design a flood control project that the whole community supported.
Watch Former Napa Mayor Jill Techel's full interview.
Former Citrus Heights Council Member Jeff Slowey highlighted the significance of listening.
"Listen more than you talk," said Slowey. "There are a lot of well-educated people within your city and if you are always talking, you can't hear what they are saying."
He also said that to be an effective leader, sometimes you have to make waves to get the job done.
"Anyone can do the status quo," noted Slowey. "If you want to move the needle, sometimes you need to have bold ideas."
Fourteen years ago, the city of Citrus Heights created their own police department. Slowey is proud of that accomplishment which has resulted in putting more officers on the street, saving money, and reducing crime.
Watch Former Citrus Heights Council Member Jeff Slowey's full interview.
Judy Mitchell, four-time mayor of the city of Rolling Hills Estates, encourages new city leaders to keep in mind that everything you say and do can come into the public arena. She said it is also important to know your ethical responsibilities as a government official and to respect other people's viewpoints.
"Don't assume the way you think and feel is the same as others," said Mitchell.
She is proud of her work establishing an environmental advisory committee that created the city's climate action plan and developed environmentally friendly policies and programs including community choice aggregation.
"You should stay rooted in your community, but also branch out into regional organizations and build a strong network of colleagues across the region," advised Mitchell.
Watch Former Rolling Hills Estates Mayor Judy Mitchell's full interview.
Former Riverside Mayor Rusty Bailey said the three most important things city leaders do is represent, problem solve, and make decisions. But he also emphasized the importance of taking time to develop relationships.
"You think things are going to happen quickly especially during your first term," said Bailey. "But you come to learn that you need to develop relationships with other elected officials and the city management team and that takes time."
Bailey is proud of the city's dedication to addressing homelessness which resulted in 30 tiny homes being built to house the homeless.
Watch Former Riverside Mayor Rusty Bailey's full interview.
Outgoing Murrieta Council Member Kelly Seyarto cautioned local leaders to not take themselves too seriously.
"You are there to represent and be the voice for people who elected you and also people who didn't vote for you," said Seyarto. "It's important to remember that you are not the most important person in the room, as people don't respect that."
He reinforced the need to "appreciate and take care of the people around you" and to have an open mind.
Seyarto is proud of developing a central gathering place for Murrieta residents that houses the city hall, police department, senior center, library, park and more. Seyarto was quick to point out that the success of Murrieta's town square is not the result of one set of councilmembers, but from many years of collaboration.
Watch Murrieta Council Member Kelly Seyarto's full interview.
Former Grass Valley Mayor Lisa Swarthout says the most valuable lesson she learned over her 16 years of service to the city is to really listen and understand where constituents, staff, and fellow council members are coming from.
"None of us work in isolation and in order to get things done and be a strong leader you have to create a team and get everyone on the same page," said Swarthout.
Swarthout said four years ago Grass Valley passed a 1 cent sales tax measure that generates an additional $5 million a year for the city's general fund. The city formed a partnership with the local school district and with the additional funding they were able to create an all-weather soccer and lacrosse field, which has been a huge asset for the residents.
Watch Former Grass Valley Mayor Lisa Swarthout's full interview.
Former Bellflower Mayor Juan Garza shared three important tenets of being a successful leader: having clear and effective communication, establishing trust, and setting a vision for the city.
"It's critical to know what your role and responsibilities are so that you stay in your lane," advised Garza. "Once we stray into the lane of what city staff is responsible for that creates confusion."
Garza is particularly proud of the transformative 50-bed homeless shelter the city built and how residents' initial resistance to the project has shifted to community pride.
"This effort restored hope in me that the greater good still exists, it is just a matter of communicating, earning trust, and working together towards a common goal," Garza remarked.
Watch Former Bellflower Mayor Juan Garza's full interview.
Former Eureka Council Member Heidi Messner said that when you first join the city council you need to dive in head-first, study, learn, and read all that you can.
"It's really critical that you hear all sides of an issue, weigh the options, even look for ones that may not be presented, and view things with an eye on the future outcomes of decisions that are made."
She talked about the honor of serving on the Eureka city council when the city took the historic step of righting atrocities from over 150 years ago and transferred the Duluwat Island in Humboldt Bay back to the Wiyot Tribe.
"This was the first time a U.S. municipality repatriated land to an indigenous tribe without strings attached," remarked Messner. "I am very proud of this achievement as it began the healing process for centuries-old racial injustices."
Watch Former Eureka Council Member Heidi Messner's full interview.
Through their many years of service in local government these outgoing mayors and council members have sage advice about how to be an effective city leader. Their insight about the need to listen to others, communicate effectively, build trust, empower staff, and foster teamwork, are wise words for new mayors and council members as they embark on their journey to lead their city forward.
What they are up to next
In addition to spending time with her grandchildren, Techel says she is excited to continue her work with Leadership Napa Valley, which is working to train and empower the next generation of leaders.
Swarthout says she has a strong call to public service and is looking forward to seeing what the next chapter holds, which may include running for the Nevada County Board of Supervisors.
Following his passion to help others, Bailey is the incoming CEO of a faith-based non-profit organization focused on finding permanent housing and providing supportive services for those in need.
Garza is excited to focus on his public affairs and communications firm, Six Heron, and looks forward to growing his business.
As a newly elected member of the State Assembly, Seyarto looks forward to representing the 67th Assembly District.
Slowey says he is looking forward to having more free time in his evenings and has an eye on retirement in the next few years.
Messner still has a full plate as she recently launched a podcast, wrote a book called "American Leftovers," and continues to work with E.P.I. (Empower. Protect. Invest.), the anti-human trafficking organization she started in 2015.