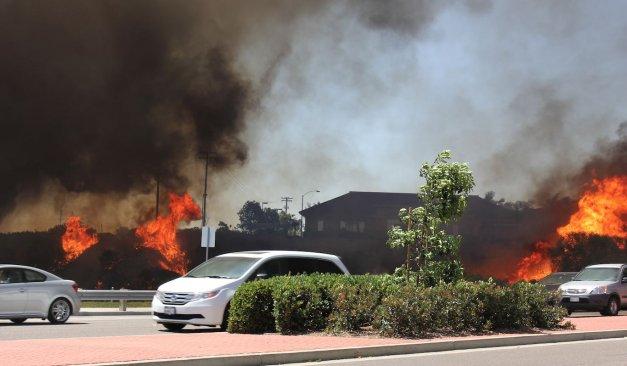 Leveraging the Power of Social Media When Disaster Strikes
Kristina Ray is communications manager for the City of Carlsbad and can be reached at Kristina.Ray@carlsbadca.gov.
---
On an unusually warm, dry and windy morning in May 2014, department managers were gathered for their weekly meeting, reviewing routine business of the City of Carlsbad, a Southern California beach community (pop. 110,000) north of San Diego. Suddenly calls, texts and tweets came pouring in. A small brush fire had broken out in the heart of the city, across the street from a new $40 million park, surrounded by dense neighborhoods and rolling hillsides.
What followed was a nearly 60-hour around-the-clock emergency response effort that included the evacuation of tens of thousands of residents, local businesses and school children; power outages; road closures and threats to critical habitat areas. A total of 600 acres would burn in what was dubbed the Poinsettia Fire — a scene described by CNN as "an Instagram from hell."
The city's leaders had made emergency preparedness a high priority, which put Carlsbad in a strong position to protect lives, property and the environment. Safeguarding the community's emotional well-being and trust presented a different set of challenges, however, and required a team of trained staff ready to manage communication across multiple digital channels 24 hours a day until long after the fire was extinguished.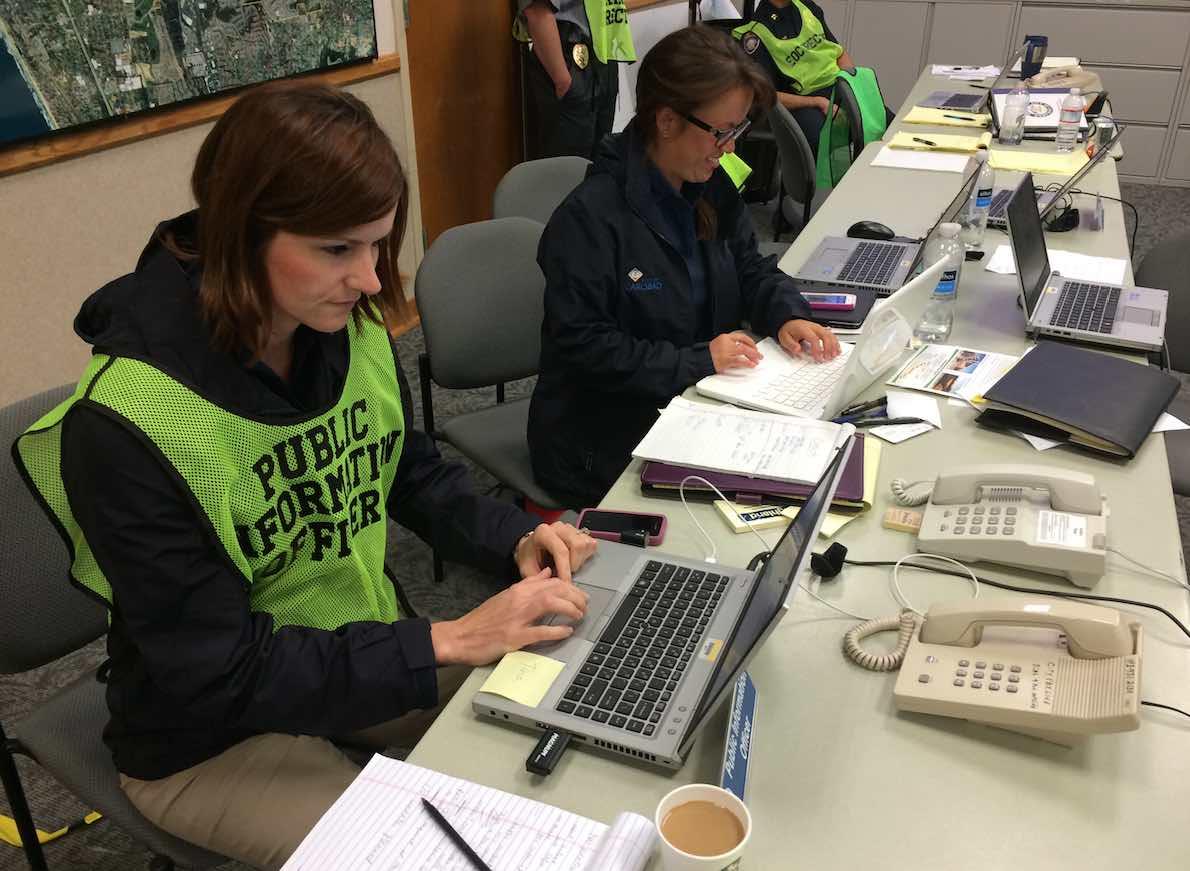 New Tools, More Resources
Today, traditional media, while still dominant during an emergency, is just one of many communication channels requiring constant attention. The City of Carlsbad could not effectively staff an around-the-clock news and community outreach operation without using some creative approaches.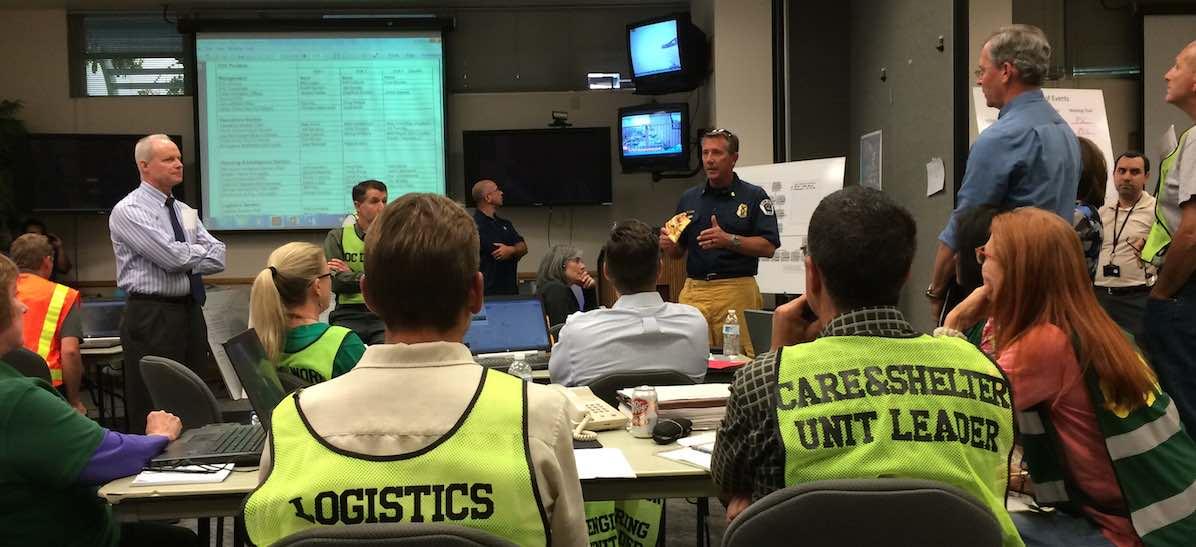 In recent years, the city has expanded its emergency public information officer function to include staff to monitor social media channels for rumors, respond to online comments and correct misinformation. Some staff collect and distribute photos from the field, and others record and upload to YouTube unedited footage from city news conferences. These positions are in addition to more traditional communication duties of gathering and verifying information, writing news releases, posting website updates and working with the media. More than two dozen Carlsbad city employees have been trained to assist with city communications during an emergency.
"My professional training is in evaluating and organizing information," says Glynn Birdwell, principal librarian for the city and a member of the city's emergency communication team. "In a crisis, people need facts from trusted sources, and I can provide that service by helping the public information officers verify information before it goes out to the public."
Birdwell and her colleague Leila Dooley, also a librarian, took shifts during the Poinsettia Fire monitoring Twitter and Facebook for misinformation and sharing updates from other emergency response agencies.
The city augmented its emergency communication team with personnel pulled from public works, human resources, cultural arts, neighborhood services and planning staff. Regular drills and training had prepared them to use their skills to help with communication in an emergency.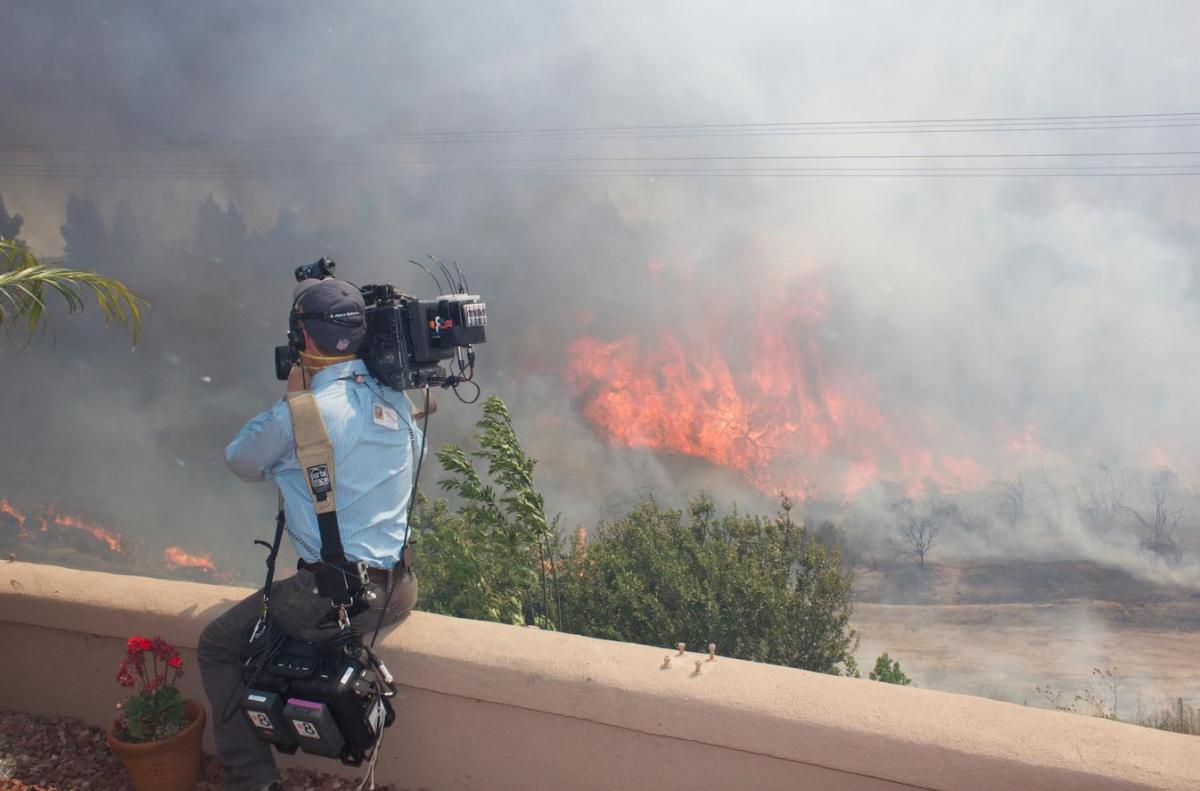 Beyond Information Sharing
Disseminating accurate, timely information to help save lives, property and the environment is a public agency's top priority during an emergency. Once these bases are covered, a second need emerges that is easy to overlook, especially for government. Residents also need reassurance and a chance to express their fears, feelings of gratitude and sense of community. When managed properly, social media can provide a platform for this communication.
Prior to the Poinsettia Fire, the City of Carlsbad had already invested in building a strong social media following, and its Facebook page had become the second most popular city page in California. Not only was all essential safety information posted to the city's emergency web page and shared through social media, the city also used its social media channels to build a sense of community connectedness during and after the fire.
Showing the Human Side of Government
The first night of the fire, the city shared a photo via Facebook of community members gathered at the beach, watching the smoke-streaked, brilliant sunset over the ocean. The post, which reinforced Carlsbad's sense of community and love of the coastline, became the city's most shared post ever and gave residents an opportunity to take part in a moment of fellowship.
A photo of a fully staffed emergency operations center shared at midnight reassured residents that city workers would be there for them, around the clock. On day three, when the coastal fog returned, signaling an end to the extreme fire danger, the city posted a photo of the cloudy skies with the caption, "Welcome back, May gray. You have never looked more beautiful, and we promise to never complain about you ever again." By avoiding the overly official tone that frequently characterizes government communication, this lighthearted post signaled to the community that things were returning to normal.
Residents also posted to the city's Facebook page. One local mother shared a photo of her son's Lego creation: a city in flames with a fire engine on the scene. Another resident posted a photo showing a group of local friends at a backyard gathering, raising their glasses to say thanks to the city. While these types of social media posts are common on people's personal pages, they weren't posted there. These personal moments were posted on a city Facebook page. Such posts indicated to city staff that they had become more than "the government" — community members were responding to the city as they would to a neighbor or friend.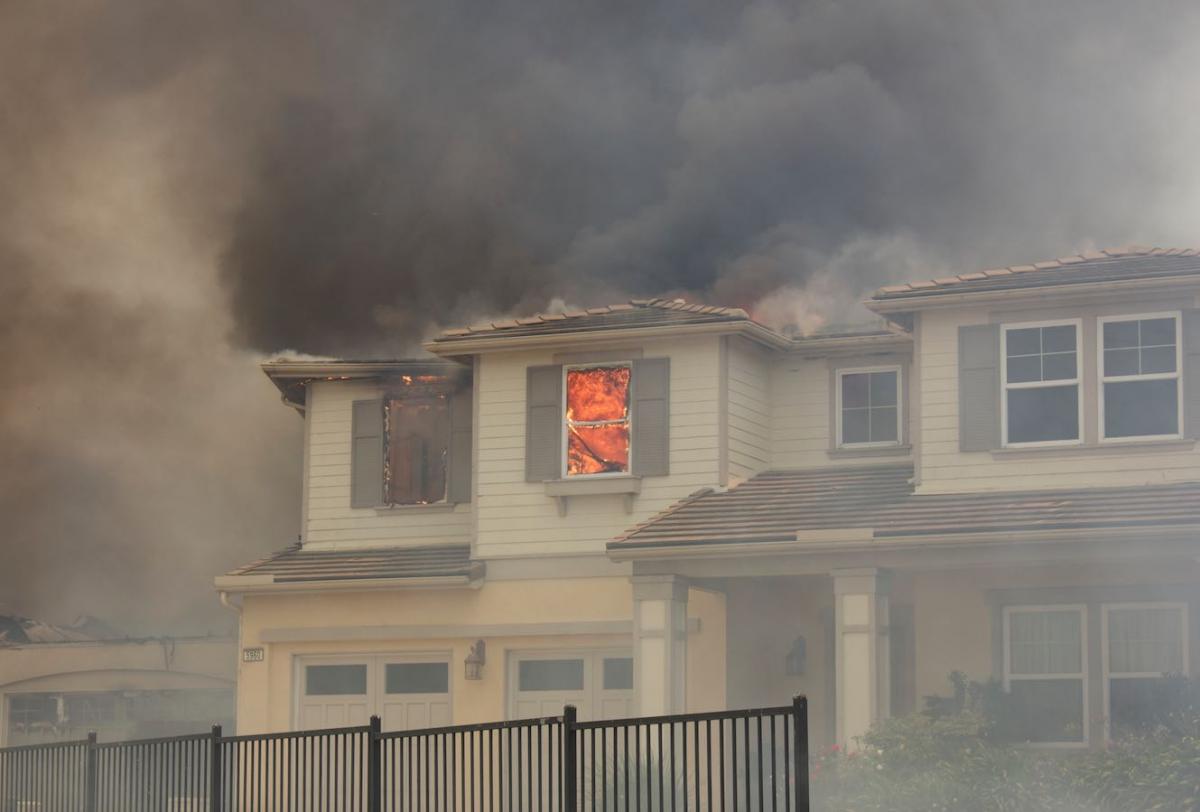 Planning for the Future
City government is tested during an emergency, whether it's a massive wildfire, earthquake, mudslide or other emergency. These types of events also offer an opportunity to connect with the community in a way that conveys concern, empathy and a commitment to serving the public. Today's digital communication environment requires a greater investment in training and resources than ever before. Careful preparation and thoughtful implementation of digital communication during a disaster can result in a safer, stronger community — one that will never look at local government in quite the same way again.
---
Tips for Using Media in a Crisis
Build Your Team. Effectively managing digital communication requires a large team that is prepared for any crisis. Find staff who use digital communication channels regularly; focus on their interest and skills rather than position. Carlsbad's team includes staff from the library, public works, planning and police departments and comprises administrative assistants, analysts and managers.
Train, Train and Train Again. Include the team in existing public safety drills, and conduct stand-alone "table top" exercises to practice scenarios. Document and continually update lessons learned, easy-to-follow checklists, contact databases and protocols.
Speak Like a Digital Native. Each social media channel has its own language and culture. Spend time on each platform and pay close attention to how people communicate with each other, use hashtags and tag each other in posts or photos. Practice posting about daily agency business using friendly, casual language without jargon. This takes practice.
Listen. Using social media as a one-way communication tool is one of the biggest mistakes government can make. Listening to comments and posts by others, engaging in conversations through comments and quickly responding to questions are equally important.
Build Your Networks. Start building your social media networks now, before a crisis. Follow others in your community, especially agencies that would have a role in an emergency. Promote your channels by posting and sharing content of interest to your community. You can also "boost" your posts for as little as $5 or $10 a day to gain more visibility. This investment will pay off when you have a larger online audience during a crisis.
Be a "Friend." Government has a reputation for using jargon and being out of touch and unapproachable. Social media provides a way to break this mold and create a different relationship with your community. Think of your followers as friends, not constituents. What would you tell a friend during a crisis? How would you reassure members of your family? Is there an opportunity to share a moment of levity? Empathy and authenticity are key to building trust.
Safety First. In a crisis, these social media communication approaches cannot be a substitute for providing a steady stream of essential public safety information through traditional communication channels. For now, social media should supplement — not replace — a well-rounded outreach plan that includes broadcast and print media.
---
Photo credits: Courtesy of City of Carlsbad
---
This article appears in the June 2015 issue of Western City
Did you like what you read here? Subscribe to Western City
---