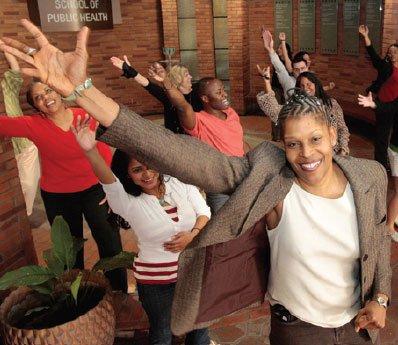 Lower Your Costs by Adopting an Employee Wellness Policy
Charlotte Dickson is campaign director of the Healthy Eating, Active Living (HEAL) Cities Campaign and can be reached at CD@PublicHealthAdvocacy.org. For more information about the campaign, visit www.HealCitiesCampaign.org.
---
Imagine employees' health insurance premiums actually decreasing and employees taking fewer sick days, becoming healthier and improving their morale. These outcomes are within reach as California cities join the burgeoning workplace wellness movement by implementing wellness policies and practices in their daily operations. Extensive research demonstrates the benefits of investing in employee wellness.1,2,3
Health-care costs impose an increasing burden on city budgets, and obesity and physical inactivity cost California $41 billion annually.4 As a result, cities are turning to programs like the Healthy Eating Active Living (HEAL) Cities Campaign — a joint project of the League, the Cities, Counties and Schools Partnership and the California Center for Public Health Advocacy — for ideas to improve employee health. A 2008 HEAL Cities Campaign survey found that cities are eager to lower health-care costs by introducing health incentives and employee wellness policies.
Nutrition and exercise are two leading components of health that cities can affect in their role as employers. Because employees spend a significant amount of time at work, it makes sense to introduce programs that make it easier for them to eat healthier food and increase their activity levels.
The HEAL Cities Campaign has drafted the following recommendations that cities can adapt for their workplace.
Adopt an Employee Wellness Resolution
A city council resolution or mayor's executive order can set the stage for wellness policies and practices. The HEAL Cities Campaign sample resolution includes specific policy goals in several areas of employee wellness. Since August 2009, the cities of Cathedral City, Davis, Desert Hot Springs, Fowler, Irvine, La Mesa, Mountain View, Rancho Cucamonga, Sanger, San Leandro and West Sacramento have adopted employee wellness resolutions. In San Francisco, a mayoral executive order requires that employee wellness be included in all department mission statements and operational plans. The HEAL Cities Campaign sample resolution text is available at www.HealCitiesCampaign.org/policies.html.
Implementing Health Breaks
Employees can reap meaningful health benefits from even one daily 10-minute physical activity break. Proven benefits include improvements in blood pressure, mood states, attention span and other clinical measures.5 The University of California, Los Angeles, has implemented a program called Instant Recess, which gives employees who choose to participate 10 minutes of paid time daily for moderate physical activity. The program has reduced employee illness, injury and lost workdays and has increased productivity.6 Orange County is implementing the program, and the City of Duarte employs Instant Recess at every city council meeting. The San Francisco Public Works Department provides a daily paid stretch warm-up for its general services employees. Many cities are providing health breaks by offering on-site classes. The City of Thousand Oaks has an award-winning employee wellness program that uses free and low-cost resources it coordinates with community partners.
Improving Healthy Food Choices
Workers consume a significant portion of their daily food on the job. Food eaten in meetings and purchased from vending machines and concessions is typically high in calories, fat, sugar and salt. Making wholesome food available at work is one way to boost nutritional intake and support health.
The cities of San Jose, Chula Vista and Baldwin Park have adopted policies requiring that vending machines offer healthy options that meet the nutritional guidelines established for public schools. Municipal vending policies often require that a defined percentage of items, usually between 50 and 100 percent, meet nutritional standards. These policies benefit residents as well as employees by offering healthy food choices at municipal facilities.
Cities are also supporting employee and resident health through policies that require city-sponsored meetings and events to offer healthy food. Eating fruit rather than doughnuts or chips at a meeting helps people stay energized. The City of San Leandro's Recreation and Human Services Department has implemented a wellness policy that sets nutritional guidelines for departmental meals and snacks, and a number of cities have adopted HEAL Cities Campaign resolutions addressing this recommendation. The City of Brentwood's wellness policy includes goals and objectives related to improving the quality of food served in city programs and concessions.
For Additional Resources
The HEAL Cities Campaign can provide sample policy language, training, technical assistance and other resources to help your city adopt an employee wellness policy. To learn more, visit www.HealCitiesCampaign.org or contact Charlotte Dickson, campaign director, HEAL Cities Campaign; phone: (510) 302-3387; e-mail: CD@PublicHealthAdvocacy.org.
---
Free Webinar on Worksite Wellness
The Healthy Eating Active Living (HEAL) Cities Campaign and the League's Personnel and Employee Relations Department are sponsoring a free webinar, "How Worksite Wellness Can Support Physical Activity and Nutrition," on Thursday, April 15, from 10:30 a.m. to noon.
Participants will learn about a promising physical activity intervention and policy, local programs in two cities and resources available to cities through the HEAL Cities Campaign. To register for the webinar, visit www.surveymonkey.com/s/NV77JNF.
---
Footnotes:
[1] Aldana, S. (2001). Financial Impact of Health Promotion Programs: A Comprehensive view of the literature. American Journal of Health Promotion. 15(5), 296-320.
[2] Ozminkowski RJ et al. Long term impact of Johnson & Johnson's health & wellness program on health care utilization and expenditures. Journal of Occupational and Environmental Medicine. 2002; 44:21-29.
[3] World Health Organization. (2003). Health and development through physical activity and sport. Retrieved January 8, 2010, from http://whqlibdoc.who.int/hq/2003/WHO_NMH_NPH_PAH_03.2.pdf.
[4] The Economic Costs of Overweight, Obesity, and Physical Inactivity Among California Adults – 2006 (July 2009). The California Center for Public Health Advocacy.
[5] UCLA School of Public Health, Center to Eliminate Health Disparities. 2008. Lift Offs work!: The rapidly growing evidence base. Retrieved July 23, 2009 from http://www.ph.ucla.edu/cehd/Documents/ALR_Lift_Off_Evidence.pdf.
[6] San Francisco Department of Public Health Fit Business Award application, 2008.
---
This article appears in the April 2010 issue of Western City
Did you like what you read here? Subscribe to Western City
---