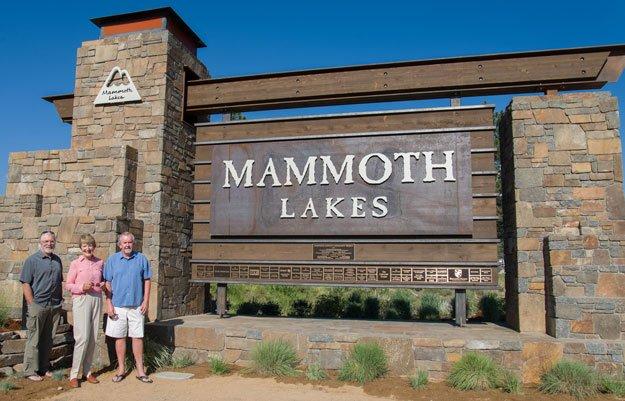 Mammoth Lakes Gateway Brands the Destination
The Town of Mammoth Lakes won a 2013 Helen Putnam League Partner Award for Excellence in City-Business Relations for this project. For more about the award program, visit www.helenputnam.org.
---
The "Mammoth experience" holds a special place in the hearts of both locals and visitors, especially those who came here as children with their families to ski and build snowmen or fish and hike. Located in Mono County's Eastern Sierra, the Town of Mammoth Lakes offers dramatic scenery, crisp mountain air, abundant wildlife and recreation opportunities. But this community lacked a gateway worthy of its spectacular natural surroundings and its unique location at "the top of California" — 8,000 feet above sea level.
The town's 2007 General Plan identified the need to create an impressive entrance as a means of reinforcing the community's identity. But following through with action during the economic recession presented a challenge. Tourism, Mammoth's primary economic driver, was in decline, resulting in substantial decreases to the town's General Fund and the local economy. Development was stalled, and real estate values were dropping.
Community leader and three-term Planning and Economic Development Commissioner Elizabeth Tenney and long-time local artist and designer Larry Walker discussed the need for a landmark entrance and noted that vacation photos taken at national park entrances are some of the most popular "wish you were here" images posted around the world. They concluded that monumental gateway signs with the town's name in giant letters would be excellent advertising for the town. Placing the signs on each side of State Highway 203, which is also Main Street, would send a signal that Mammoth Lakes was thriving and investing in its future.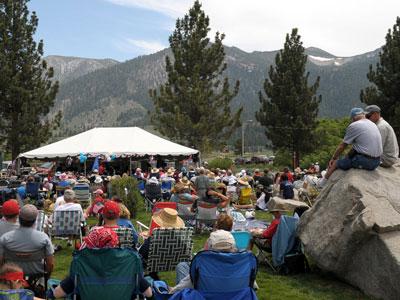 A community workshop in January 2011 gave residents an opportunity to discuss Mammoth's sense of place and the characteristics of a suitable entrance gateway. Large-scale rugged mountain architecture and heavy, enduring natural materials were recurring themes discussed at the workshop. These concepts inspired the design, which Larry Walker created and donated. "The Mammoth Gateway's material selection of granite, raw rusted steel and rough-sawn timbers evokes the rugged mountain vernacular," says Walker. "Its shape and form needed to be timeless, strong and formidable and able to withstand Mammoth's harsh winters."
Residents submitted more than 200 entries in a contest to develop the messages that would appear on each of the monuments. Two quotes by wilderness preservationist John Muir were chosen for the final design: "The mountains are calling …" and "Going to the mountains is going home." Walker says, "The John Muir quotes are a 'welcome home' for many and a 'welcome back' for many more."
With Walker's final design and architectural drawings developed pro bono by a local architect, Tenney set out to implement the project, which was no small feat. Six different government agencies had jurisdiction, and budgets were tight all around. Clearly a public-private partnership was needed. Town leaders identified potential partners and funding sources and launched the project, which included a land donation from Mono County and permits from the U.S. Forest Service and Caltrans.
Local companies joined the effort in a big way. An engineering firm donated its services for the project. A ski resort operator pledged to fabricate and install all the steel for the monuments. A developer made its project management team available at no cost. Mammoth Community Water District offered to install a water-efficient demonstration garden at the project site, and the adjacent South County Branch Court agreed to supply free water for the landscaping. Community partners donated a total of approximately $200,000 in materials and labor.
Tenney helped raise an additional $90,000 in cash by selling personalized brick pavers and bronze plaques and organizing fundraising parties through local service organizations such as the Mammoth Lakes Women's Club. The Mammoth Lakes Police and Fire departments held a chili cook-off fundraiser. The Mammoth Lakes Chamber of Commerce collected and processed all the donations. Residents also sought support from the Mammoth Lakes Town Council, which voted to provide nearly $350,000 in public art funds to close the funding gap.
With a unique collaboration of local, state and federal agencies working with private businesses and volunteers, the community of Mammoth Lakes realized its dream of creating an inviting gateway. "Bringing together six government agencies, multiple private in-kind donors and hundreds of volunteers was a monumental task of organization," says Tenney. "No wonder it took two and a half years to complete!"
Since its completion, visitors have been seen taking pictures in front of the gateway monuments, just as expected. The project has become a source of pride for the community and a catalyst for other improvements. During the first week of April 2013, town staff held a series of workshops dedicated to "Shaping the Future of Main Street." At the workshops, local business owners expressed serious interest in upgrading and rehabilitating their properties, referencing the impressive new entrance to town. The gateways reinforce the importance of making a positive first impression and set the tone for future efforts.
Contact: Sandra Moberly, planning manager, Community and Economic Development Department; phone: (760) 934-8989, ext. 251; email: smoberly@townofmammothlakes.ca.gov.
---
This article appears in the May 2014 issue of Western City
Did you like what you read here? Subscribe to Western City
---