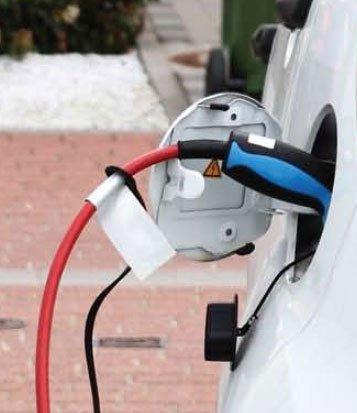 Meeting the Challenges of Plug In Electric Vehicles
Brian Moura is assistant city manager for the City of San Carlos and can be reached at BMoura@cityofsancarlos.org. Moura is leading the fire services phase of the city's shared services project.
---
Like many communities in California, the City of San Carlos (pop. 28,406) has faced some serious budgetary challenges in recent years. The economic downturn meant that key revenues including sales tax and investment income had declined and the formerly dependable year-to-year growth in property tax revenue had ceased — but costs continued to grow.
San Carlos responded by significantly cutting departmental budgets, particularly those outside fire and police services. The city tapped some short-term funds and reserves in the hope of an economic turnaround, which did not materialize. Four revenue measures were proposed, but voters did not approve them. Despite these efforts, a $3.5 million structural budget deficit remained. The city needed a new strategy.
Evaluating Options
In San Carlos, the city manager and department heads began developing options for the city council to consider. Staff presented these options to the council and the community in March 2010 at two all-day budget workshops, which were held on Saturdays to encourage public participation.
At the workshops, staff offered the council two choices. The first was to explore shared services with neighboring cities and the county as well as contracts with the private sector for city services. The alternative involved making more dramatic service cuts that could include closing a community center (youth center or adult community center) and several parks as well as more drastic reductions in every city department. After deliberations at the public budget workshops concluded, the city council voted to explore shared and contract services.
Identifying Potential Savings
A review of the city's budget revealed that some service areas, including administration and public works, had already been cut by up to 30 percent in recent years, leaving few options for further cuts. But opportunities for cost savings, including new ways of delivering services, appeared feasible in areas like parks maintenance.
City leaders then examined public safety services. This portion of the budget had grown faster than any other in the same period. Police Department costs had grown by 20 percent and Fire Department costs had increased by more than 30 percent in the past five years. While these are vitally important services, cost increases of this magnitude could not be sustained at a time when the city's General Fund revenues were flat or declining. Clearly, police and fire services had to be on the table.
The city manager and department heads developed a series of budget-savings benchmarks that mapped out how the $3.5 million structural deficit would be resolved. They believed that the city could annually save:
$2 million on police services;
$1 million on fire services; and
$500,000 on parks maintenance.
The city council reviewed the plan, approved it and directed the city manager and department heads to proceed.
Making Decisions, Getting Results
Parks Maintenance. A Request for Proposals (RFP) was developed to provide parks maintenance without reducing the level of service. San Carlos issued the RFP to neighboring cities, the county and private landscape maintenance contractors. City employees in the parks maintenance work unit were also given an opportunity to respond to the RFP. Of those invited to submit proposals, only private landscape contractors responded.
The city selected a contractor to provide landscape services starting Oct. 1, 2010. The contractor offered a service package that would reduce the annual cost by $500,000 per year. In addition, because the contractor was providing the same number of people as the city had employed, and these services had to be provided regardless of whether the employees were taking time off, the city actually gained another 5,000 hours of maintenance service per year. This resulted in an even higher level of service at a lower cost.
Police Department. Due to the nature of police services, the city focused its outreach efforts on discussions with neighboring cities and San Mateo County. The city did not issue an RFP because only two agencies, the San Mateo County Sheriff's Office and neighboring Redwood City, expressed interest. Both agencies developed plans that could match the San Carlos Police Department services and deliver the $2 million yearly cost savings. In fact, both agencies exceeded this savings target by using shared management and resources.
The city selected the county sheriff to provide police services in San Carlos, starting Nov. 1, 2010. Because savings exceeded the city's original goals, San Carlos used some of these resources to re-establish services that had been unavailable in the community in recent years through the city Police Department. This included restoring:
A traffic officer to increase enforcement;
The Police Athletic League to maintain closer ties with local youth; and
A school resource officer to serve as a liaison between law enforcement and schools.
San Carlos also used the savings to set up a police substation at city hall, with a captain, a sergeant and an administrator, so law enforcement would have a local presence and residents would not have to go to Redwood City to access police services.
Fire Department. San Carlos was providing fire services through a shared department with the City of Belmont. Several agencies expressed interest in becoming the new service provider, so a formal RFP was needed. The city retained a consulting firm to develop specifications for the future fire services, draft the RFP and provide advice on selecting the future provider.
The city explored many options, including:
Re-establishing a city Fire Department;
Cutting expenses at the Fire Department it was sharing with the City of Belmont;
Obtaining services from a private provider that previously submitted an unsolicited proposal; and
Having a city Fire Department managed by a neighboring Fire Department.
In all, staff evaluated 20 different service options, with most providing both an equal or higher level of fire services and $1 million or more in annual savings. The city ultimately selected re-establishing a city Fire Department managed by neighboring Redwood City as the best option. This new department will begin serving San Carlos in October 2011.
Providing Recreation Services to Another City
While San Carlos was exploring options, the City of Half Moon Bay also issued RFPs for contract services, including one for contract recreation services. Doug Long, director of the San Carlos Parks and Recreation Department, saw the recreation RFP and recognized this might be an excellent opportunity for his city. Long had provided shared recreation services to a neighboring city in his previous job, so he sought and received approval to propose these services to Half Moon Bay. Using a unique approach of trading staff and management services for a share of revenue from classes, events and facility management, San Carlos was awarded this contract as the service provider. The new agreement, which starts in August 2011, will save Half Moon Bay more than $200,000 annually and allow San Carlos to leverage existing staff and bring in $75,000 per year in needed revenues.
Lessons Learned
The shared and contract services project in San Carlos has been a big success. In just over a year, the city has gone from a budget with a structural deficit of $3.5 million per year to a surplus of $400,000 in the first year, with somewhat larger surpluses projected in future years.
The city gleaned three key lessons from the process:
Residents are most concerned about the level of services provided. If you can demonstrate that services can be maintained through shared or contract services, residents are willing to consider such a project.
It's important to set benchmarks and stay focused. Throughout the project, the test of each proposal and option was: Does it maintain or increase services to the public, and does it meet or exceed the savings benchmark? All four of the service approaches developed and selected by San Carlos met these tests.
Ignoring conventional wisdom can yield innovative, positive results. San Carlos did this by contracting with a private firm for landscaping, which some people might say would reduce the level of service; undoing a shared fire department, because the hybrid city department managed by a larger city offered a superior approach; and becoming a services provider, despite the fact that San Carlos is a small city.
Addressing today's challenges of reduced revenues, increased expenses and a flat economy — often called "the new normal" — is not easy. But the San Carlos shared services project shows that with creativity, focus and some political courage, it is indeed possible.
---
Advice From San Carlos
Question assumptions about what your city has already done or is doing now. A shared department isn't always cheaper — contracting out might be more cost-effective.
Set specific targets for savings and levels of service.
Examine and evaluate a variety of options for different service areas.
---
This article appears in the August 2011 issue of Western City
Did you like what you read here? Subscribe to Western City
---