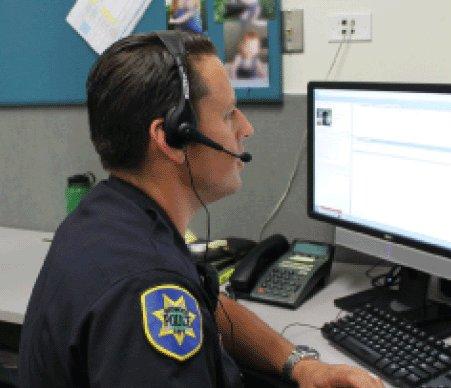 New High-Tech Tools Keep Residents Safe, Informed and Engaged
Eva Spiegel is communications director for the League and can be reached at espiegel@cacities.org.
---
Throughout California, cities are using high-tech tools to help keep residents safer. When technology became more readily available a few decades ago, only the largest or wealthiest cities could afford to modernize and enhance their public safety systems. But as high-tech tools have become increasingly affordable, more cities are using them as part of delivering public safety services. These tools aren't just cool gadgets but have made a substantial difference in how rapidly police and fire departments are able to respond to residents as well as solve and prevent crime. California cities are using technology in different ways to meet their local communities' unique needs.
Rancho Cucamonga Focuses on Schools
The Columbine High School massacre in 1999 spurred police departments throughout the nation to examine the best ways of responding to violence and emergencies on school campuses. First responders need access to road networks and building plans. Because an off-the-shelf product didn't exist in 2008, Rancho Cucamonga's Police Department and Geographic Information System (GIS) Division partnered to create a program to help first responders respond to an incident at a school campus. Los Osos High School served as the pilot campus. The program, which can be updated in real time, created interactive maps that comprise campus buildings, detailed floor plans and panoramic images. This provides deputies on the scene and in their cars with access to current information.
The city's GIS Division and Police Department expanded the partnership in 2010 to include the Rancho Cucamonga Fire District and the city's five school districts, which include four high schools and eight junior high schools. This coalition secured a $173,000 grant from the U.S. Department of Justice Community Oriented Policing Services Secure Our Schools Program, which covered half the cost. "We have almost 40 schools, but because there is more propensity to have this type of event happen in a junior high or high school we included those first," says Fabian Villenas, principal management analyst in the City Manager's Office. The program has facilitated greater interaction between the city's law enforcement and schools.
Rancho Cucamonga has used the program extensively in training public safety officers. It serves as a resource for any campus emergency. "It's like disaster preparedness — you prepare for it whether it happens or not," says Villenas. The program can be expanded to other high-profile facilities, such as the courthouse, civic center and elementary schools, once funding is available.
San Carlos Uses Multiple Communications Channels
Located close to Silicon Valley, San Carlos was a natural early adopter of putting technology to work in its Police Department. Its initial efforts started with using cameras to video and audio record police stops. Today the city uses a wide variety of tools, including social media, because it's imperative to employ every means possible to reach residents. The city doesn't just post its daily crime log online, but also tweets it. "A key of disseminating information to your community is being multichannel. Some people read your website, some read Facebook and some respond to email," says Assistant City Manager Brian Moura.
San Carlos initially encountered a negative reaction when it began posting pictures of crime suspects on its website, but city officials firmly believe that it is critical to disseminate such information as widely as possible. "When we post a sketch, it gets people's attention and increases the odds of finding the person," says Moura.
Redwood City Offers Live Video Chat
The Redwood City Police Department recently launched Live Guide (www.redwoodcity.org/police), one of the first online services that enable residents to have a live video chat with a police officer from the comfort of their own home. It's not just for residents but for anyone with a computer and camera connected to the Internet who needs to talk with the city's Police Department. Users can communicate in a two-way discussion with an officer via video, audio or text.
Live Guide offers another level of customer service for a community that is often considered the Silicon Valley of the San Francisco Peninsula. "Our community is tech savvy and expects communications," says Redwood City Police Chief J.R. Gamez. Not designed for addressing life-threatening emergencies, the new service operates Monday through Thursday from 9:00 a.m. to 5:00 p.m. and will expand its hours of operation in coming months. Live Guide doesn't take a single officer off the streets because the department is using modified-duty officers who are injured and can't be out on patrol.
Santa Cruz Focuses on Mobile Apps
Reaching residents can be a challenge for cities because not all residents rely on traditional media like local papers, television or radio news for information. Instead, they increasingly use social media to stay informed, and a growing number use their smartphones to access news. This proved especially true in Santa Cruz, where in 2009 the city's use of traditional media failed to adequately inform the public about a sinkhole that blocked the city's most traveled intersection. A two-mile traffic jam ensued that took six hours to clear. Vowing to develop better channels of communication, the Police Department set out to develop the first consumer-focused law enforcement smartphone application in the United States.
Launched in March 2011 and funded by a federal grant, the Santa Cruz Police Department's innovative iPhone app won a 2011 Helen Putnam Award for Excellence. More than 10,000 people have downloaded the app, and approximately 3,000 have downloaded the Android app that was subsequently developed. These apps provide access to the police scanner feed, interactive crime maps, videos and photos of wanted criminals, a blog and instant public safety alerts. These tools have helped the city solve crimes, locate crime suspects and even find a missing child.
"Younger residents expect that this is how their local government will communicate with them and how they will communicate with their local government," says Zach Friend, Santa Cruz Police Department spokesperson. "We have to provide services this way. This isn't a luxury. It's the reality of how we have to communicate."
Cloverdale Fights Crime With Cal-Photo
Thanks to an online statewide criminal database, police officers in the City of Cloverdale can correctly identify suspects and easily show victims a photo lineup. Launched in March 2002, Cal-Photo is a collaboration between the departments of Motor Vehicles and Justice. Users of the system can access mug shots and driver's license images and data both from the police station and a vehicle outfitted with a laptop and Internet access. According to Technical Services Manager Ann Turek of the Cloverdale Police Department, using Cal-Photo is invaluable. "It speeds up the process of identifying and finding people and also makes it possible to keep officers in the field," says Turek.
Santa Monica Speeds Up Public Safety Process
The City of Santa Monica is another early adopter of using technology to conduct everyday business. Not only is each patrol car outfitted with audio and video recording equipment and the ability to stream video back to the commander in the station, but also with a special biometrics device that takes fingerprints and cross references them with the state justice system and FBI. The videos captured by police officers are used as evidence and as a training resource for police officers.
"The city has public safety cameras in the right of way at various locations where we think we need to protect the public, such as the downtown pier, in alleys, public parking structures and downtown entertainment venues," says Jory Wolf, chief information officer with the City of Santa Monica. The Police Department has used these videos to solve crimes including robberies, hit-and-runs and assaults.
The city is also employing technology to speed up parking-related activities. Previously it took three weeks for Santa Monica's traffic or parking citations to be delivered to the court. Using hand-held ticketing devices, this is now done in just two hours.
There's also good news for drivers looking for parking. Santa Monica has installed sensors in parking structures, parking lots and on-street parking spaces that relay information to a mobile phone app that tells drivers where to find available parking and how much it costs.
Increasing Responsiveness
As residents increasingly rely on smartphones to stay informed about local news and events, technology offers a variety of ways for cities to enhance public safety services. High-tech tools are making it possible for cities to issue alerts in real time to their communities, respond more quickly to emergencies and maximize scarce resources.
---
Related Links and Information
City of Cloverdale Police Department
City of Rancho Cucamonga Emergency Preparedness
Redwood City Police Department Live Guide
City of San Carlos Police Department Webpage
City of Santa Cruz Police Department Smartphone App & More
City of Santa Monica Police Department
City of Santa Monica Parking
U.S. Department of Justice COPS Secure Our Schools Program
---
This article appears in the October 2012 issue of Western City
Did you like what you read here? Subscribe to Western City
---