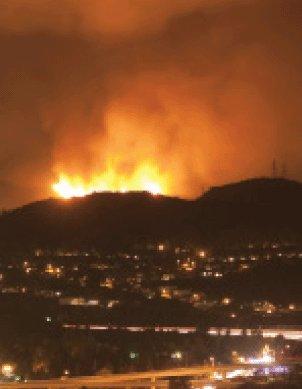 New Program Offers Help With Planning for Energy Emergencies
California's cities lead the nation in disaster preparedness. But what will your city do if a disaster knocks out electricity supplies or interrupts delivery of natural gas, gasoline or diesel fuel? A new program, California Local Energy Assurance Planning (CaLEAP), offers local governments assistance and support in developing a plan to deal with interruptions to energy supplies.
Sponsored by the California Energy Commission, CaLEAP is designed to help ensure that a community's key assets continue to function during emergencies or disasters that impact energy. This protects public safety and health and helps to minimize economic losses.
How It Works
CaLEAP's voluntary planning effort differs from traditional emergency management, planning and hazard mitigation efforts because it focuses on ensuring that the energy critical to essential services — like fire protection — is available despite any disruption. In addition, an energy assurance plan complements your community's existing emergency management and/or disaster response plan.
The CaLEAP program essentially helps local governments prepare for, respond to, recover from and mitigate events that affect energy supplies.
Local governments can use CaLEAP's technical assistance to:
Build local energy expertise and awareness of impacts and dependencies;
Help identify energy vulnerabilities and deficiencies of critical assets; and
Explore energy choices, including alternative resources that are reliable, safe, diverse, affordable and environmentally acceptable.
Planning for Outages
As a general rule, local communities should be prepared to keep essential services online for at least 72 hours if a disruption in energy occurs. With this in mind, the California Energy Commission launched CaLEAP in December 2011 to assist local governments in creating and implementing plans.
Communities already working with CaLEAP to develop energy assurance plans include Berkeley, Fresno, Hayward, Lancaster, Laguna Woods, Palo Alto, San Diego County, San Francisco, San Joaquin and Taft.
A few things are certain, especially during dry years in California. Energy disruptions will continue for some time, essential community services depend on energy supplies, and energy outages cause significant inconvenience and disturbances to residents' lives and economic health. Preparing an energy assurance plan will help local governments cope with the impacts of an energy disruption and provide critically important services when they are needed.
Learn More About CaLEAP
For more information, including project team contacts and how to get started, visit www.caleap.org.
---
This article appears in the July 2012 issue of Western City
Did you like what you read here? Subscribe to Western City
---