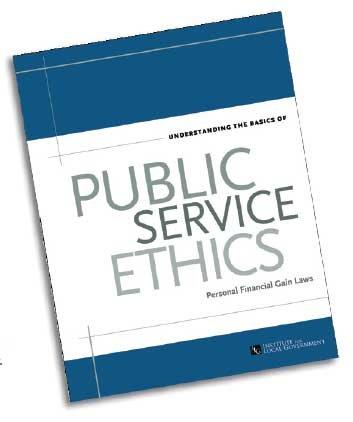 New Public Service Ethics Resources for California Local Officials
California has an extensive array of laws designed to protect the public's trust and confidence in public officials, but these laws represent minimum standards; many public officials set their sights for ethics in public service considerably higher than the legal minimums.
A new set of Institute for Local Government (ILG) publications provides local officials with explanations of both public service ethics principles and laws. The set is part of ILG's Understanding the Basics series that presents plain-language, nuts-and-bolts explanations of core concepts in local governance.
Understanding the Basics of Public Service Ethics builds upon and consolidates information from a number of previous ILG ethics publications. In addition, the publication is presented as a set of chapters/booklets to make the information more accessible to local officials. For example, the expanded chapter on perks combines content from ILG's Ethics Law Reference and Of Cookie Jars and Fishbowls: Understanding Use of Public Resource Issues.
The materials are three-hole punched and come with divider tabs that include executive summaries of each chapter. These features make it convenient to include the materials in orientation binders for newly elected and appointed officials as well as staff. Because the chapters can be purchased separately, an agency can select and use only the chapters that are relevant to a given official's (or employee's) duties.
Local agencies can realize significant savings by purchasing a digital version of these materials and printing their own copies. Non-reproducible versions of each publication are also available for individual review on the ILG website at www.ca-ilg.org/ethicsbasics.
ILG has also updated and expanded its popular short reference designed to go in agenda binders, Ethics Law Principles for Public Servants: Key Things to Know.
These materials cover all the issues (and more) required by California's mandatory ethics training requirements for local officials. For more information about these requirements (also known as AB 1234), visit www.ca-Ilg.org/ab1234compliance.
ILG gratefully acknowledges its law firm partners, whose support made the development of these resources possible: Aleshire and Wynder; Best, Best and Krieger; Burke, Williams and Sorensen; Jenkins and Hogin; Kronick, Moskovitz, Tiedemann and Girard; Liebert Cassidy Whitmore; and Richards, Watson and Gershon.
Complimentary copies of these new materials were mailed to city attorneys' and county counsels' offices throughout California in September, with an order form for purchasing additional digital or hard copies. (ILG's Public Service Ethics Program — including Western City's bimonthly "Everyday Ethics for Local Officials" column — is funded by training and publications sales revenues.)
---
This article appears in the November 2009 issue of Western City
Did you like what you read here? Subscribe to Western City
---