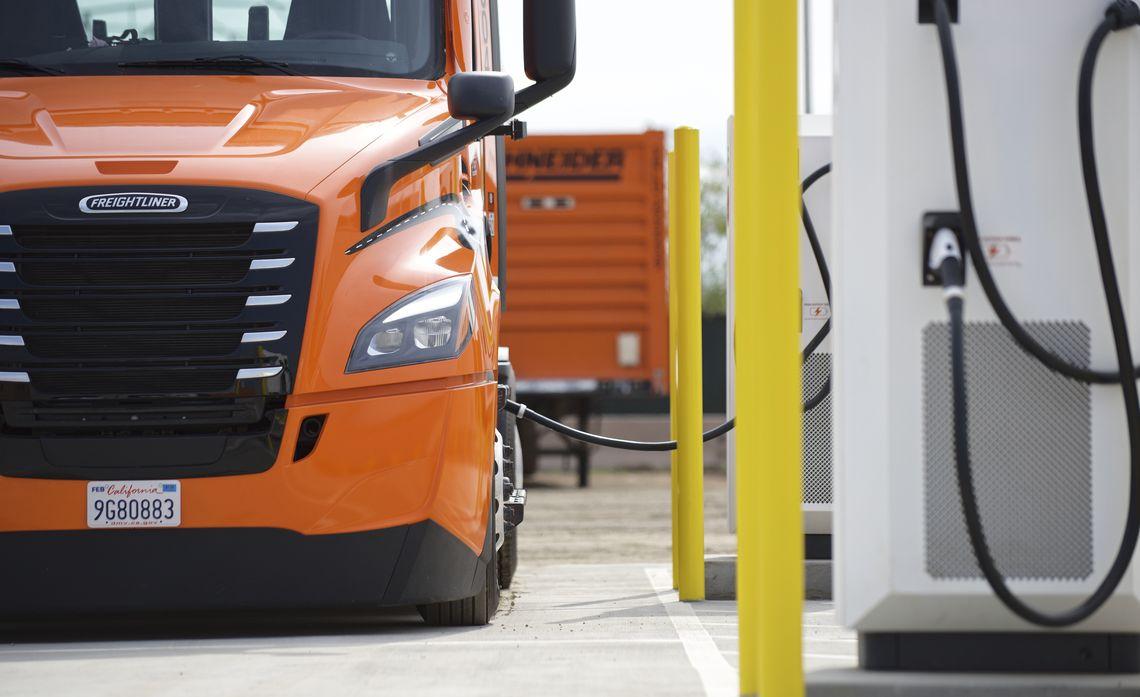 New study outlines the steps needed to reach net-zero by 2045
Larry Chung is vice president of Local Public Affairs for Southern California Edison.
---
Advertisement
A quantum leap in residential and commercial demand for electric power is taking shape in California. However, stakeholders first need to overcome significant challenges. A new white paper by Edison International, Countdown to 2045, details the forward-looking policies and actions needed to achieve California's ambitious 2045 net-zero goal.
Based on Edison's own analysis, electricity demand in California is projected to rise by more than 80% by 2045. By then, 90% of vehicles and 95% of buildings will be fully electrified. The state's electric grid will need to handle three times as much new utility-scale solar and wind generation and energy storage to meet demand.
Seven to 10 times more new distribution circuits must be built every year for the next decade, while substation and transmission capacity must increase by 400% to meet this goal. The grid needs to be ready before 2045 to accommodate this unprecedented growth.
Southern California Edison (SCE), which provides power to over 15 million people across a 50,000 square mile service area, is meeting this challenge head-on. This includes making targeted infrastructure investments outlined in SCE's recent General Rate Case (GRC) to strengthen and secure the electric grid to meet customers' growing electrification needs today and into the future.
From cleaner air to new job opportunities, the upcoming and unprecedented infrastructure buildout will be integral for long-term residential and commercial development in cities throughout SCE's service area. Local communities stand to gain significant and ongoing economic, environmental, public health, and quality-of-life benefits that will attract and retain residents and businesses.
Moreover, reduced fossil fuel costs from use in cars, homes, and businesses will offset near-term increases in customers' electric bills. The average SCE household can expect to save about 40% on annual energy expenses by 2045.
The success of these efforts relies in great part on effective partnerships among SCE, regulatory agencies, and local governments. Increased electricity demand will require new grid infrastructure. Streamlined permitting and licensing timelines will be central to energizing new residential and commercial development and connecting electric vehicle (EV) chargers along vital transportation routes.
As the buildout moves forward, SCE remains dedicated to providing electric service that is reliable, resilient, and ready for customers' needs today and throughout the clean energy transition directed by California policy.
SCE's commitment to reliability
Californians need reliable, uninterrupted power as they work, learn, connect with others, and refuel their vehicles. Likewise, businesses depend on protection against power quality issues, like flickers, dips, and spikes, that can disrupt digital technologies and result in equipment failure and software corruption.
To prepare for surging demand, the grid needs additional capacity, updated infrastructure, and secure technology to operate safely and effectively. This includes building new substations, updating existing power lines, and adding high-tech digital monitoring and control devices that help prevent outages or restore power quickly after an outage.
Moreover, the grid needs modernizing in key areas to accommodate multidirectional energy distribution. This means not only sending energy from the grid to homes and businesses, but also sending energy from homes and businesses back to the grid. Supported by a modernized electric grid, emerging technologies like microgrids, solar-plus-storage, and vehicle-to-grid integration can help manage increasing demand for electric power and enhance reliability.
SCE's commitment to resilience
Threats to service reliability from the impacts of extreme weather have become more frequent and intense, as states from Hawaii to Vermont have seen in recent months. SCE recently completed a detailed climate adaptation vulnerability assessment on assets, operations, and services throughout its service area. By 2050:
Wildfires or droughts could impact SCE service centers, which may not be able to operate or perform key grid maintenance functions.
Critical substations in flood plains could become inundated due to more extreme precipitation.
The grid could experience up to 20% reduced capacity in some areas due to extreme temperatures.
To meet this new reality, infrastructure must be able to withstand more intense storm surges, and new transmission lines must be constructed to bolster regional reliability under more severe weather conditions. SCE has already begun building additional resilience into the electric grid to withstand more frequent and severe weather conditions and to mitigate the immediate and long-term impacts of climate change to grid assets and system reliability.
Beginning in 2018, SCE focused resources on urgent wildfire mitigation work. SCE installed wires with protective coating on nearly 5,000 miles of power lines in high-fire risk areas, launched extensive vegetation management practices, and invested in advanced weather forecasting and wildfire detection technologies.
These and similar actions have successfully reduced wildfire risk associated with company equipment by 85%. While there's still important wildfire mitigation work to complete, SCE plans to gradually transition its grid-hardening work toward the challenges posed by a wider range of extreme weather impacts.
SCE's commitment to readiness
Many of SCE's essential grid projects require long lead times to complete, often five years or more. Work must begin now so that the grid can be ready in time to meet future needs.
SCE customer demand for electric power increased a total of approximately 3% between 2001 and 2021. Based on guidance from California regulators, demand is expected to increase by 1.5% each year through 2028 and more in the years beyond.
Much of this added consumption will power electric vehicles, which currently make up about 1 out of every 4 new vehicle purchases in California. By 2045, about 30% of all electricity on California's grid will go to power light-, medium-, and heavy-duty EVs.
SCE has begun identifying locations in its service area to prepare for medium- and heavy-duty EVs. A vast majority are along major transportation corridors and ports. Close to 70% of the selected locations identified in SCE-GRC's Targeted Electric Grid Readiness are in underserved communities.
Strong partnerships will help us power forward
Strengthening the electric grid at the needed scale and pace can only be successful if it's done without compromising public and employee safety, power reliability, and customer affordability. Continued partnership and engagement with local governments and agencies are key to initiating future upgrades before the dramatic rise in customer demand fully materializes.
Southern California Edison is an Edison International (NYSE: EIX) company, one of the nation's largest electric utilities, serving a population of approximately 15 million via 5 million customer accounts in a 50,000 square mile service area within Central, Coastal, and Southern California. It is a leader in the electric power industry's progress toward a clean energy future through significant advances in transportation and building electrification.