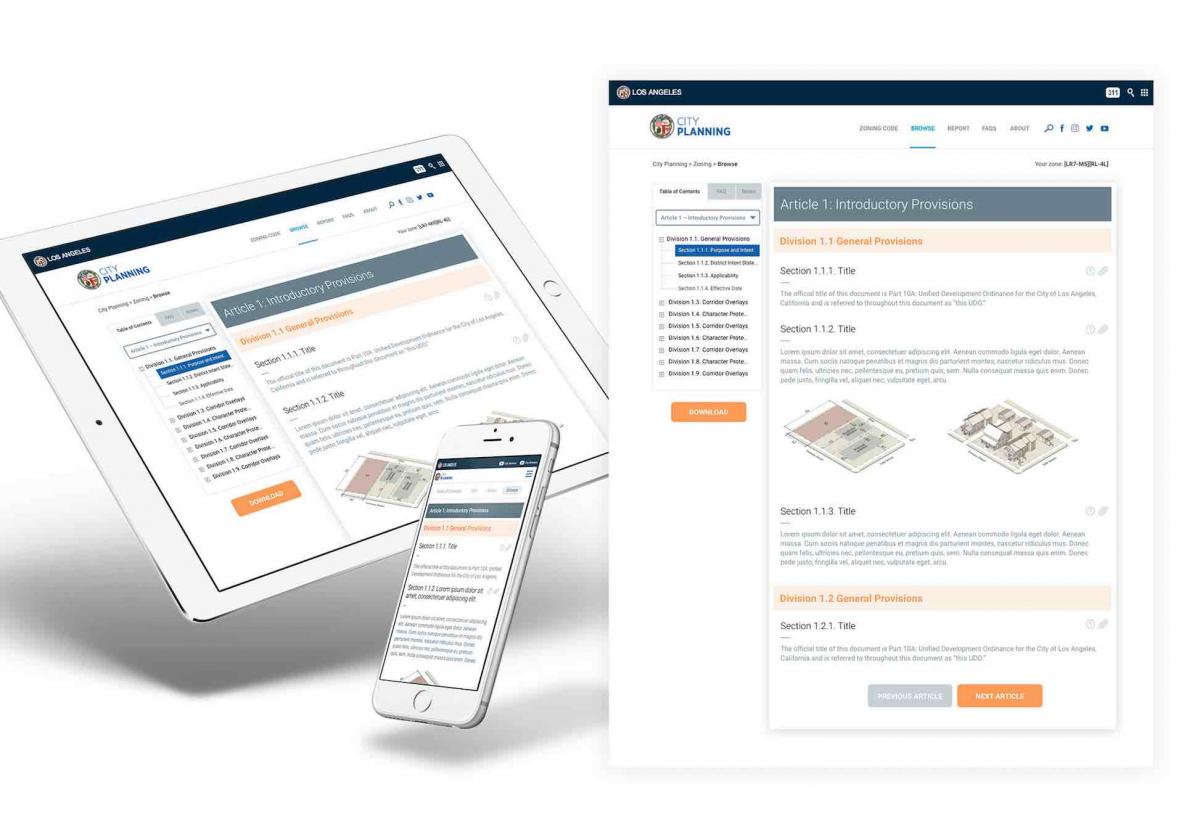 A New Technology for City Publishing
Chris Steins is CEO of Urban Insight and can be reached at steins@urbaninsight.com.
You're about to start creating an important new document. Maybe it's your city's new General Plan, a community Specific Plan or the new budget. You know eventually you'll also need to publish a version of the plan online, but that's months — sometimes years — away.
Imagine if there were a way to easily publish your new document as a print document and also as an interactive website that is searchable, optimized for mobile devices and personalized to each.
Challenges of PDFs
If you've encountered this publishing challenge before, you may have addressed it by publishing the document using the portable document format (PDF). However, publishing in PDF presents some significant problems:
PDFs work poorly on mobile smart phones like Apple's iPhones and Google's Nexus phones. About 50 percent of web traffic now comes from these devices;
PDFs are not easily searchable. Google can index only the entire document. To find a word or phrase, you must open the entire document;
PDFs are large. Complex planning documents can be quite sizable, especially if they include detailed charts or maps. Splitting a document into multiple chapters solves the problem of size but makes it difficult to search through the entire document; and
PDFs are not native to the internet. If you want to include interactivity, tags, complex search features or many of the other benefits of websites, these features can't be easily replicated with PDFs.
A New Approach
These problems are being addressed by the City of Los Angeles, which has developed new software to publish its new zoning code. First adopted in 1946, the city's zoning code structure is largely unchanged although the city's needs have changed drastically. The city has embarked on an ambitious effort to modernize its zoning code to meet the needs of all stakeholders.
The City of Los Angeles encompasses 469 square miles with over 4 million people, making it the second-largest city in the United States. Los Angeles includes a wide variety of neighborhood and landscape types, from dense urban areas downtown to suburban single-family neighborhoods in the San Fernando Valley. This creates the need for rules and regulations flexible enough to accommodate the city's diverse physical landscape and uses.
Alongside the effort to modernize the zoning code, an effort is underway to rethink how a complex planning document should be published online and how to make it easier for residents and businesses to find the sections of the zoning code that are relevant to them.
New Features Simplify the Process
The new software enables a document creator to author and design the document using software like Adobe InDesign or Microsoft Word. When the document is ready to publish — whether for public review or the final draft — you can convert the draft to a mobile-optimized, searchable website in a few minutes. When you make a change to your document, you simply republish to the website.
The system has the potential to dramatically improve the efficiency and accessibility of the work that planners and city staff perform.
Three components make this new publishing process possible:
E-template — Instead of starting with a completely blank document, you begin with an e-template. This template allows you to use formatting styles as you build your document so that when you're ready to publish, the document contains information like the document structure and informational tags;
Website software — This converts your e-template to web content and publishes your document online. The website software is based on the open source, widely used Drupal web content management software; and
Geographic information system (GIS) — The city's GIS software enables visitors to type in an address or land use, and the website software selects the sections of the zoning code that are relevant to the visitor.
Options for Cities
In March 2017, the Los Angeles City Council adopted a resolution to make the underlying technology available to anyone as open source software. By doing so, the city enabled any other organization to freely use both technology components — the e-template for Adobe InDesign and the website software. This free version is available on Github, a popular website for distributing computer code, at https://github.com/CityOfLosAngeles/webcode-toolkit.
In July 2017, the American Planning Association (APA) recognized the Los Angeles Department of City Planning at the APA's 2017 National Planning Conference with its APA Technology Division's Smart Cities Award for this technology.
For a resource-strapped city Information Technology (IT) department that has far too many critical projects, even the promise of free, open source software may be too much to take on. In this case, a city can access a hosted version of this software that does not require any technical support by the city's IT department. To differentiate the hosted version from the version used by the City of Los Angeles, this hosted version is called Tangerine. More information about Tangerine is available
at www.tangerinedocuments.com.
The City of Los Angeles expects to release a public draft of the new zoning code in late 2018 using this new document publishing approach. To keep up to date on the City of Los Angeles' zoning code update process, visit www.recode.la.
---
Learn More About This at the Annual Conference
Erick Lopez, city planner with Los Angeles Department of City Planning and the visionary behind the software described in this article, will demonstrate how this new system allows website visitors to personalize the city's zoning code at the "Three Important Planning Technologies" session at the League of California Cities 2018 Annual Conference & Expo, Thursday, Sept. 13 at 2:45 p.m. For location details, see the conference brochure or app.