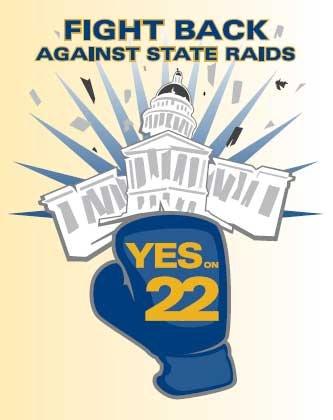 Passing Proposition 22 Required Many Hands and Tremendous Support: A Heartfelt Thanks to Our Partner
Anyone who has worked on a statewide ballot measure campaign knows it has some things in common with pregnancy, except the gestation period is often an unbearable 16 to 18 months or longer. It starts when the ballot measure is only a hope, a prayer and an idea. It develops over a period of a few months as the idea is refined, put into legal language and finally filed with the state Attorney General's Office at least 14 to 15 months before appearing on the statewide ballot. This requires long-range planning, and that is exactly what we did with Proposition 22.
Prop. 22 was conceived at the July 2009 local government summit on governance reform, where the vast majority of about 500 elected and appointed participants voted that protecting local government funds from state raids and loans should be the top reform priority. Two months later, the voting delegates at the League's Annual Business Meeting voted unanimously to pursue a statewide ballot measure to do just that. We were off and running!
In a few short months we formed a ballot measure steering committee consisting of the League, the California Transit Association and the California Alliance for Jobs. The committee retained the same consulting team that helped us succeed in our 2004, 2006 and 2008 statewide ballot measure campaigns. After some initial polling and study, our campaign team decided to focus on protecting both local government and transportation funding from state raids and borrowing. We filed our proposed ballot measure with the attorney general in late October 2009, and about 60 days later we received the official title and summary for our petitions so we could begin collecting signatures at a rapid pace.
We spent about four months gathering signatures, working with an outstanding firm that understood our desire to use volunteers to collect as many signatures as possible. When we filed the signatures with county election officers in late April 2010, they totaled almost 1.1 million. Remarkably, about 84,000 had been collected by hard-working city officials and others who were passionately committed to the proposed ballot measure. When the signatures were determined sufficient in late June and we received our ballot number from the secretary of state, our campaign was well under way.
The measure's co-sponsors, including the California Redevelopment Association and Building and Construction Trades Council of California, collectively contributed about $3 million to finance the cost of the approximately $5.5 million campaign. In addition, we received absolutely critical financial aid and support from thousands of key contributors who shared in our success on Nov. 2 when the voters approved Prop. 22 with 61 percent voting in favor. Some of these contributors have supported us in the past (thank you, California Public Securities Association, Pacific Gas & Electric, Southern California Edison and California Society of Municipal Finance Officers), and some are new. In either case, we deeply appreciate their support and want to formally recognize them for the difference they made and the tremendous help they provided in protecting local government and transportation revenues from state raids and borrowing.
The League and our Prop. 22 partners owe particular appreciation to the firms and associations listed here for their private financial support of our efforts to protect local government and transportation funding and for supporting strong local government. They are listed by the size of their contribution to both the campaign and the League's ballot measure account, CitiPAC.
In addition, we received more than 1,000 other contributions in amounts less than $10,000 from many city officials, League and city employees and family members that made a huge difference. Finally, please join me in thanking one of our own, the League Latino Caucus, which made a huge difference with its contribution. Be sure to thank its leaders, Tony Cardenas, president, and John Arriaga, executive director. This truly was a group effort.
---
Thanks to Our Proposition 22 Contributors
Tier One: Top Contributors
California Public Securities Association
PG&E Corporation
Southern California Edison
Tier Two Contributors
Amalgamated Transit Union Issues Committee
Best Best & Krieger, LLP
Burrtec Waste Industries, Inc.
California Council for Affordable Housing
California Society of Municipal Finance Officers
California Special Districts Association
DRIVE — Democrat, Republican, Independent Voter Education
Gillig, LLC
League of California Cities Latino Caucus
McDonough Holland & Allen, PC
Peace Officers Research Association of California (PORAC) Statewide Independent Expenditure Committee
Piper Jaffray
Richards, Watson & Gershon
Stradling, Yocca, Carlson & Rauth
United Transportation Union
Veolia Transportation
Willdan
Tier Three Contributors
California Construction and Industrial Materials Association PAC
California Contract Cities Association, a Political Action Committee
CalPortland
Cardiac Science
EDGE Development
Goldfarb & Lipman, LLP
Granite Construction, Inc.
Hilltop Group, Inc.
Jones Hall, a Professional Law Corporation
Keenan & Associates
Keyser Marston Associates, Inc.
Lewis Investment Company
Meyers Nave Riback Silver & Wilson, a Professional Law Corporation
MuniServices
MV Transportation, Inc.
P3 Solutions
The Related Companies of California
Stone & Youngberg, LLC
A. Teichert & Son, Inc.
Titan Outdoor, LLC
Trapeze Software Group, Inc.
Urban Villages San Marcos, LLC
WalMart Stores, Inc.
---
This article appears in the January 2011 issue of Western City
Did you like what you read here? Subscribe to Western City
---