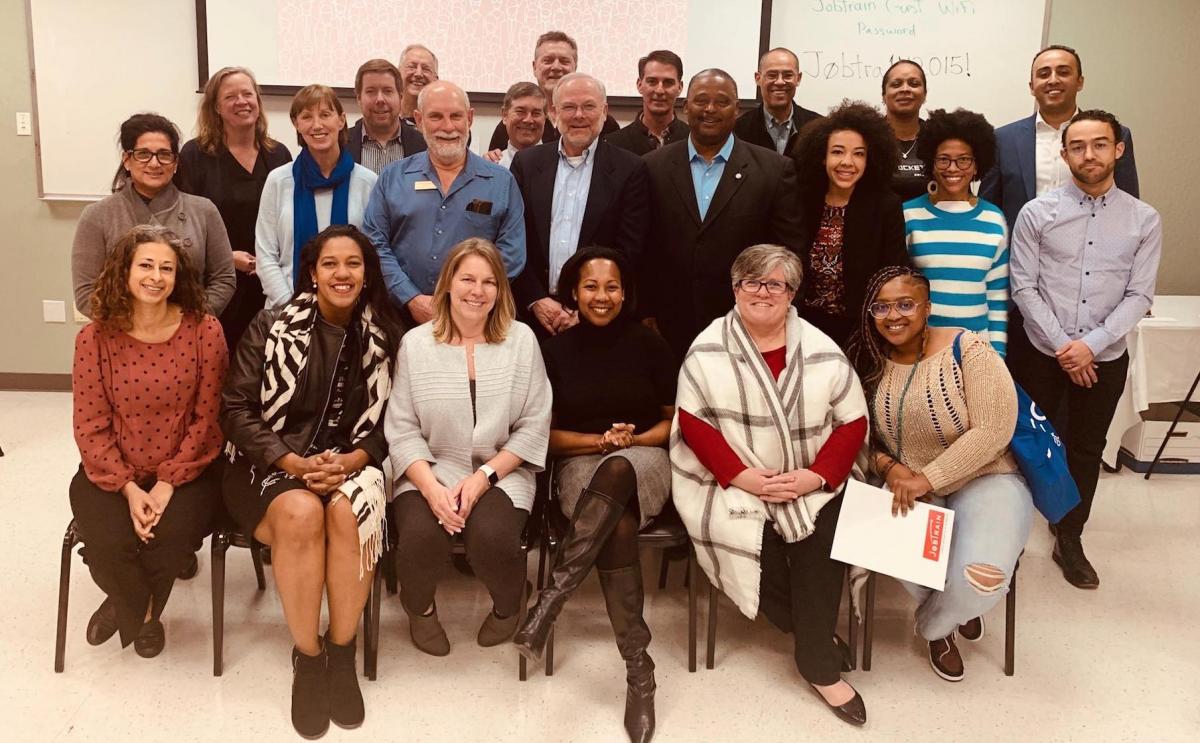 Peninsula Division Explores Ways to Build Workforce Readiness
In the midst of the longest economic recovery in its history, the San Francisco Bay Area is experiencing record low unemployment. Though there is much to celebrate, cities in the region are grappling with new and vexing challenges. Businesses are struggling to find the talent they need, and employers report that the lack of qualified workers is limiting Bay Area companies' ability to grow and thrive. At the same time, poverty, income inequality and the plight of unemployed and underemployed residents are obscured and largely masked.
In October 2018, the League's Peninsula Division convened at Facebook in Menlo Park to better understand the scope and scale of poverty in the region and to explore strategies for empowering economic growth and helping low-income residents escape the cycle of poverty. The meeting included a panel discussion on shared prosperity and featured U.S. Rep. Jackie Speier (D-San Mateo).
League President and Grass Valley Council Member Jan Arbuckle attended and says, "Our diverse economy is grounded in a wide range of industry and activities, but the tech sector remains integral to the state's success. Cities are not only places where people live, but also job centers that serve as the engines of innovation and economic powerhouses. The Peninsula Division is partnering with the business and nonprofit communities to address the needs of employers and is seeking ways to build the workforce that can be replicated in other communities statewide."
A smaller group of 28 elected officials, corporate employers, education and training providers and workforce development professionals followed up on the October discussion by meeting in Menlo Park in March 2019 to consider high-potential strategies for collective action.
Hidden Poverty in the Bay Area
JobTrain, a Menlo Park nonprofit organization focused on workforce development, participated in these meetings and recently published its second annual Broken Pathways report on poverty in the San Francisco Bay Area. The report offers a stark reminder that many Bay Area residents are struggling to make ends meet. Using the Federal Poverty Level (FPL) standard, the research found 487,000 Bay Area residents living below the FPL. When adjusted to reflect the cost of living in the Bay Area, that number almost tripled, with 1.63 million residents — nearly 10 percent of the population — currently living below the Bay Area self-sufficiency level. In addition, close to half are working in one or more low-wage jobs.
In some communities, the percentage of the population living below the self-sufficiency standard is even higher. In the City of East Palo Alto, for instance, 17 percent of the population is unable to make ends meet financially.
In addition, the report found that both ethnicity and low educational attainment are significant factors leading to poverty. Racial minorities continue to account for over half of those in poverty in the Bay Area, with many speaking non-English languages in the home. About 50 percent of Bay Area residents over the age of 25 have less education than a bachelor's degree. Furthermore, over 73 percent of those 25 and older in poverty have less than a bachelors' degree and 50 percent have a high school diploma or less. The vast majority of these men and women do not lack talent but instead lack the skills employers need to hire them for high demand, livable wage jobs and careers.
Peninsula Division Commits to Solutions and New Ideas
Workforce development is a priority issue for the Peninsula Division's 36 cities. The division and its local partners from the business and nonprofit sectors are examining strategies that are gaining support and traction. In partnership with Facebook and local nonprofits, the division is exploring the concepts suggested by the Laborers' Construction Fundamentals Union Pre-apprenticeship and Project Build Carpentry Pre-apprenticeship Training Program. The division is working with two groups of trainees participating in the program who are local residents. While the groups are small (16 to 18 people each), the completion rate is 91 percent, and 82 percent of those who finish the program are placed in jobs with clear career ladders. These programs hold great promise for workforce development, and the division hopes to use them as a model for more widespread efforts.
In particular, division members are looking at the key components of effective training programs for populations that encounter numerous barriers to increasing their employable skills.
The Peninsula Division's goal is to use the training and skills development capacities of Silicon Valley-based companies such as Facebook and Google to create pathways for local residents to receive the training needed to compete for jobs in both the public and private sectors. The division recognizes that cities can no longer rely on importing talent but must cultivate a workforce from within the region.
"The affordability crisis is eating away at the fabric of our peninsula communities," says Michael Brownrigg, a council member and former mayor of the City of Burlingame. "We need to bring incomes up with more aggressive workforce training, and we need to bring costs down by building more affordable housing, preserving what we have and providing more options for child care, elder care, health care and transit."
Another vital component of this effort involves working with local community colleges and educational institutions to coordinate the classes and programs they offer with the needs of employers and the workforce. Josh Becker, a member of the California Workforce Development Board, has been involved in the Peninsula Division's work on this topic. He says, "The California Workforce Development Board is focused on closing the wage gap, and community colleges have to be part of the answer. In San Mateo County, we are working to make it easier for all people, including communities of color, to access community colleges and be prepared for the jobs of the future."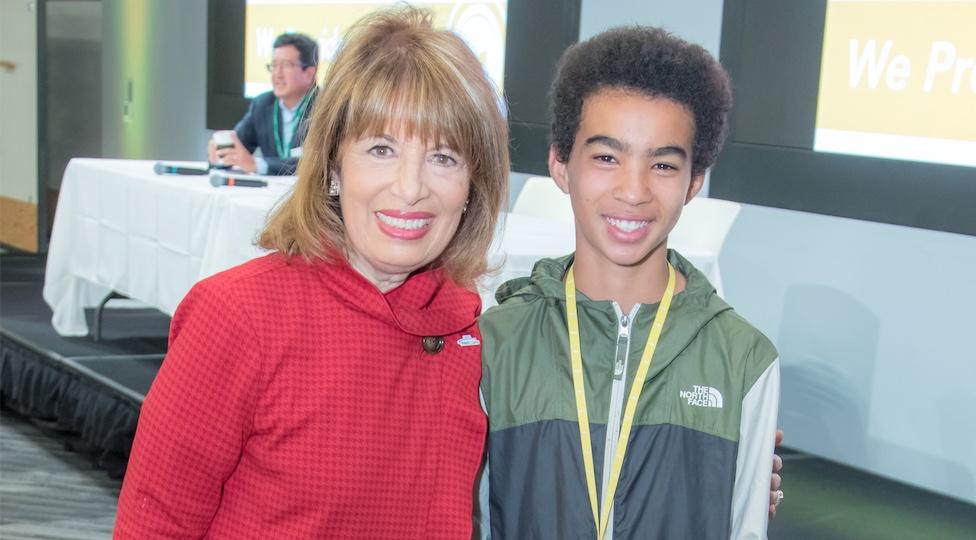 Key Strategies and Approaches
Two recently released publications approach the issue of workforce development from different directions but converge around key strategies. The first publication is a study released in October 2018 by Convergence, a nonprofit, nonpartisan organization that supports dialogue leading to action on challenging public issues. Working Up – A Convergence Dialogue for Action to Increase Economic Mobility is the final product of a two-year project that brings together the ideas and perspectives of a diverse group representing workers, employers, historically disadvantaged groups, education and job training providers, government service agencies, community-based organizations and policy advocates from throughout the political spectrum. The second publication is the National Skills Coalition's 2019 Skills for Good Jobs Agenda, which aligns with the Working Up strategies and recommends a complementary policy agenda.
The central theme of these ideas is captured best in a quote from the National Skills Coalition publication: "Don't just talk about workers as America's greatest asset — invest in them."
These publications share at least three key strategies that could become the platform for future workforce development efforts: focus on skills, provide more and longer-term support services and strongly engage the business community.
Focus on Skills
Although 50 percent of all jobs in California's labor market are middle skill, only 39 percent of California workers are trained at this level, meaning that key industries are losing out on economic opportunities — and U.S. workers are being held back from career pathways that lead to good wages.
The 2019 Skills for Good Jobs Agenda states, "As the U.S. economy continues to grow, investments in education and training have never been more important. But we're in danger of falling behind, particularly with respect to middle-skill jobs that require more than a high school diploma but not a four-year degree."
Similarly, the Working Up report says, "Employers, credentialing systems and training programs improve labor market matching through employer-informed credentialing programs to ensure employers a well-qualified and stable workforce pipeline."
To respond to the needs of businesses, communities must find ways to create more credentialing and skills-based training programs that prepare residents for in-demand middle-skill jobs.
Provide More and Longer-Term Support Services
Managing the stresses of food insecurity, child care, transportation, housing and education make it challenging for low-income adults and families to successfully engage in skills training and advance in their new careers. Providing more support for a longer period can help improve long-term outcomes and create a more stable workforce.
In the 2019 Skills for Good Jobs Agenda, the National Skills Coalition writes, "Adults balancing full-time work and family obligations are a rapidly growing segment of today's community college enrollments. Some states have established strategies that ensure these students succeed, including career pathways models that combine basic and occupational skills training, career counseling and case management, and support services like child care and transportation assistance."
The Working Up report reflects a similar perspective: "Many workers and families with low-income jobs lack key supports and assets needed for stable employment and financial security (child care, sick leave, predictable schedules, transportation). Many employers, including small businesses, would like to do more but face hard choices in competitive markets."
Training providers, employers and government will create a more stable, thriving workforce by strengthening supports that help employees and trainees meet their basic needs.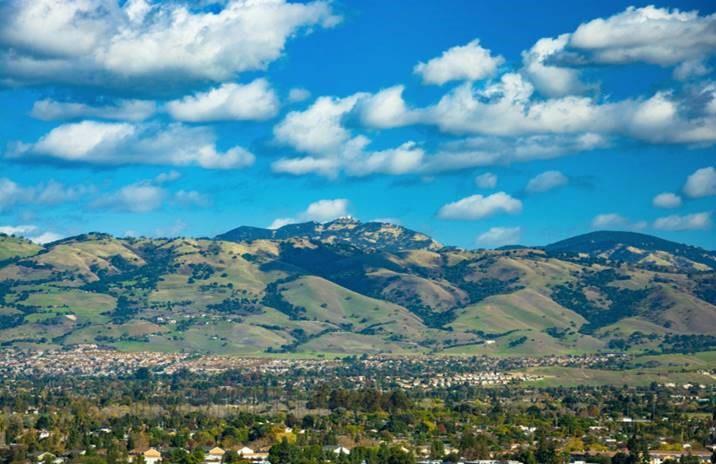 Strongly Engage the Business Community
The recommendations to focus on skills and provide more and longer-term support services can be effective only if local governments and nonprofits engage regularly and meaningfully with the business community. All of these strategies require that we understand which skills are needed and that our investments meet business demands.
According to the National Skills Coalition, "Industry or sector partnerships reduce the burdens on businesses by convening local stakeholders to develop programs that can enable a broad pipeline of workers to develop the skills businesses need."
The Working Up findings also suggested a need for business engagement: "Building those pathways is hampered by limited engagement between employers, schools and training providers. Employers are critical partners in creating work opportunities, promoting economic mobility, and building workforce capabilities."
The traditional approach to business engagement, in general, is not working. Advisory tables do not thoughtfully represent the scope and diversity of the sector, are local rather than regional and do not involve the full scope of stakeholders such as training and education providers, industry associations and government. We must adopt and invest in regional, employer-led sector partnership models that help training and education providers to understand the real-world skills that businesses need — and invest in appropriate, high-demand middle-skill career pathways.
Creating a Roadmap for Success
"As we continue to see our community members displaced due to the high cost of living, we must ensure access to good job training and good jobs," says Shelly Masur, a council member for Redwood City. "These meetings were a great start for elected officials and local organizations coming together to work toward solutions."
The Peninsula Division and its partners are examining key strategies with the greatest likelihood of success. Our ability to achieve the desired outcomes depends on a collective, collaborative effort that involves businesses, residents, nonprofits and local governments in training and education. Some of the encouraging results experienced in the Laborers' Construction Fundamentals Union Pre-apprenticeship and Project Build Carpentry Pre-apprenticeship Training Program are attributed to the full range of support provided that includes child care, training locations that are easily reached with public transit, hours that accommodate the needs of trainees who are working in low-wage jobs — and more.
The Working Up report articulates this call to action: "The path forward requires strong engagement from the private sector, lower-wage workers, government and communities. We can innovate to create effective public policy and private practices, based on good data and reflecting our shared and complementary goals. Together, we can create greater opportunity, security and prosperity for the next generation of American workers. We need more dialogue and collaborative problem-solving where stakeholders build trust and deeper mutual understanding. We call for others in government, business, labor, the nonprofit sector, higher education and philanthropy to join us in taking action to make work a powerful engine of economic mobility for all Americans."
---
Related Resources
California Workforce Development Board
National Skills Coalition 2019 Skills for Good Jobs Agenda
https://www.nationalskillscoalition.org/resources/publications/2019-skills-for-good-jobs-agenda
Broken Pathways Report
https://www.jobtrainworks.org/wp-content/uploads/2019/01/Broken-Pathway-2.0-Report.pdf
Working Up – A Convergence Dialogue for Action to Increase Economic Mobility
---
Photo Credit: First two photos, courtesy of the Peninsula Division; landscape photo, Davel5957
---
This article appears in the May 2019 issue of Western City
Did you like what you read here? Subscribe to Western City