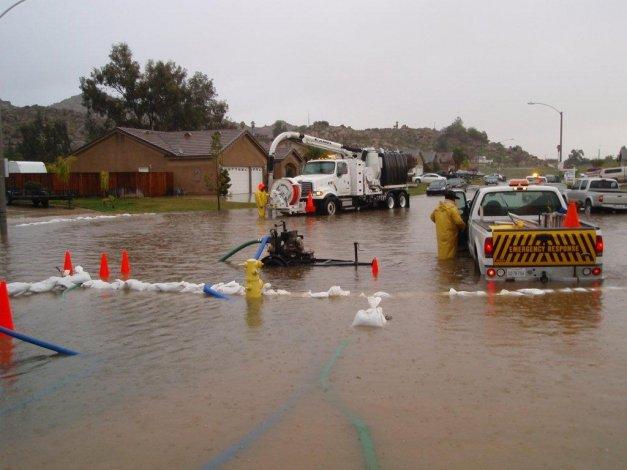 Preparing for El Niño in Moreno Valley
After considering the potential severity of the El Niño season and the history of flooding in the region, the City of Moreno Valley took steps to prepare its community. Moreno Valley (pop. 203,000) is the second largest city in Riverside County, located approximately 60 miles east of downtown Los Angeles.
The city manager designated the Fire Department's Office of Emergency Management as the project lead. In September 2015, the Office of Emergency Management developed a comprehensive multi-departmental preparedness strategy plan with a multi-phased approach. A planning committee that included the Fire, Public Works, Police and Community Development Departments — with support from Technology Services and Financial Management staff — pooled resources and identified solutions to prepare the community for a potentially powerful storm season.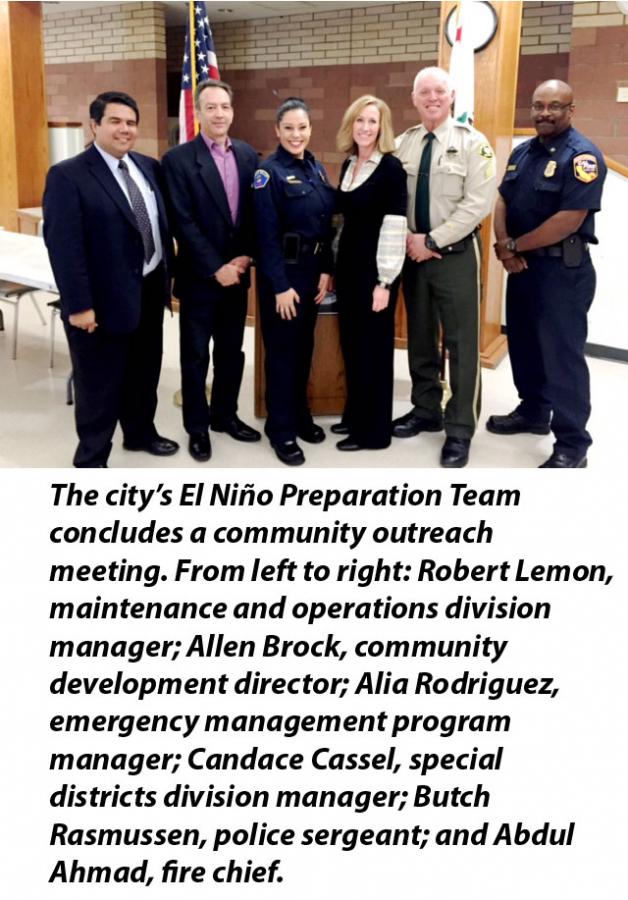 Strengthening the Community's Ability to Respond
In prior years, the city provided residents with 25 unfilled sandbags per household. For the 2015–16 El Niño season, the city increased the number to 50 free prefilled sandbags per household and distributed approximately 39,000 prefilled sandbags to the community during this season. Moreno Valley also distributed several thousand unfilled sandbags and several tons of free sand. This proved helpful during the first series of storms in early January 2016.
In addition to the existing inspection and abatement program, the Public Works and Community Development Departments initiated an emergency enforcement ordinance that allows the city to perform abatement on private property, if warranted. The city maintains just over 2,400 public storm drain facilities and added 900 private drainage courses to its inspection list. Through the emergency ordinance and inspection process, approximately 99 percent of private property owners responded positively and abated their own facilities.
The city's preparedness strategy includes a significant public education component. A comprehensive web page dedicated to the event (www.moval.org/elnino) provides information for community members and covers topics from preparing property to animal-related precautions. A 30-second public service announcement encourages constituents to visit the webpage (https://www.youtube.com/watch?v=zWUDQQKwkqY). Moreno Valley also conducted community forums and neighborhood meetings to increase awareness of the potentially severe weather events predicted by meteorologists. The city strongly encouraged members of the community to register their contact information with Moreno Valley's emergency alert and warning notification system.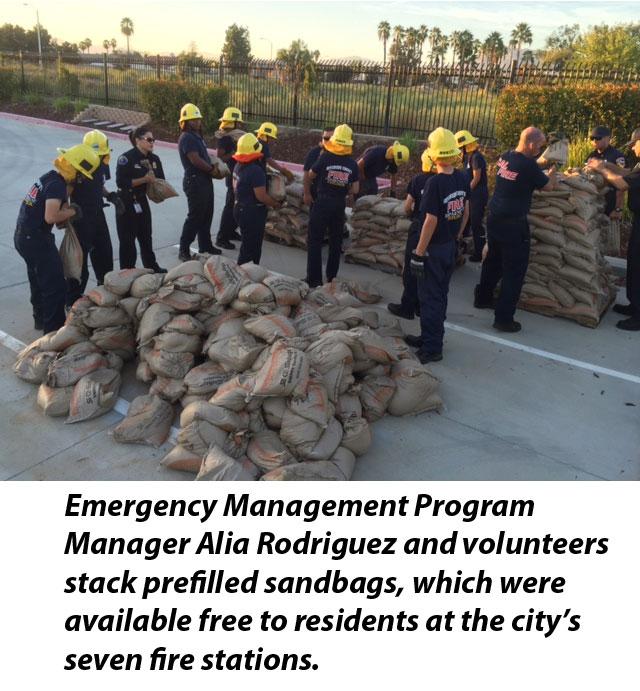 Enhancing the City's Response and Recovery Capacity
The city's Technology Services Division developed a storm tracker application to further support flood-related calls for service. The Public Works Department Operations Center (DOC) uses this application as the primary data entry point for dispatch allowing field staff to remotely prioritize, update and respond to emergencies. The real-time data on field conditions also makes it easier for emergency personnel to assess, plan and coordinate resources to other incidents accordingly. The system allows for a free flow of information, maximizing coordination and ensuring a timelier more effective response.
The Office of Emergency Management enhanced community relationships by developing partnerships with faith-based organizations, school districts and the community. During the early January 2016 event, 30 volunteers from faith-based organizations helped distribute sandbags. In collaboration with the school district, Office of Emergency Management staff established a Memorandum of Understanding for emergency response efforts, which the city council and school board approved. Moreno Valley also conducted training and recruited volunteers to form Rapid Damage Assessment Teams to assist with the recovery process.
The city also leased additional equipment to use in clearing roadways and restoring service and retained contractors to help with road clearing or reconstruction, tree removal, slope stabilization or other assistance if needed.
The Value of Planning
Planning for the anticipated storm events is a critical part of minimizing the impacts of extreme El Niño-related weather. Developing the plan provided an opportunity to enhance collaboration and rapport among city departments, which in turn strengthened the municipal team's ability to serve the Moreno Valley community.
---
Photos: Courtesy of the City of Moreno Valley
---
This article appears in the March 2016 issue of Western City
Did you like what you read here? Subscribe to Western City
---