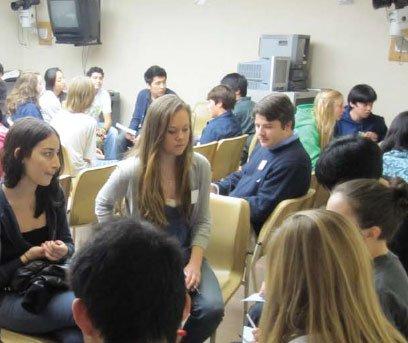 Project Safety Net Works to Save Lives in Palo Alto
The City of Palo Alto won the Award for Excellence in the Health and Wellness Programs category of the 2011 Helen Putnam Award for Excellence program. For more about the award program, visit www.cacities.org/helenputnam.
---
The City of Palo Alto is located 35 miles south of San Francisco and 14 miles north of San Jose, with a population of approximately 63,000 residents. The Palo Alto community was shaken in May 2009 when a local highschool student committed suicide at a railroad crossing. Seven more teenagers died by suicide in the ensuing 19 months, with six of the deaths occurring at or near the same railroad crossing. Widespread grief and concern about these tragedies led to the creation of the Project Safety Net (PSN) Community Coalition.
The PSN Community Coalition comprises parents and representatives from a broad range of local agencies and organizations, including Palo Alto Unified School District, the City of Palo Alto, the faith community, youth-serving nonprofit organizations, city commissions, the Palo Alto Youth Council, health care professionals from Stanford University, Lucile Packard Children's Hospital, Palo Alto Medical Foundation, and many others.
Coalition Effort Draws on Community's Strengths
The City of Palo Alto and the school district took a leading role, working with the coalition partners to develop both short- and long-term plans to support suicide prevention and enhance the social and emotional health of youth and teens in Palo Alto. A long history of collaboration among Palo Alto community groups, schools, parents and the city helped make it possible to get the effort off the ground quickly.
The coalition's mission is to develop and implement an effective, comprehensive, community-based suicide prevention and mental health plan for overall youth well-being in Palo Alto. The PSN plan (www.PSNPaloAlto.org) encompasses education, prevention and intervention strategies that together provide a safety net for youth and teens in Palo Alto.
The Palo Alto community came together in an extraordinary way. According to Ray Bacchetti, chair of the city's Human Relations Commission, "Project Safety Net revealed strengths we didn't know our community had." The coalition drew on local and national experts and best practices for community-based mental health and suicide prevention and developed 22 specific strategies, actions and recommended next steps, which were presented to the city council and school board.
The PSN strategies are based on two essential "pillars" that span both ends of the prevention spectrum. On one end are specific suicide prevention strategies, including seeking out and supporting those who are most vulnerable. Suicide prevention remains PSN's core focus. Strategies on the other end of the prevention spectrum focus more generally on youth well-being, with the goal of involving the entire community in supporting the social and emotional health of all youth.
The coalition encourages the entire Palo Alto community to participate in some way. PSN members tend to gravitate to one end or the other of the prevention spectrum depending on their expertise and interests or where they think they can have the greatest impact. The coalition has made a concerted effort to keep all community members on both ends of this spectrum working together as part of a united endeavor. Palo Alto's Parks and Recreation Commissioner Pat Markevitch says, "I am so proud of the way our community came together on Project Safety Net to work toward positive outcomes for the health and well-being of our youth."
A Focus on Well-Being and Suicide Prevention
Project Safety Net continues to make significant progress toward its goal of engaging the community to focus on fostering youth well-being and suicide prevention. According to Michael Donohue, executive director of the nonprofit Kara Grief Support and Education, "Project Safety Net is one of the few organizations that truly lives up to its name." Examples of the coalition's achievements to date include the following:
Both the city and school district have adopted a "Developmental Assets" framework for youth well-being as well as suicide prevention policies;
Railroad track security is now provided at high-risk locations in the city, thereby reducing access to lethal means of self-harm;
Hundreds of youth and adult suicide prevention "gatekeepers" have been trained;
The coalition developed a media partnership that convened a regional meeting of editors on best practices for reporting on suicide;
Nonprofit youth-serving partners have been able to leverage new funding sources;
Local campuses have enhanced counseling opportunities for students;
New and renewed relationships have been established between agencies supporting youth well-being;
Communication and the flow of information between the school district and health care providers about at-risk students have improved;
Primary care providers and mental health care providers, both within and across different institutions, have improved their communication;
Various tools and resources to be used in mental health screening for primary care physicians have been created, including diagnostic algorithms, local resources, and forms to increase communication flow between primary care doctors, inpatient psychiatric units, outpatient mental health professionals and schools; and
Santa Clara County developed a blueprint of Palo Alto's PSN Community Coalition to assist other municipalities in organizing grassroots suicide prevention initiatives (available at www.PSNPaloAlto.org).
The coalition's ongoing efforts include:
Working to elevate the youth voice through a series of youth forums coordinated collaboratively by teens and adults;
Providing education at community and school events to decrease the stigma of mental health issues; and
All district schools making a deeper commitment to a healthy and supportive school environment.
"Project Safety Net has knit more than 20 public and nonprofit agencies into a caring community working together for the well-being of our youth and teens," says Bacchetti.
Bringing people together to work on this challenging issue has been both rewarding and heartbreaking: rewarding as the community makes progress, builds new relationships among partner organizations and witnesses the remarkable goodwill that surrounds youth and teens in Palo Alto; and heartbreaking as people grieve for the young lives lost. The City of Palo Alto's role as a convener and coordinator has proved to be a key element in the first two years of Project Safety Net, and city leaders look forward with optimism and hope as they continue to support this important work.
Contact: Rob de Geus, division manager, Recreation Services, and co-chair, Project Safety Net, Community Services Department, City of Palo Alto; phone: (650) 463-4908; e-mail: Robert.degeus@cityofpaloalto.org.
---
This article appears in the January 2012 issue of Western City
Did you like what you read here? Subscribe to Western City
---