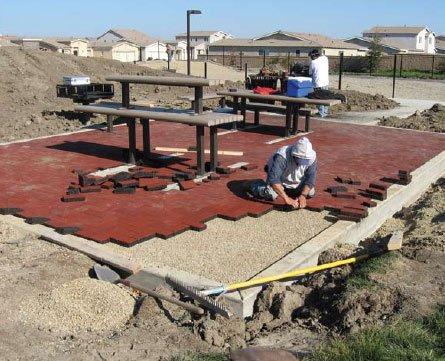 Recycled Tire Products Offer Safe, Green and Durable Construction Solutions
Mark Leary is acting director of the California Department of Resources Recycling and Recovery (CalRecycle).
---
California generates more than 40 million scrap tires every year. While about 75 percent of the state's discarded tires are recycled, the rest end up in landfills and illegal stockpiles or dumped in urban and rural areas. Illegally dumped tires and tire stockpiles are more than an eyesore — they threaten public health and safety through fire risk and the spread of mosquito-borne illnesses.
Every dumped or landfilled tire represents a wasted resource. Recycled tire rubber can be used in a wide variety of applications and products, from road surfacing to lightweight construction fill, landscape mulch and playground surfaces. Such products are proven to be extremely effective and long lasting. Recycled tire rubber has better impact absorption than many other materials and greatly improves safety for children and adults when used for recreational surfaces. It can also provide a flat surface that increases accessibility for visitors with disabilities and parents with children in strollers. Local governments that use tire-derived products reap economic and environmental benefits.
Green Building Uses
Using recycled tire products can help builders meet stringent environmental requirements. The U.S. Green Building Council's Leadership in Energy and Environmental Design (LEED) green-building rating system awards points for environmentally friendly construction features. Playground and facility planners can use recycled tire products to qualify new construction for LEED points in several categories:
Recycled Content — for building materials that incorporate recycled content materials;
Regional Materials — for building materials and products that are extracted and manufactured within 500 miles;
Stormwater Design — for reducing impervious surfaces that contribute to stormwater runoff; and
Water-Efficient Landscaping — for limiting or eliminating the use of potable water.
In the landscaping category, mulches and artificial turf made from recycled tires help reduce potable water use. Mulch helps hold irrigation water near the plant roots, and artificial turf does not need to be watered.
Examples of Local Uses
The California Department of Resources Recycling and Recovery (CalRecycle) helps divert discarded car and truck tires from the waste stream and into useful products. During the past four years, CalRecycle has provided assistance to more than 40 California firms working to develop new products made from recycled tires.
CalRecycle provided $3.3 million in grants during the 2009–10 grant year to help 37 schools and local governments purchase and install tire-derived products. The following examples illustrate how communities put this funding to work.
The Conejo Recreation and Park District in the City of Thousand Oaks recently completed a 0.6-mile jogging trail at Northwood Park using a recycled tire surfacing product known as "pour in place," which is a mix of shredded recycled tire material from trucks, SUVs and cars blended with a clear polyurethane binder. The trail surface is a half-inch thick and the exercise stations along the trail use 2.5 inches of material. The project diverted 3,100 tires from the waste stream. Grant amount: $41,990.
Paving bricks made from recycled tires are used for surfaces around and under picnic benches in the City of Firebaugh's Dunkle Park. City Manager Jose Ramirez says he likes them because, "The pavers are sturdy enough for wheelchair access but soft enough to stand on comfortably." If ground movement or tree roots make the surface uneven, city staff can pull up the pavers and adjust them. Grant amount: $150,000.
The City of Fremont has renovated six parks using pour-in-place granulated rubber surfacing. On top of this 3.5-inch layer is a half-inch layer of virgin material. Landscape architect and Project Manager Andrew Mayes notes that, in addition to recycling, another environmental benefit is that the surface is porous, and rainwater percolates through to help recharge aquifers below. Grant amount: $145,884.
The City of Lemoore installed recycled tire rubber matting in its children's recreation center, an indoor walking track and one of the city's maintenance shops. These projects diverted 39,000 tires from landfills. Parks and Recreation Department Secretary Sheila Taylor says, "We are thrilled with the recycled flooring product. It's easy to clean, and we're happy to participate in a project that helps our city be even greener." Grant amount: $149,994.
The City of Lindsay used a grant from CalRecycle, in part, to purchase a recycled tire product known as loose-crumb rubber for McDermont Field House, an indoor sports facility. As the name suggests, loose-crumb rubber is composed of small pieces of recycled tire material. At the sports facility, it is used at the base of an indoor climbing wall to cushion falls. The grant also helped purchase loose-crumb rubber for 60 tree wells in the downtown business district. Grant amount: $27,123.
The Livermore Area Recreation and Park District is constructing park facilities in an underserved, high-density section of town. Grant money was used to purchase recycled pour-in-place material for the solid rubberized surface under playground equipment. The surfacing provides shock absorption for younger children as well as a stable surface on which a stroller can easily roll. Grant amount: $25,426.
The City of Redding is developing a demonstration project using recycled tire products at its Recycling and Transfer Station. "Bark" made from recycled tires has been installed around the entryway and administration building, along public exits and on islands around the scale. Public Works Supervisor Christina Piles says, "The old style bark was faded and just never covered very well. The recycled tire bark is more vibrant, lasts longer and looks cleaner and neater." Grant amount: $65,496.
The City of Palmdale installed mulch made from recycled tire loose-crumb rubber around its softball complex at Marie Kerr Park. The loose-crumb rubber trail runs around the perimeter and replaces planted landscaping. This saves the city money on watering costs, weed abatement and other landscaping maintenance expenses. This project diverted 462,000 pounds of tires from landfills. Grant amount: $148,570.
The Santa Clara County Sheriff's Academy training center uses recycled tire loose-crumb rubber mulch under the monkey bars and pull-up bars on its obstacle course. Deputy Sheriff Devin Fontana says, "We are located right against the foothills near a county park, and the landscape generates weeds very quickly. This mulch prevents weeds from growing and provides cushioning for falls." The sheriff's office is using recycled tire mulch throughout the campus to replace much of the traditional wood bark mulch, which blows around or is dug up by animals. The project is diverting 10,500 tires from the landfill. Grant amount: $41,370.
To learn more about tire-derived products, tire cleanup and the full range of tire grants available through CalRecycle, visit the tire management home page at www.calrecycle.ca.gov/tires.
---
Additional Resources
Finding Manufacturers
CalRecycle has a list of companies that make products from recycled tires.
Complying With CALGreen
California now has its own green building mandate. The California Green Building Standards Code (CALGreen) of Title 24 took effect on Jan. 1, 2011. It requires new facilities to comply with sustainable design standards. The appendix of the CALGreen code (Section A5.405.4) outlines voluntary measures, which local jurisdictions can adopt as mandatory, including requirements for recycled content and regional materials. The code encourages the use of materials with a minimum of 10 or 15 percent (by value) recycled content. Under section A5.405.1, building materials or products sourced within 500 miles of the project can count as "regional materials." Products made from recycled tires can help parks and recreation planners meet the spirit of these sections.
---
This article appears in the July 2011 issue of Western City
Did you like what you read here? Subscribe to Western City
---