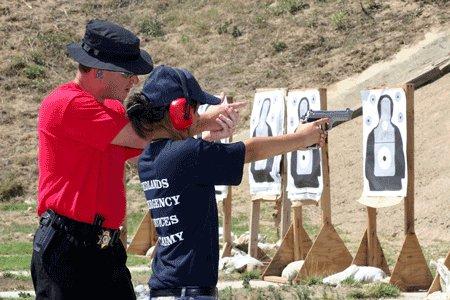 Redlands Emergency Services Academy Gives Youth a Taste of Service Participants g
The City of Redlands won the Ruth Vreeland Award for Engaging Youth in City Government in the 2012 Helen Putnam Award for Excellence program. For more about the award program, visit www.helenputnam.org.
---
The City of Redlands (pop. 69,498) in Southern California has long sought ways to attract talented recruits to its public safety services. In 1999 the Redlands Fire and Police Departments, Crafton Hills College and the Redlands Unified School District looked for a way to encourage, train and mentor local students interested in emergency services careers. The program was designed to provide a positive influence on local youth, give local high-school graduates a start in job training and foster a talented pool of local recruits.
The Redlands Emergency Services Academy (RESA) was created as a partnership of the Police and Fire departments, school district and community college as a proactive effort. Its goal is to provide graduating high-school seniors with positive exposure to the challenges, benefits and rewards of a career in law enforcement or emergency fire services. The week-long live-in academy stresses the development of leadership skills and teamwork and the value of making a meaningful contribution to one's community.
How the Process Works
Graduating seniors from each of the city's high schools compete for the opportunity to attend the academy. Recruitment begins in the spring of senior year. Interested students must obtain two teacher recommendations, complete an application and write an essay. Qualifying students give an oral interview before a panel of Redlands firefighters, police officers and staff from local schools. Only 20 to 25 students and two alternates are selected. Since RESA's founding, approximately 320 students have completed the program.
There is no cost to RESA students to participate. Many local businesses and other institutions provide support throughout the weeklong academy. The University of Redlands provides a dormitory to house participants, food services at a reduced rate, classrooms and recreational opportunities. The San Bernardino County Sheriff's and Fire departments open their Academy Training Center and facilities for instruction in weapons orientation, vehicle pursuit driving and live firefighting. Many businesses donate money, food or other necessities. A San Bernardino County Schools grant and donations from the Kiwanis Club of Redlands provided initial funding for RESA. A donation of nearly $200,000 from the San Manuel Band of Serrano Mission Indians has supported the program for the past four years.
A Detailed Look at the Academy
Employees of the Redlands Fire and Police departments act as RESA instructors. For eight full days, participants are exposed to the types of tasks and responsibilities required of safety personnel, as well as the training, education and physical standards that must be met to achieve and maintain employment in these fields.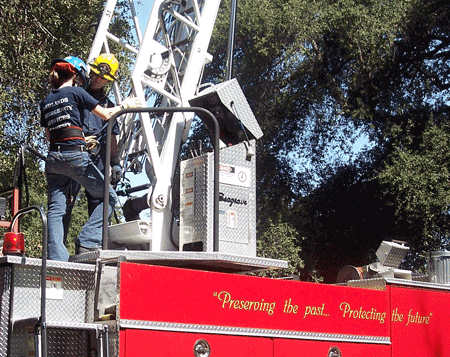 Participants begin each day at 5:30 a.m. with extensive physical fitness challenges, followed by classroom instruction on technical and ethical aspects of the public safety profession and hands-on training in the challenges of firefighting, emergency medical response and law enforcement.
Regardless of career preference, students are exposed to aspects of both police and fire training. Classes have included live fire training for structural and wildland fires, active shooter scenarios simulating a SWAT rescue operation, emergency vehicle operation, high-rise firefighting, felony traffic stops, swift water rescue, rappelling, crime scene investigation, aerial ladder operations, search and rescue, firearm safety and arson investigation. Participants also join ride-along patrols with uniformed police officers or firefighters.
The students' experiences serve as tangible motivation to pursue careers in public safety. The program introduces core values that will remain with them throughout their prospective careers: discipline, teamwork, pride, loyalty, honor and integrity.
A major incentive for RESA graduates interested in following a fire services career path has been guaranteed admittance to Crafton Hills College's two-year regional fire academy. There is a significant waiting list to attend this training program, which is mandatory for those wishing to enter the fire service. RESA graduates seeking law enforcement careers have also been guaranteed admittance to Crafton Hills College's two-year Administration of Justice associate degree program.
Donna Ferracone is a trustee for the San Bernardino Community College District and has served as a RESA coordinator since the program's inception. "From an educational standpoint, aside from the actual camp, this program allows students the advantage of early registration into college classes at Crafton Hills College and offers them the availability of a mentor to help them choose classes and answer any questions they may have," says Ferracone. "After RESA they are better prepared to understand the expectations of the fire and police academy staff when they enter those academies. My personal satisfaction from RESA is the accomplishments of the youth during and after their participation in the academy."
Police Corporal Cindy Gourlay helped start the RESA program and has been a lead coordinator and instructor ever since. "I am proud of the program's growth and the achievements of the graduates," says Gourlay. "This year's graduating class motto said it best: 'We Are the Future.' I love being a part of an academy that mentors young adults whom I watch grow and become successful adults."
The benefits of RESA are many. Six RESA graduates have been hired by the Redlands Fire Department and two have been hired by the Redlands Police Department. Numerous other RESA alumni are employed full time by other local fire and police departments. Approximately 40 percent of RESA graduates have jobs in emergency services in some capacity. Others have attended major universities or entered the military. Only 10 percent have dropped out of the program completely.
Redlands Firefighter Jason Dressel is a RESA graduate who now serves as a program instructor. "RESA is a great program," says Dressel. "My own career proves that. My experience in RESA and the mentoring I received to become a firefighter will always be with me. I can't think of a better way to give back to the community that gave me so much than being a RESA advisor and a mentor to future members of the Redlands Fire and Police departments."
Redlands Police Officer Chris Mead, another RESA instructor, graduated from the first RESA class in 1999. "RESA has been a life-changing experience for me," Mead says. "The program opened my eyes to which profession I wanted to pursue. I have been working for the Redlands Police Department as an officer for more than five years. It is because of RESA that I reached my goal. This is why I participate in the program now as an officer with hopes that these new cadets find and achieve their goals in life pursuing a career in law enforcement or the fire service."
Contact: Jeff Frazier, fire chief; phone: (909) 798-7600; email: jfrazier@confire.org; or Cindy Gourlay, police corporal; phone: (909) 798-7681; email: cgourlay@redlandspolice.org.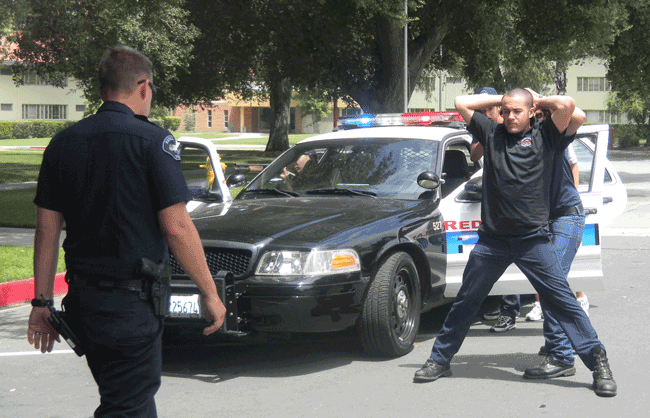 Students in the Redlands Emergency Services Academy get hands-on training in police procedures.
---
This article appears in the September 2013 issue of Western City
Did you like what you read here? Subscribe to Western City
---