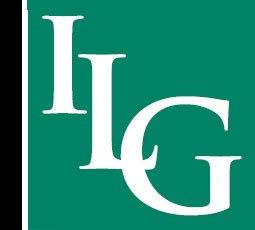 Resources to Help Promote Public Trust and Confidence in Local Government
Promoting public trust and confidence in local agency decision-making is a key focus of the Institute for Local Government (ILG). Various factors influence such trust and confidence. The competency of both local officials and staff provides a basis for establishing public trust and confidence. But while competency is necessary, it is not sufficient to earn the public's trust.
The additional components needed to build public trust and confidence involve the intersection of three overlapping elements: transparency, ethics and public input.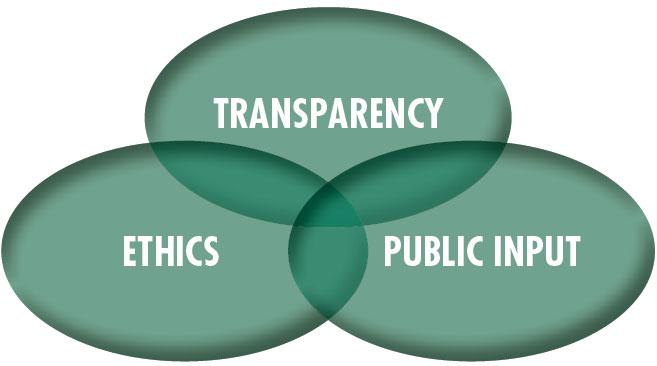 Transparency
Transparency applies to both local agency information and local agency processes.
Informational transparency includes:
Making it easy for community members to understand what a local agency does and who to contact when issues arise; and
Providing information about local agency regulations and activities, as well as financial information.
Process transparency helps community members understand how local agency decision-making processes work and how they can participate in those processes.
Information about core aspects of local agency decision-making is available through the ILG website as part of its Local Government 101 program (www.ca-ilg.org/local-government-101). ILG welcomes local agencies to link to its website.
To help local agencies that are considering which types of information to include on their website as part of their transparency-related efforts, ILG has compiled a useful checklist, available at www.ca-ilg.org/WebsiteTransparency.
Ethics
Ethics plays a role in the community's trust and confidence by assuring residents that public servants' actions are motivated by the public's interests — as opposed to public servants' personal interests. The ILG website's ethics section offers a wealth of information about ethics principles and ethics laws that apply to public service. These materials include an archive of "Everyday Ethics for Local Officials" articles that examine issues that can arise in public service (at www.ca-ilg.org/everydayethics).
The institute also offers a number of plain-language explanations of California ethics laws, including the 2013 update of Understanding the Basics of Public Service Ethics Laws. This free e-book covers:
Personal financial gains laws;
Perk issues, including compensation, use of public resources and gift laws;
Transparency laws; and
Fair process and merit-based decision-making.
This free resource is available due to the generous financial support of ILG supporters Aleshire & Wynder, Best Best & Krieger, Burke Williams & Sorensen, Hanson Bridgett, Kronick Moskovitz Tiedemann & Girard, Liebert Cassidy Whitmore, Richards Watson & Gershon, and Renne Sloan Holtzman Sakai.
Public Input
How does the thoughtful public servant determine what the public's interest is in any given situation? One way, of course, is to ask.
A key goal of ILG's public engagement efforts is to help local agency officials and staff understand the options available for seeking public involvement and input into local agency decision-making processes. The ILG website offers resources on core concepts related to successful public engagement (www.ca-ilg.org/public-engagement), as well as strategies for broadening public participation beyond the "usual" small number of people who typically take part in agency decision-making processes (www.ca-ilg.org/broadening-participation).
Public engagement strategies and options for specific situations — for example, engaging the public in the budget process (www.ca-ilg.org/engaging-public-budgeting) — are also available on the ILG website.
ILG's work in the public engagement area is based on the theory that providing local decision-makers with the full range of perspectives on an issue enables them to make informed and supported decisions that are in the community's best interests — and promotes public trust and confidence.
---
This article appears in the November 2013 issue of Western City
Did you like what you read here? Subscribe to Western City
---