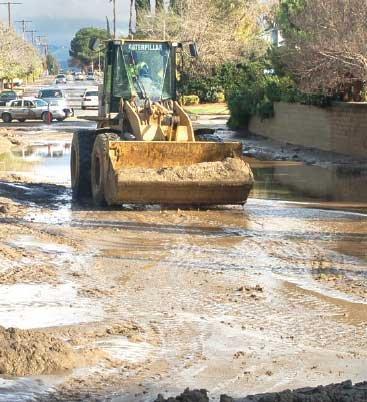 The Role of Public Works in Emergencies
Jim Biery is director of public works for the City of Buena Park and can be reached at jbiery@buenapark.com.
---
Every day, 911 emergencies occur in cities throughout California. Most of these are routinely handled by "first responders" — police, firefighters, paramedics and public works staff — and go largely unnoticed. In such an event, public works crews may be called on to repair a broken water or sewer main, close a roadway due to a traffic accident or remove branches or trees felled by a storm. Most of these events happen within the city limits and last just a few hours. However, major emergencies also occur each year throughout the state, impacting hundreds and thousands of residents and businesses, often for several days or longer.
Public Works: First Responders
In an emergency, public works staff work closely with police and fire personnel to assess damage and develop and implement responses. The Public Works Department plays a key role in the city's response team. In fact, public works was officially added as a first responder in 2005 by the U.S. Department of Homeland Security and Federal Emergency Management Agency (FEMA). Public works personnel also serve as part of the Emergency Operations Center (EOC) staff should the city activate its EOC.
In major events, transportation/access and water supply are frequently two important areas of focus for public works personnel. The access to and from impacted areas is often damaged or impassable during an emergency response. In such cases, restoring this access is essential to save lives and preserve property. The Public Works Department is called upon to bring in heavy equipment and personnel to remove debris and re-establish access for emergency workers who need to rescue or evacuate residents. Public works personnel may work with their own crews or in conjunction with private contractors under public works direction.
Water supply is tremendously important in major events because it's needed for fire suppression and also meets a basic human need. During emergencies, the Public Works Department's role is to restore and maintain water pressure and supply. This may include repairing broken water mains as well as isolating damaged portions of the water system so that supply in other areas can be maintained. It may also include developing temporary water supply options for the affected areas.
Strategies to Improve the Public Works Emergency Response
Pipelines can be very dangerous and can profoundly impact our communities, as evidenced by the September 2010 gas pipeline disaster in the City of San Bruno. To be prepared, make sure your agency has up-to-date maps of all pipelines, railroads and utilities in its area. Meet with representatives of the utilities and railroads to discuss their emergency plans and maintenance programs, and exchange contact information.
Internal interoperability, or interagency communication, should be a top priority in every city. It's essential that first responders — police, fire and public works — have two-way communication between agencies, using multiple means that include telephone, radio, cell phones, smart phones and e-mail. Don't overlook your agency's hand-held and vehicle-mounted radios, which play an important part in emergencies when cell phones become overloaded. Southern California communities experienced this firsthand when the cell system went down after an earthquake, and radios provided urgently needed communication.
Tips to Enhance Effectiveness
A proactive Public Works Department on-call program is a key component of emergency response. Qualified public works field personnel should be designated and available 24/7. Each on-call staff member should be provided a cell phone, a pager and a portable city radio. In many communities, emergency operations are automatically activated when an earthquake exceeds a certain magnitude. In addition, maintain an up-to-date list of employees to be called back to work in an emergency. This list should be routinely updated and include cell phone numbers and home phone numbers.
Create a system for quick field identification of Public Works Department staff to facilitate their access to emergency areas. Use the city logo or seal and the words "Public Works" on all trucks, uniforms and reflective vests and jackets. This makes your field crews readily recognizable.
Develop a debris management program. Many emergencies involve a broad range of debris and hazardous materials that block critical access. Prior to a disaster, put in place a program that includes sites for debris disposal and identifies preapproved contractors, city employees and heavy equipment for debris management in an emergency.
Be prepared to assess damage efficiently. A key part of major emergency response involves damage assessment. To speed the process, city staff should develop a "Rapid Damage Assessment Windshield Inspection Survey" form that includes a list of the personnel who will conduct the survey and a list of the areas and facilities of the city they will inspect. The inspection is made from a vehicle, noting what damage is visible through the windshield, as the name suggests, and should always be supplemented by extensive digital photos with date stamping.
Other Ways to Strengthen the Public Works Response
If your city or agency is interested in improving its public works response during emergencies, consider expanding interagency interoperability to reach beyond the city to other first-responder agencies if this has not yet been done.
Communication with the media and community during disasters is another area where making improvements can yield excellent results. One of the best examples of such an effort is the Coordinated Agency Recovery Effort (CARE) program developed by the Los Angeles County Department of Public Works (online at http://dpw.lacounty.gov/care). The CARE website presents the latest public works-related news; current road, fire and flood conditions; safety preparedness information; and links to assistance programs. The program includes multiple agency coordination of emergency resources as well as public notifications.
When considering longer-term strategies to improve your city's public works response to emergencies, evaluate the need for capital improvement projects that support public health and safety. These options may include adding reservoirs to increase water storage for fire protection or retrofitting buildings or facilities for earthquake safety.
Your city may choose to focus its efforts on developing proactive internal programs, such as those described here, or on strengthening its public information and outreach systems in anticipation of an emergency or disaster. In any event, the Public Works Department is an integral part of the first responders team helping to keep our residents and communities safe.
---
This article appears in the February 2011 issue of Western City
Did you like what you read here? Subscribe to Western City
---