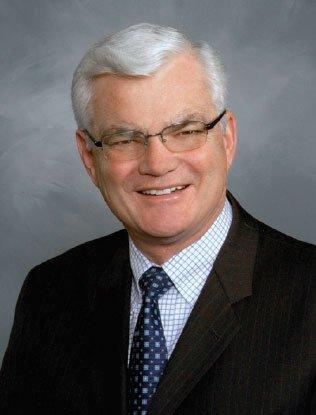 Ron Loveridge: From Professor and Mayor to National Leader
Eva Spiegel is director of communications for the League and can be reached at espiegel@cacities.org.
---
Riverside Mayor and League Past President Ron Loveridge, elected in November 2009 to the National League of Cities' highest office, brings to the position a unique résumé. Not only has he served on the city council for 30 years, he is also a political scientist who spent his career at the University of California, Riverside, teaching students about local government. Loveridge's academic career led him to run for the city council in 1979 and then for mayor for the first time in 1994.
Loveridge moved to Riverside in 1965, the day after receiving his Ph.D. from Stanford Universityin political science. His dissertation ultimately became a book on city managers and legislative politics. Focused on state and local politics as a professor, Loveridge connected with local campaigns. He required his students to intern and write field papers because he believed that the true realm of political science wasn't in the library but in the real world.
Through students' internships, Loveridge learned about Riverside politics and became a community resource on local politics. He served on the city's charter review committee, became a regional member of an environmental protection commission and, in the mid-1970s, was asked to be on a blue ribbon committee to look for the next mayor of Riverside.
"My political hero is Robert Kennedy, and I accept the premise that I should try to make a difference — not just comment," says Loveridge when asked about his inspiration to run for city council.
Loveridge credits his campaign strategy for his 63 percent victory over an incumbent. "I went to all my good books and tried to take the lessons from the academy to the campaign. I knocked on 4,500 doors and had 50 coffees," says Loveridge. "In local politics, it's a friends-and-neighbors exchange. Knocking on doors is the single most important thing you can do."
Sea Change for Cities in the Nation's Capital
National League of Cities (NLC) Executive Director Don Borut says cities have a new voice in Washington, D.C., today compared to the previous few administrations and that Loveridge's skills will play an important role in the organization's 2010 agenda.
The Obama administration, unlike the previous two, has placed its director of intergovernmental affairs in a Cabinet-level position. This office reports directly to the White House and works with the other Cabinet officials to set a local government agenda. Borut reports that two of the administration's representatives with whom NLC works come from local government.
"In the past we've said don't take money, funds or programs away from cities — cities want to be at the table. Now we are at the table and there to help shape national decisions," says Loveridge. "Cities shouldn't be seen as another pleader [in Washington, D.C.] but as the place where most of the population lives."
"Loveridge is managing the reality that is hitting cities across the country. He understands how cities are having to contract at the same time that expectations are higher," said Borut. This experience, he adds, will be essential as NLC focuses on the major issues facing cities.
"The administration has invited local government to be a major partner in solving problems," says Loveridge. "Until cities recover, the nation as a whole won't recover."
Many important issues are on the table for the nation's cities in 2010. NLC will continue to advocate this year on the American Reinvestment and Recovery Act (ARRA) of 2009, working to make sure that cities can access available grant monies. Because ARRA has been so important to cities' recovery, Vice President Joe Biden has been talking with mayors about the funds' impact. Later this year, Loveridge will represent NLC's 19,000 cities and towns when he testifies about the implementation of ARRA and its effect on localities before the House Oversight and Governmental Reform Committee. It's this kind of invitation that will help Congress and the Obama administration interpret cities' experiences, according to Loveridge.
With energy issues pressing, Borut says that now is the time to translate the leadership cities have shown on sustainability to the national level. He predicts Loveridge's ability to reflect deeply on issues and take action will help NLC's effectiveness, saying, "Ron focuses on important issues and stays the course to accomplish the right policy decisions for his community."
California Is at the Forefront
Loveridge is California's first NLC president since then-Los Angeles Mayor Tom Bradley held the office in 1974. This large gap in time since a California city official served in this capacity for NLC was one of the reasons why Loveridge sought the office. He became active in NLC more than 10 years ago as part of his work examining how cities fit into the global marketplace. Loveridge first served on NLC's International Relations Task Force in 1998, became the NLC representative on the National Civic League's Eighth Model City Charter Committee and chaired the American-Canadian Cities from 2004–05. Loveridge ran for NLC second vice president and won in 2007.
2010 promises to be unlike other years in Washington, D.C., for California's cities. Not only is Loveridge NLC president, but Sonoma County Supervisor Valerie Brown is president of the National Association of Counties and Los Angeles Mayor Antonio Villaraigosa is vice president of the U.S. Conference of Mayors.
In addition, the state's voice is strengthened by the combined forces of its two senior senators Barbara Boxer and Dianne Feinstein, U.S. Representative and Speaker of the House Nancy Pelosi, 53 congressional representatives — more than any other state — and many Californians serving in the Obama administration.
"This year, California is in a position to lead on many issues and make a significant difference both for our residents and the nation as a whole," says League of California Cities Executive Director Chris McKenzie. "Ron Loveridge's insight, experience and determination are major assets in the effort to get our economy back on its feet and set a new course for the future. He is definitely the right leader for NLC at this time of incredible opportunity and challenge. California and the nation are fortunate to benefit from his service to the NLC."
---
This article appears in the January 2010 issue of Western City
Did you like what you read here? Subscribe to Western City
---