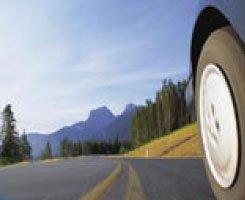 Rubberized Asphalt Concrete: When the Rubber Is the Road
Margo Reid Brown is chairperson of the California Integrated Waste Management Board.
---
California currently generates more than 40 million scrap tires annually. These are tires that have lived out their purpose and can potentially threaten California's environment and our health if not managed properly. While more than 75 percent of this amount is recycled, the state still faces the challenge of handling more than 10 million surplus tires annually, the majority of which end up in landfills or, in some cases, illegal stockpiles.
What can be done to reduce and recycle our remaining tire scraps?
The good news is that due to the passage of AB 1843 (Escutia — Chapter 838, Statutes of 2000) and the establishment of the Tire Recycling Management Act, the California Integrated Waste Management Board (CIWMB) is leading the way in the effort to recycle tire materials. One of the ways CIWMB provides assistance is by promoting the use of rubberized asphalt concrete, commonly known as RAC and affectionately referred to as "rubber roads."
Rubberized asphalt concrete, a paving product made from aggregates, asphalt cement and reclaimed tire rubber, is:
Cost effective. A two-inch-thick rubberized asphalt concrete overlay can save as much as $22,000 per lane mile when compared to a four-inch-thick conventional asphalt overlay. RAC also offers lower maintenance costs in the long run because it is more resistant to cracking than conventional asphalt concrete and, therefore, lasts longer.
A noise suppressant. One of the most compelling arguments for using RAC is the potential to quiet our roadways. Studies have shown that tire-pavement interface noise accounts for 75 percent of the noise generated from highways. RAC can reduce the noise at the source better than other materials, and research conducted in California and Arizona has shown that noise can be reduced by as much as 85 percent in some instances.
Long lasting. The durable pavement resists reflective cracking. Case studies have demonstrated over and over again that when designed properly, RAC lasts much longer than conventional, unmodified asphalt materials. These studies are supported by Caltrans' testing.
Environmentally friendly. A two-inch-thick resurfacing project uses more than 2,000 waste tires per lane mile. This means that for a one-mile section of a four-lane highway, more than 8,000 tires can be used in creating a safer, quieter, longer-lasting road.
Success Stories
The best proof that RAC works are numerous success stories.
Thousand Oaks knows firsthand the benefits of using RAC. The city has been using the product since 1992. To date, Thousand Oaks has used rubber from 1.3 million discarded tires to resurface hundreds of miles of surface streets. The city found that the improvements — increased skid resistance, reduced road noise, improved riding qualities and imperviousness to water — have made the use of RAC cost effective and more desirable than traditional asphalt concrete.
The City of San Clemente is another jurisdiction that has taken advantage of the properties of RAC to maintain and improve its roadways.
Thousand Oaks and San Clemente are not the only cities that have used RAC. The CIWMB awarded more than 60 grants totaling $4.2 million between January and April of this year alone. Many of these grants help first-time or limited-RAC users, including Fremont, Rancho Cordova, Brea, San Fernando, Galt, Ripon and Nevada City, to name just a few.
Grants Available
The CIWMB also understands that making RAC grants easier to get is important for cities. Because of this, grants are now available on a monthly basis. To learn more about RAC and how your city can benefit from using this product, contact the Waste Tire Grants Hotline at (916) 341-5062 or e-mail the tire grants staff at Grants@calrecycle.ca.gov or visit the CIWMB grants website at www.ciwmb.ca.gov/Tires/Grants.
CIWMB's mission is to keep valuable resources from becoming a plague on our landfills by sharing information and providing assistance. Using specific recycled-content products, such as RAC, can help California cities go beyond the 50 percent diversion goal and reach our shared vision of zero waste.
---
This article appears in the July 2006 issue of Western City
Did you like what you read here? Subscribe to Western City
---