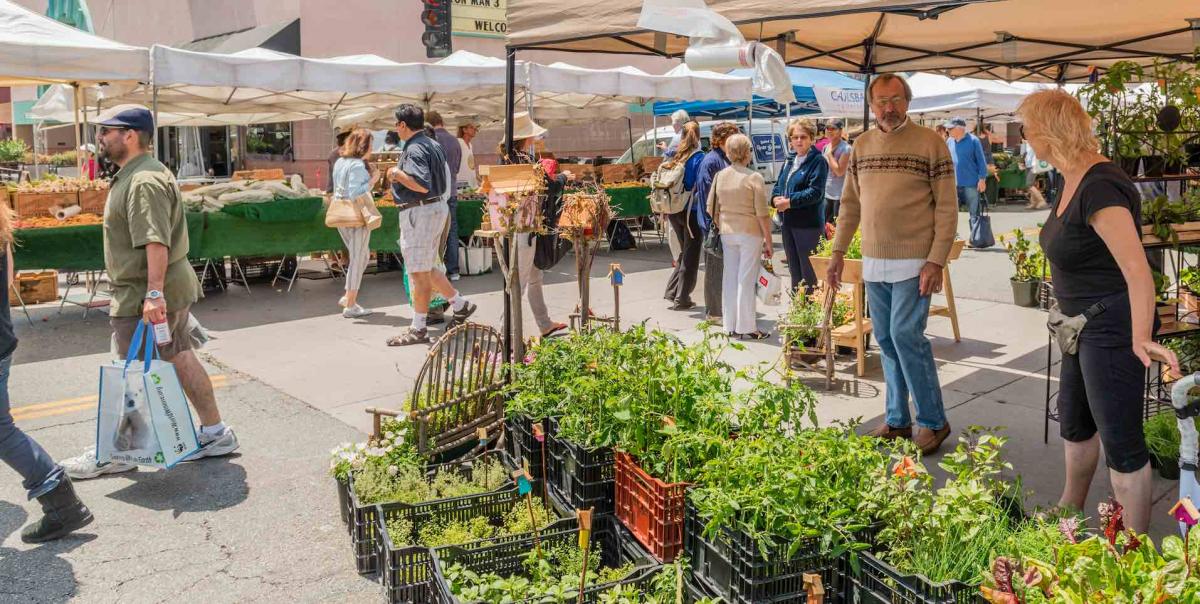 Safe Sidewalk Vending Act Curbs Local Regulations: What You Need to Know
Joaquin Vazquez is a partner with the law firm of Olivarez Madruga Lemieux O'Neill LLP and can be reached at jvazquez@omlolaw.com.
---
On Sept. 17, 2018, then-Gov. Jerry Brown signed SB 946 (Chapter 459, Statutes of 2018), the Safe Sidewalk Vending Act (SSVA) into law. This article addresses common questions cities have in responding to the SSVA, which took effect Jan. 1, 2019.
The Intent of the Safe Sidewalk Vending Act
The SSVA states that the Legislature's intent was to "promote entrepreneurship and support immigrant and low-income communities." The legislative findings note that sidewalk vending provides an avenue for local entrepreneurship, especially among immigrant and low-income communities.1 Prior to passage of the SSVA, cities had established a diverse patchwork of ordinances regulating or banning sidewalk vending pursuant to their constitutional police power.2 On Jan. 25, 2017, President Trump issued Executive Order 13767 to modify the U.S. Immigration and Customs Enforcement's "criminal alien policy," which expanded the number of immigrants who could be considered a deportation priority to include those who had committed minor violations of local sidewalk vending ordinances.3 In response, state Senator Ricardo Lara (D-Bell Gardens) sponsored the SSVA to protect susceptible entrepreneurs from criminalization and deportation. The SSVA establishes parameters "for local regulation of sidewalk vendors to ensure that local governments can't directly or indirectly ban sidewalk vending."4
Defining the Term "Sidewalk Vendor"
A sidewalk vendor is a person who sells food or merchandise with or without the use of a pushcart, stand or other nonmotorized conveyance in certain public areas.5 Sidewalk vendors who sell food or merchandise and move from place to place are known as "roaming" vendors and may stop to complete a sale. In contrast, "stationary" sidewalk vendors conduct business from a fixed location.6
Are All Cities Required to Adopt New Sidewalk Vending Programs?
No. If a city's existing sidewalk vending program "substantially complies" with the SSVA, it is not required to adopt a new one.7 Cities should review their current sidewalk vending regulations to ensure compliance with the SSVA.
Must Local Sidewalk Vending Regulations Be Adopted by Ordinance?
No. The SSVA does not require cities to adopt regulations by ordinance, so cities may adopt regulatory programs by resolution.8 Given the SSVA's general ambiguity, adoption by resolution may be advantageous to allow for nimble program amendments without enduring code amendment/ordinance procedural hurdles.9 Note that a violation of an ordinance –– not a resolution –– is a misdemeanor under state law, but given the SSVA's bar on imposing criminal liability for sidewalk vending violations, this distinction is likely of no consequence.10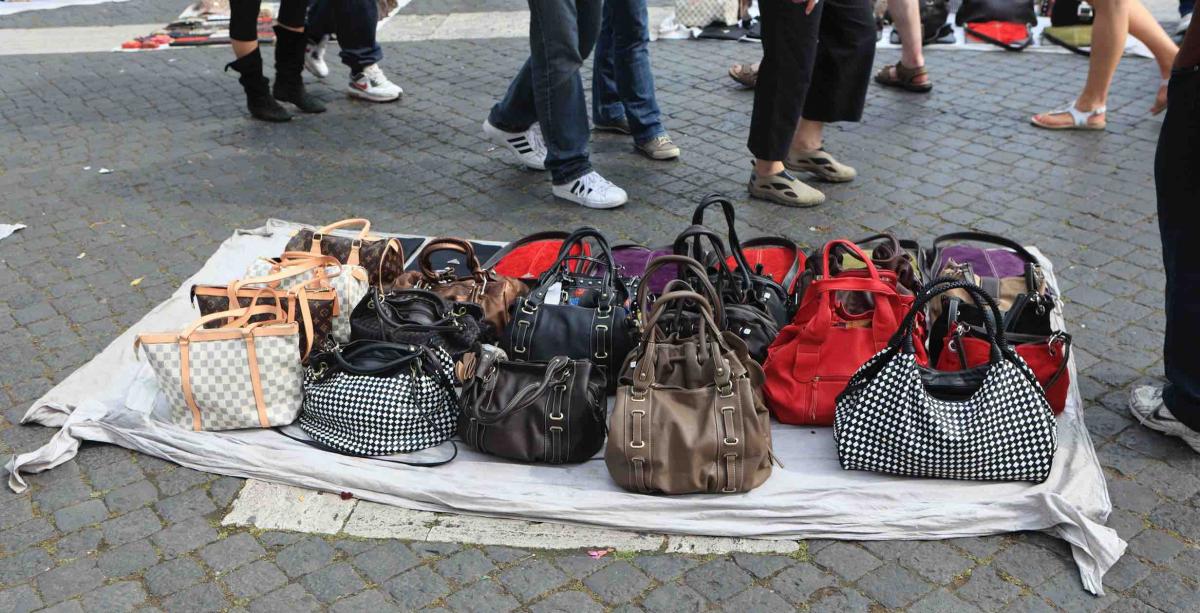 General Limits on Local Sidewalk Vendor Regulatory Programs
A city may regulate sidewalk vending only as provided in the SSVA,11 which defines sidewalk vending as occurring only "upon a public sidewalk or other pedestrian path." Although the SSVA separately addresses sidewalk vending regulations in public parks, it does not require cities to allow sidewalk vending in other publicly controlled areas (such as stadiums or auditoriums). Generally, the SSVA prohibits certain city-imposed restrictions unless they are supported by appropriate objective findings. Unsupported restrictions may be subject to legal challenge under the SSVA, which specifies certain regulatory allowances and restrictions as shown in the table, "Specific Restrictions of the Safe Sidewalk Vending Act" below.12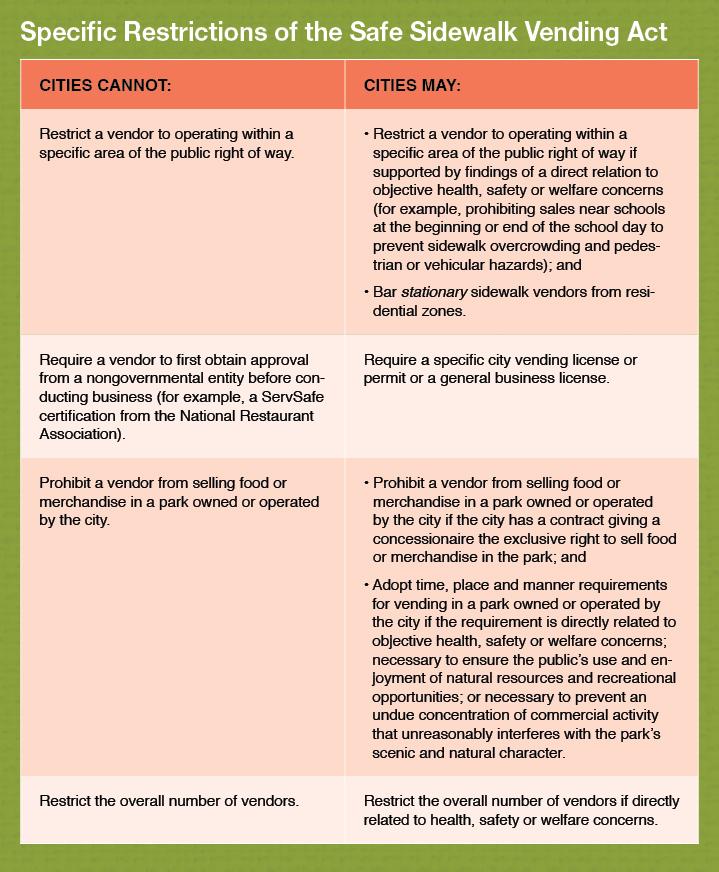 Can Cities Adopt Additional Regulations?
Yes. Cities can adopt time, place and manner requirements if they're directly related to objective health, safety or welfare concerns. The SSVA identifies certain examples of such requirements:13
Adherence to limited hours of operation that are not unduly restrictive (limits on operating hours in a nonresidential area must be consistent with such limits for other businesses on the same street);
Maintenance of sanitary conditions;
Compliance with disability access requirements;
Possession of a valid California Department of Tax and Fee Administration seller's permit;
Compliance with generally applicable laws;
Possession of licenses required from other state or local agencies; and
Possession of a city permit or license for sidewalk vending.
Restrictions on Farmers Markets, Swap Meets and Temporary Special Permit Areas
Cities may prohibit –– during applicable hours –– sidewalk vendors from the immediate vicinity of a certified permitted farmers market or swap meet or from the immediate vicinity of an area subject to a temporary special city permit (for example, encroachment or special event permits) for events such as parades or outdoor concerts.14
Defining Valid Objective Health, Safety or Welfare Concerns
The SSVA does not define what constitutes a valid objective health, safety or welfare concern that may support additional local restrictions, including those pertaining to city parks or a cap on the number of street vendor permits. It does, however, specify that "perceived community animus or economic competition does not constitute an objective health, safety or welfare concern."15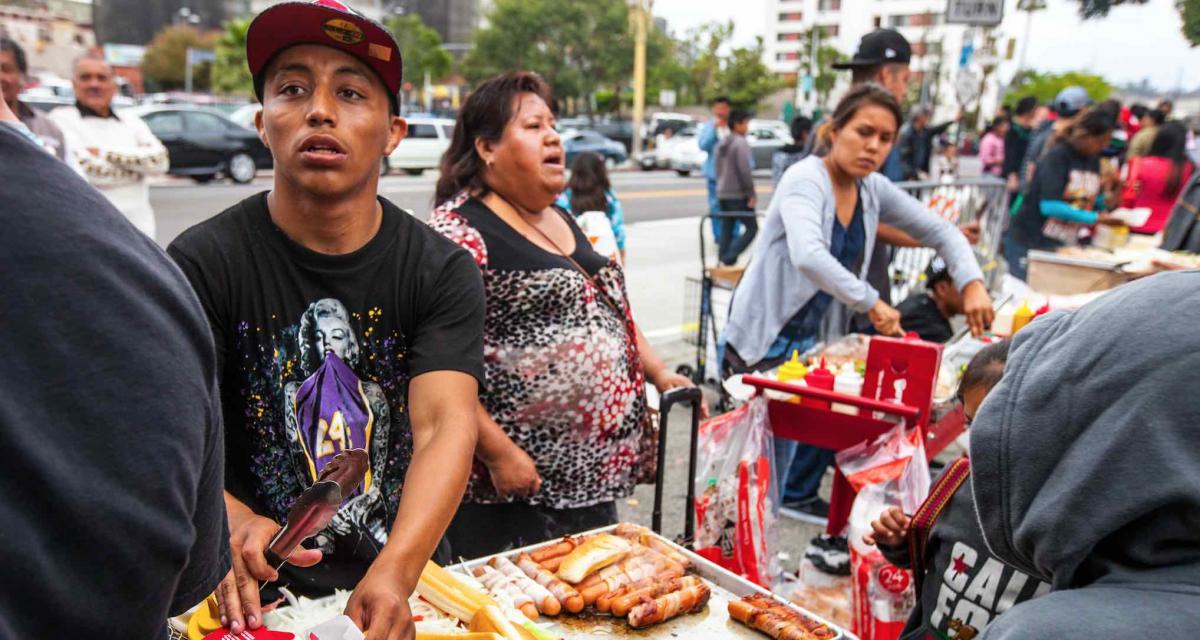 Enforcement Tools Available to Cities
The SSVA prohibits cities from imposing criminal penalties for sidewalk vending violations (misdemeanors or infractions).16 Only administrative fines may be issued, as shown in the table below.17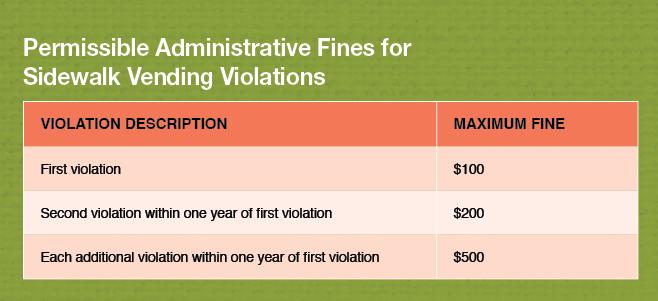 A city that issues sidewalk vending permits may rescind such a permit upon the fourth violation or subsequent violations and impose increased fines for vendors conducting business without a proper permit.18
Should Cities Treat Fines for Sidewalk Vending Violations Like Other Administrative Fines?
No. The SSVA has unique provisions outlining specific determination and notice requirements. When assessing an administrative citation for street vending, a city must notify the individual receiving the citation that he or she can request an ability-to-pay determination. If the individual receives certain specified public benefits or is found to have a monthly income at or below 125 percent of the federal poverty guidelines, the city must accept 20 percent of the fine amount in full satisfaction of the administrative fine.19 Cities may also:
Allow a recipient of an administrative fine to complete community service in lieu of paying the total administrative fine;
Completely waive the administrative fine; or
Offer an alternative disposition.20
It is recommended that cities adequately train enforcement staff to ensure that fines are issued and resolved in compliance with the SSVA.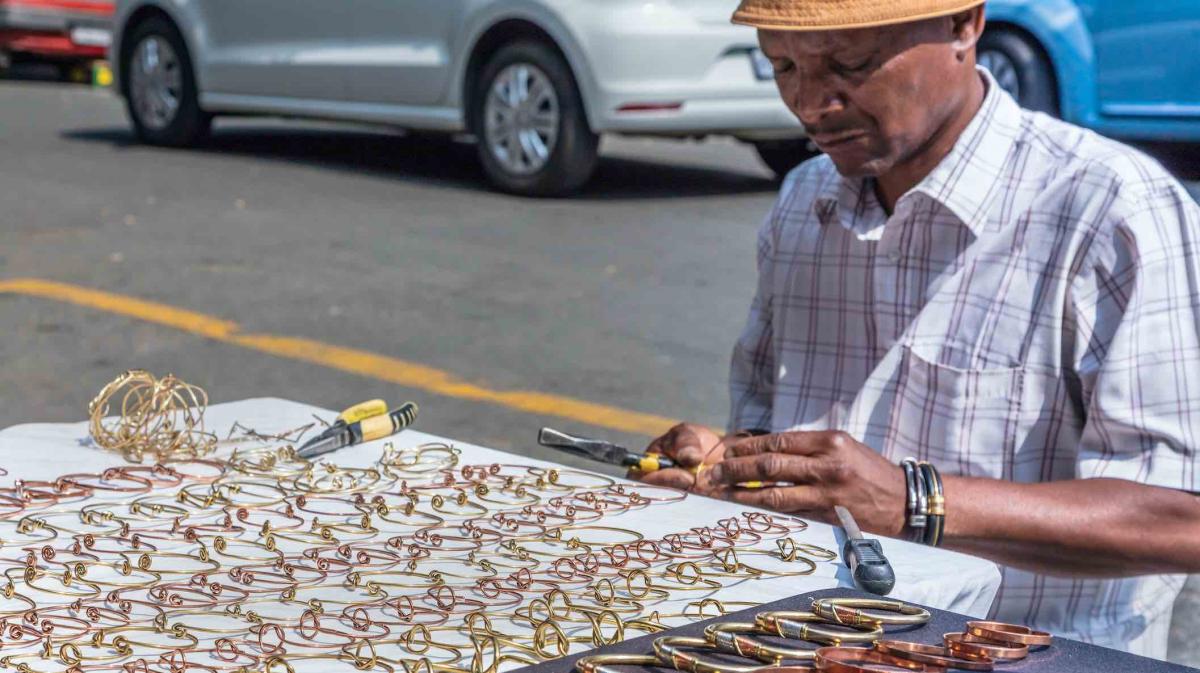 Unanswered Questions
The SSVA has some ambiguous areas that continue to make regulating sidewalk vending challenging for cities. The following questions remain to be answered:
Because the SSVA does not define "merchandise," what limits exist on the nonfood items that a street vendor can sell?
How much in common must a city sidewalk vending program have with the SSVA's provisions to constitute "substantial compliance" so the city can avoid amending its program?
Because the SSVA does not define "objective health, safety or welfare concerns," how much will courts defer to cities in identifying such concerns?
Similarly, to what extent will courts defer to cities in determining the reasonableness of locally adopted time, place and manner restrictions?
Because the SSVA limits local enforcement to the issuance of administrative fines, subject to an ability-to-pay determination, how can cities effectively deal with noncompliant, repeat offenders?
Moving Ahead
In light of the SSVA's ambiguity, cities are encouraged to support their sidewalk vending regulations with clear administrative records and robust findings to decrease the risk of legal challenges.
---
About Legal Notes
This column is provided as general information and not as legal advice. The law is constantly evolving, and attorneys can and do disagree about what the law requires. Local agencies interested in determining how the law applies in a particular situation should consult their local agency attorneys.
---
[1] Sen. Bill No. 946 (2017-2018 Reg. Sess.) § 1.
[2] Cal. Const., art. XI, § 7.
[3] Sen. Rules Com., Off. of Sen. Floor, analysis of Sen. Bill No. 946 (2017-2018 Reg. Sess.) as amended Aug. 16, 2018, p. 7.
[4] Ibid.
[5] Gov. Code, § 51036, subd. (a).
[6] Gov. Code, § 51036, subd. (b)-(c).
[7] Gov. Code, § 51037, subd. (c).
[8] Gov. Code, § 51038, subd. (c).
[9] Cities do have discretion to adopt regulations by urgency ordinance with appropriate findings pursuant to Government Code sections 36934 and 36937.
[10] Gov. Code, § 36900, subd. (a).
[11] Gov. Code, § 51037, subd. (a).
[12] Gov. Code, § 51038, subd. (b)-(c).
[13] Gov. Code, § 51038, subd. (c).
[14] Gov. Code, § 51038, subd. (d).
[15] Gov. Code, § 51038, subd. (e).
[16] Gov. Code, § 51039, subd. (d).
[17] Gov. Code, § 51039, subd. (a).
[18] Gov. Code, § 51039, subd. (a)(3).
[19] Gov. Code, § 51039, subd. (f).
[20] Ibid.
---
Photo Credit: Lokibaho (Farmers market); Romaoslo (Purses); Anouchka (Sidewalk vendors); TheGift777 (Jewelry maker).
---
This article appears in the June 2019 issue of Western City
Did you like what you read here? Subscribe to Western City