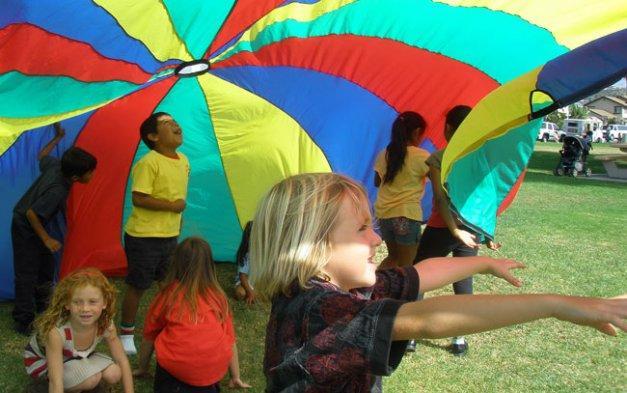 San Clemente's "Fun on the Run Fitness" Focuses on Youth
The City of San Clemente won the 2013 Helen Putnam Award for Excellence in the Health and Wellness Programs category for this project. For more about the award program visit www.helenputnam.org.
---
The City of San Clemente, located in southern Orange County, is a small beach town (pop. 65,000) known for its surf, community programs and active living. Over the past 10 years the city has identified "pockets of poverty" with little or no access to city services, increased obesity rates and household incomes 50 percent below the median.
In response, the city's leaders launched San Clemente's first childhood obesity prevention program in 2007. With support from local hospitals and a community development block grant, San Clemente began operating a free mobile recreation program called Fun on the Run.
This program has since expanded to offer low-cost after-school sports and scholarship-based summer swim lessons. Known collectively as Fun on the Run Fitness, these programs promote healthy activities and lifestyles by providing safe, supervised fun in strategic underserved areas of San Clemente, targeting low-income youth between the ages of 5 and 14 years.
The Fun on the Run Mobile Recreation program visits four low-income neighborhood areas weekly to keep children engaged and active after school. It offers physical activities, games, crafts and nutrition education and serves approximately 6,500 children annually. Fun on the Run Mobile Recreation also draws residents out to enjoy the natural beauty of their local parks. Families have regained a sense of safety in their parks; they now stay longer and encourage their children to play.
Fun on the Run Fitness also offers Goal Zone Sports, a low-cost, after-school sports program that provides six-week sessions three times a year. Youth learn basic sport-specific techniques, practice drills and participate in scrimmages. They also receive 20 minutes of nutrition education, covering a variety of topics including "Rethink Your Drink" and "My Plate."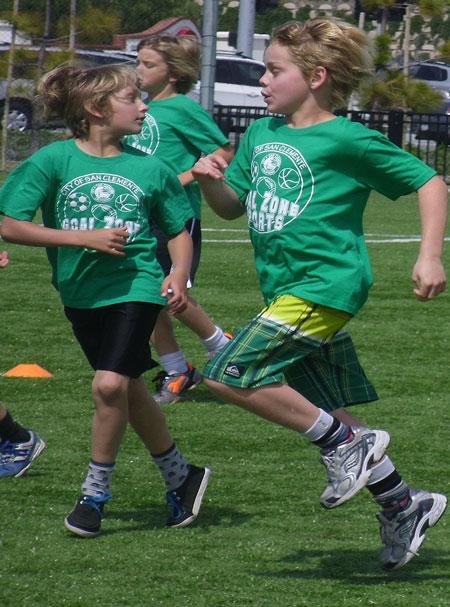 In its fifth season, Goal Zone Sports served approximately 300 children. Goal Zone Sports' activities include periodically recording each participant's body mass index (BMI) measurements. In the first year BMI results went down by an average of 2 percent. Parent feedback has been encouraging. One mother says, "My 8-year-old daughter must take medicine that made her gain weight this past year. What's worse is that my husband recently lost his job, and we cannot afford to put her in the sports she used to play. This Goal Zone Sports experience helped her to be active and have fun. She just went to the doctor last week and has lost two pounds!"
During the summer months, Fun on the Run Fitness also conducts swim lessons. "Swim and Learn" provides bus transportation from each neighborhood to the pool and teaches children how to swim; it also reinforces academic skills to help prevent children falling behind while school is out. Swim and Learn serves children who cannot afford lessons and do not have transportation or access to a community pool. Although the lessons are free, parents are required to fill out scholarship applications and registration forms.
Partners Make It Possible
Multiple organizations collaborated to support Fun on the Run Fitness since its inception. Saddleback Memorial Care, City of San Clemente Community Development Block Grants and Mission Hospital contributed toward initial start-up costs. Grants from the St. Joseph's Health System Foundation provided funding for Goal Zone Sports. Swim and Learn has benefited from the generous support of the Friends of San Clemente Beaches, Parks and Recreation Foundation and Great Opportunities. All of these partners have made program enhancements possible with little or no impact on the city's fiscal stability.
Another key component to the program's success has been a partnership among the City of San Clemente's Beaches, Parks & Recreation Commission and three local elementary schools. Partnering with principals, school staff and Parent Teacher Associations has been critical in sustaining the after-school sports programs. This collaborative effort enables the city to use school facilities and fields at no charge and helps keep overall costs low.
Occupying kids with constructive, physical and fun activities also helps keep them out of trouble. With this in mind, the city has also established partnerships within the community to support Fun on the Run Fitness, including the San Clemente Human Relations Committee, San Clemente Collaborative, Orange County Sheriff's Department, Orange County Fire Authority and Orange County Gang Reduction and Intervention Program.
Building Communitywide Health
Each year the program continues to gain momentum and change the lives of local children and families. San Clemente City Manager Pall Gudgeirsson says, "Fun on the Run Fitness has been a critical part of the city's health and wellness plan, giving underserved youth the opportunity to participate in programs they would not normally be able to afford." Building low-cost recreation services into the fabric of the San Clemente community gives families an opportunity to join in the fun, regardless of their socioeconomic status. Fun on the Run Fitness serves as the city's foundation for building communitywide health and wellness.
Contact: Pamela Passow, recreation manager, Beaches, Parks & Recreation; phone: (949) 429-8875; email: PassowP@san-clemente.org.
---
This article appears in the April 2014 issue of Western City
Did you like what you read here? Subscribe to Western City
---