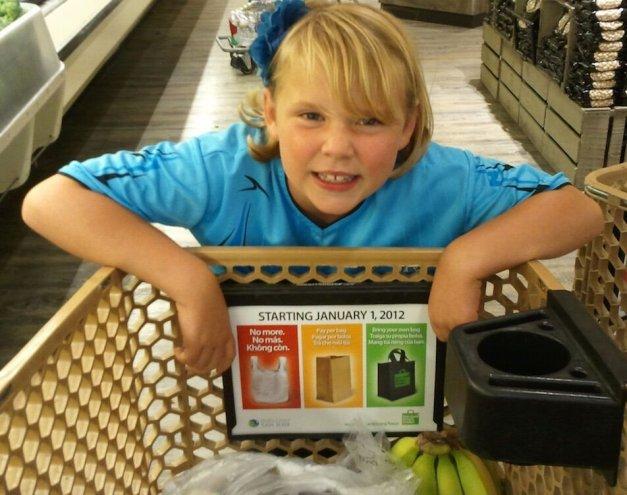 San José's "Bring Your Own Bag" Ordinance Cuts Plastic Bag Pollution
The City of San José won the Award for Excellence in the Planning & Environmental Quality category of the 2014 Helen Putnam Award for Excellence program. For more about the award program, visit www.helenputnam.org.
---
More than three years after launching its plastic bag ban in January 2012, the City of San José is seeing results. Plastic bag litter has been significantly reduced in creeks and storm drains, and both residents and businesses have embraced the regulation. "We're proud of the way our community supported the ordinance," says Kerrie Romanow, director of the city's Environmental Services Department. "We hope this encourages other cities throughout the state to implement their own ordinance."
With a population of 1 million, San José is the largest city in the state to successfully implement a plastic bag ban. How did the city change business practices and consumer behavior in such a short time?
The Problem of Plastic Bag Litter
As plastic bag use grew over the past few decades, so did plastic bag litter. Much of it ended up in area creeks and streams. Prior to the passage of the ordinance, city staff removed 1,300 plastic bags from trash "hot spots" in 10 creeks over two one-week periods in 2011. Plastic litter was not only unsightly but also threatened to harm wildlife in creek and bay habitats.
At the same time, regulations were becoming increasingly stringent. The current San Francisco Bay Municipal Regional Stormwater Permit requires San José and 75 other Bay Area local governments to reduce trash in storm drains and local creeks by 40 percent in 2014, with the long-term goal of "no adverse impact" from trash by 2022. In addition, the San Francisco Bay Regional Water Quality Control Board in October 2011 declared three major San José waterways — Guadalupe River, Silver Creek and Coyote Creek — severely impaired by trash. City leaders knew it was time to act.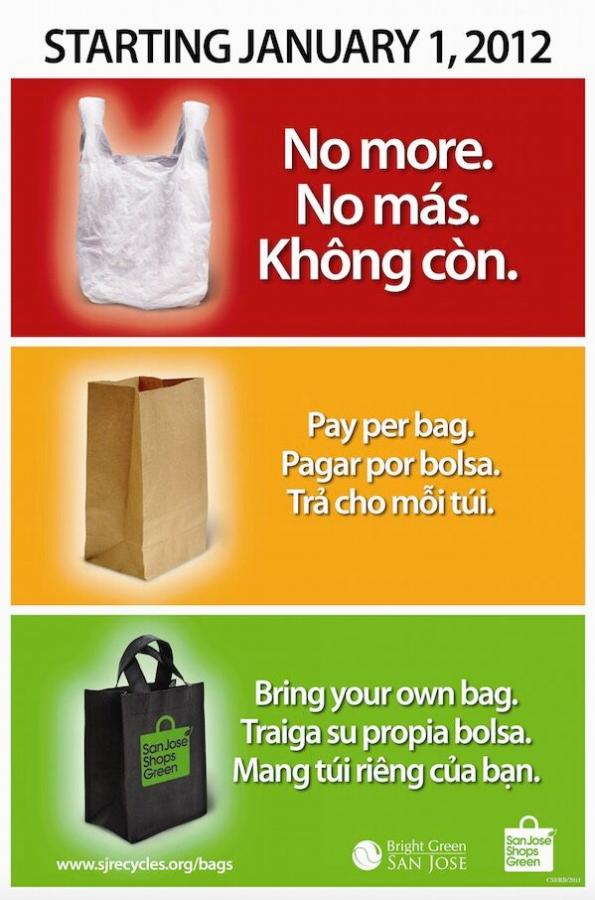 Creating a Solution
Engaging stakeholders was a key first step. Located in the heart of Silicon Valley, San José attracts high-tech talent from all over the world. Its rich multicultural mix includes families who have lived in San José for many generations, recent immigrants adapting to new surroundings, commuters, students and retirees. Add to this a busy downtown, suburbs with their own business districts, and one of the nation's largest network of creeks and trails with the number of recreational users increasing every year.
To develop the ordinance, Environmental Services Department staff sought out more than 300 interested stakeholders. Plastic and paper bag manufacturers, grocery and retail industry representatives, environmental advocates and staff from neighboring cities worked together for more than a year on issues ranging from potential business impacts to public acceptance and implementation. Their efforts created an ordinance that prohibits single-use carryout plastic bags provided at checkout by the 6,250 retail businesses located in or doing business in the City of San José. Stores may sell paper bags with at least 40 percent post-consumer recycled content for a minimum of 10 cents per bag.
A Head Start in Public Acceptance
The campaign partnered with several agencies to reach out to San José's diverse community. "While there was understandable apprehension from some businesses and the city in pressing forward before other adjacent cities, this was truly a community effort," says Ed Shikada, who served as San José city manager at the time. "We received great support leading up to the start of the ordinance from organizations dedicated to its success, and feedback was overwhelmingly positive."
Several public agencies, nonprofit organizations and other city departments assisted with outreach, including Save the Bay, Clean Water Action, California Grocers Association, the Silicon Valley Council of Nonprofits, Second Harvest Food Bank, CommUniverCity, Our City Forest and the Guadalupe River Park Conservancy.
The city used direct mail, in-person canvassing, business association newsletters, council district communications and other no-cost media outlets to target local businesses. Outreach materials in three languages — English, Spanish and Vietnamese — informed residents about the ordinance and how their efforts help the environment.
As word of the ordinance spread, national news media showed increasing interest. A New York Times article quoted Romanow, who said, "The days of a single candy bar getting its own plastic bag are over."
Measuring the Results
Retailer Participation
City staff randomly selected 93 small, medium and large businesses for observation within all 10 city council districts, as well as the four largest shopping malls in San José. Based on staff's in-store observations over a one-week period in August 2013, 98 percent of these retail stores are complying with the ordinance.
Consumer Behavior
Based on observations of customers leaving retail stores, approximately 58 percent of shoppers have used a reusable bag since 2012, compared with about 4 percent usage prior to adopting the ordinance. Contrary to concerns raised before implementation, paper bag usage has not increased.
Creeks and Storm Drains
Environmental Services Department Deputy Director Napp Fukuda and the city watershed team worked to gather data on plastic bag litter before and after the ordinance went into effect.
At the 10 creek hot spots studied in 2011, only 145 plastic bags were found in 2014 — an average annual decrease of 71 percent; and
At 65 storm drain catch basins in September 2011, staff found 50 plastic bags. In April 2012, four months after the start of the ordinance, staff found only nine bags in 69 catch basins.
In addition, staff reported a 59 percent decrease in plastic bag litter found on city streets and sidewalks. "The ordinance is making a difference," says Fukuda.
Recycling
GreenWaste Recovery, a residential recycling hauler for the city, reported a 10 percent drop in film plastics processed — a reduction of approximately 1,380 pounds per day of film plastics since the ordinance was implemented.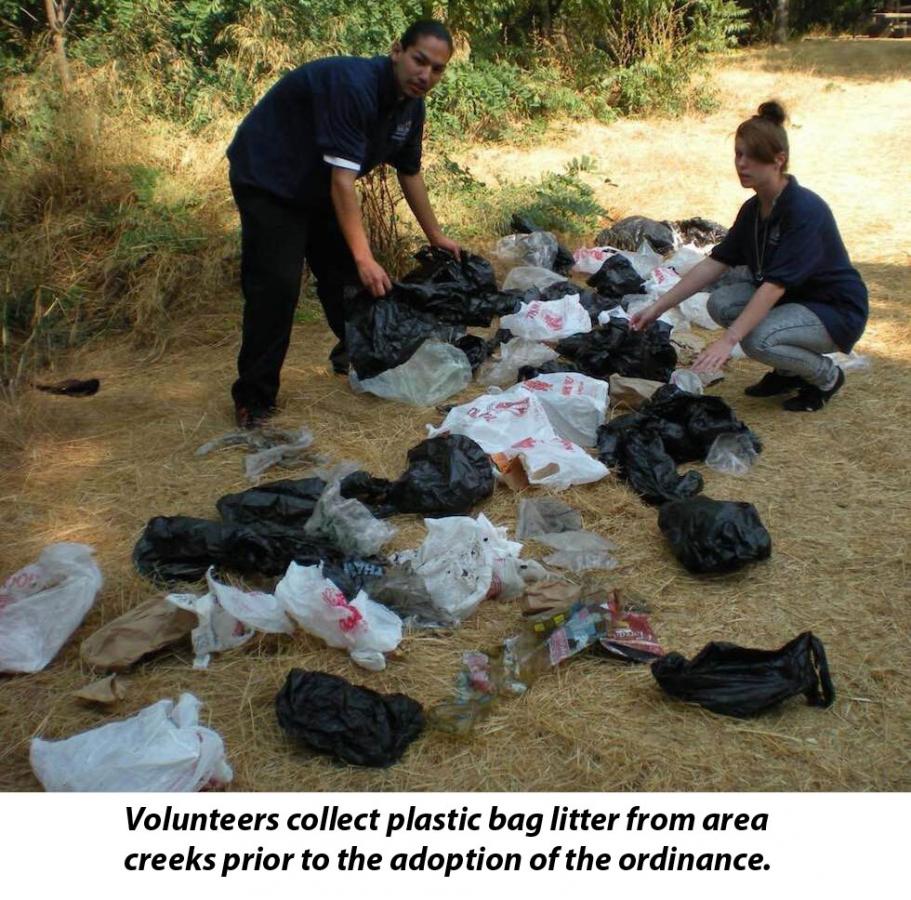 Volunteers
For years, community volunteer Loui Tucker has cleaned up San José highways and documented the quantity of litter collected. "In 2007, I cleaned up a small section of Southwest Expressway and picked up a huge pile of plastic bags," says Tucker. "After the ordinance took effect, nine volunteers cleaned a large area on Highway 280 and gathered a small pile."
For More Information
The Environmental Impact Report and outreach materials for San José's Bring Your Own Bag Ordinance are available at www.sanjoseca.gov/index.aspx?nid=1526.
Contact: Arleen Arimura, marketing and public outreach representative II, Environmental Services Department; phone: (408) 975-2557; email: arleen.arimura@sanjoseca.gov.
---
Photo credits: Courtesy of the League of California Cities and City of San José
---
This article appears in the July 2015 issue of Western City
Did you like what you read here? Subscribe to Western City
---