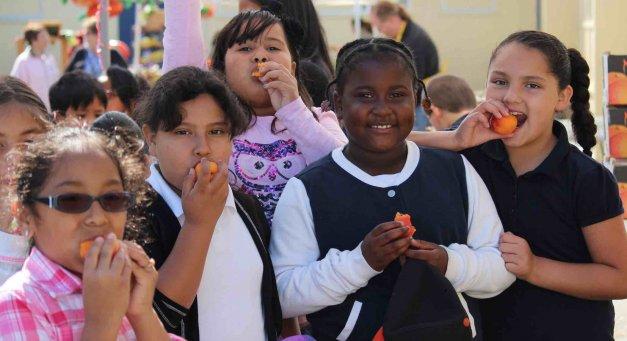 San Pablo Demonstrates Its Commitment to Creating a Healthy Community
The City of San Pablo recognizes the fundamental link between the health and well-being of its residents and the city's economic health and vibrancy. More than half of the children in San Pablo are overweight or obese — among the third highest rates statewide. In response, city leaders made a commitment to residents to explore ways of addressing this growing issue through a variety of initiatives that include youth engagement, land-use policy, access to healthier food, workplace wellness and more.
The San Pablo City Council established the Childhood Obesity Prevention Task Force in 2012 to increase awareness of the growing childhood obesity epidemic and implement a measurable plan to improve the overall health of its residents. The task force established priorities to increase healthy eating and active living opportunities and developed a Community Action Plan, which the city council adopted in March 2014. Policy priorities include supporting safe routes to school, improving park spaces and increasing the nutritional quality of school lunches. The plan also identifies program priorities, such as:
Creating urban and school farms and gardens;
Promoting competitive physical activity events; and
Offering free and reduced-cost nutrition and cooking classes.
To learn more about the task force, youth-based initiatives and the Community Action Plan, visit bit.ly/1QBd9cX.
"The City of San Pablo has supported healthy eating and active living policies since 2011 and has one of the first Health Elements adopted in California in the city's General Plan Update," says San Pablo Mayor Rich Kinney. "Our city and task force have significantly increased awareness of this growing pandemic in our community. We are working to transform our city into a healthier community through active programs for our local youth."
San Pablo has also demonstrated its commitment to community service and healthy communities in a variety of other ways. In summer 2015, the San Pablo City Council allocated funds to enable the city to provide low-cost classes to residents for activities including soccer, swimming, ballet, karate and cooking classes; these classes served nearly 1,500 youths in 2015. The city also supported the construction of Rumrill Sports Park, removed a culvert at Wildcat Creek to discourage illegal dumping and increase safety in conjunction with the extension of the Bay Trail, made improvements to Davis Park and established the Healthy Habits program, which recognizes local businesses for making healthy food choices available in vending machines.
In addition, San Pablo participates in the Let's Move! campaign and the Lunch at the Library program to keep youth engaged in healthy activities during school vacations.
Learn More About Lunch at the Library
Lunch at the Library programs focus on keeping children healthy, fed and engaged when school is out. The California Summer Meal Coalition and California Library Association are working with libraries statewide to offer summer meals and programming designed to nourish participants and help prevent summer learning loss for children and teens in low-income communities. These programs do more than just provide meals. Lunch at the Library sites also:
Welcome guest readers, which have included U.S. Rep. Mark DeSaulnier and Police Chief Lisa Rosales;
Work with local recycling agency staff (who brought refurbished blenders) to teach teens how to make healthy smoothies;
Distribute back-to-school supplies and books; and
Provide nutrition education, such as container gardening and how to make healthy snacks.
For more information about summer meal programs and how your city can get involved, visit www.ca-ilg.org/california-summer-meal-coalition or www.lunchatthelibrary.org.
---
Photo credit: Courtesy of the City of San Pablo and Institute for Local Government
---
This article appears in the April 2016 issue of Western City
Did you like what you read here? Subscribe to Western City
---