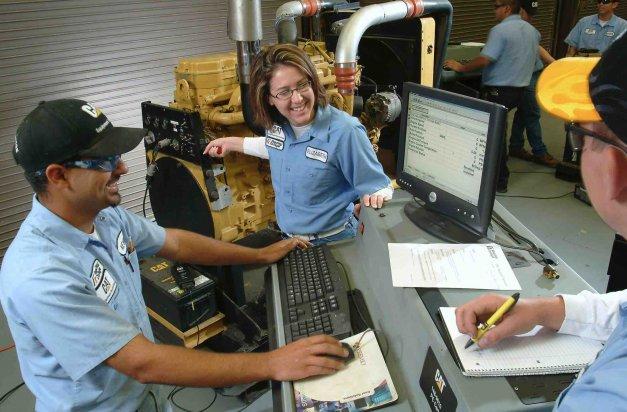 Sanger Collaborates to Prepare Its Workforce
The City of Sanger won the Award for Excellence in the League Partners Award for Excellence in City-Business Relations category of the 2015 Helen Putnam Award for Excellence program. For more about the award program, visit www.helenputnam.org.
---
One of the largest employers in the City of Sanger (pop. 25,128) notified city officials in 2013 that it could not grow any larger locally because the workforce lacked specific skill sets. This shortage of qualified employees, the company said, would likely force its relocation to another state where such skilled workers were more readily available.
Searching for Solutions
Sanger officials immediately convened meetings with all of the city's large employers to determine whether they were facing the same constraints to growth and to devise a plan to provide them with the skilled employees they needed. This marked the beginning of the Sanger Job Training Initiative.
Sanger's industrial community includes manufacturers, fabricators, and food processors and packagers as well as publishing and other businesses, with employment rolls ranging from 45 employees to more than 800. Each business has its own list of needed skill sets. However, in multiple meetings conducted by the city with employers, several skills were identified as most in demand by the industrial community as a whole. These included pneumatics, hydraulics, computer science, welding and electrical distribution, in addition to basic skills such as forklift operation and warehouse management.
The city's search for training that would meet the needs of its industrial community led to a meeting with Sandra Caldwell, president of Reedley College, a community college located in the neighboring City of Reedley. Caldwell was open to adding the specialized training needed by local industries to the extensive vocational training programs already being offered at the college.
Lack of Transportation Presents a Barrier to Access
As part of Sanger's efforts to connect its workforce with education and training opportunities, city officials discovered that a lack of transportation prevented many potential vocational students from attending the nearby community college. The city reached out to the Fresno County Rural Transit Agency to explore possible solutions.
The transit agency staff advised city officials that it was in the process of identifying unmet transit needs in the county, so Sanger asked the agency to establish a route that would connect Sanger students with the vocational education opportunities offered by Reedley College. The transit agency initiated a pilot transit program to test the demand for the route, which proved extremely popular and was deemed a success. The resulting permanent transit line provides six trips per day in each direction at times that correspond closely with available vocational classes and meet the needs of students commuting from Sanger.
The fare — $1.75 per trip — is so reasonable that even students with private vehicles often choose the public transit option from Sanger to Reedley College. This unanticipated result has the added benefit of reducing the number of vehicle miles traveled daily and greenhouse gas emissions, helping to improve air quality in the region.
Mayor Pro Tem Raul Cantu says, "Reaching beyond the norm to make good things happen for Sanger residents is both an honor and an obligation for elected officials. All of us on the city council are very proud that we were able to bring all parties together for the benefit of employees seeking a better life, while providing more highly skilled workers for local industries."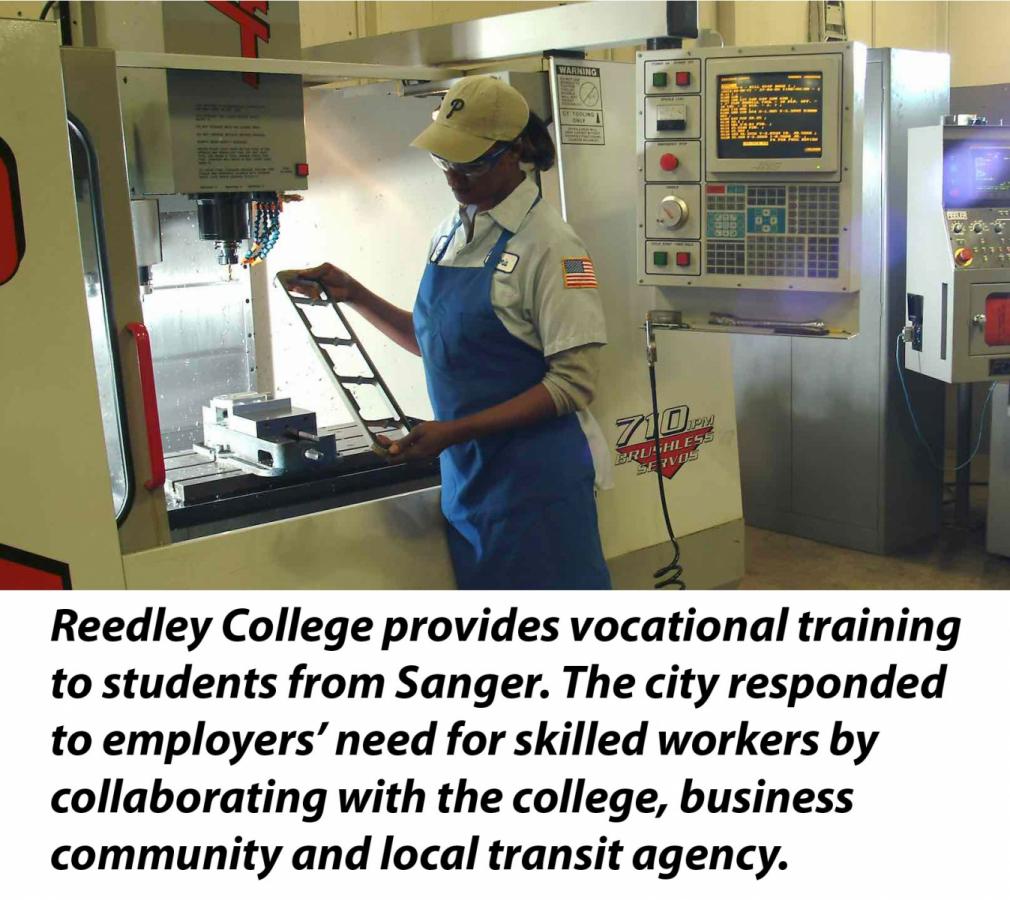 Making a Positive Impact
Local residents who are current or prospective employees of Sanger businesses are now acquiring many of the skills local employers need through Reedley College's vocational training programs.
ADCO Manufacturing produces packaging machinery and is one of the larger employers in Sanger. Greg Ashbeck, vice president of operations for ADCO, is enthusiastic about the Sanger Job Training Initiative. He says, "This program has been very successful in providing students with highly technical skills training, and many of those graduates are valued ADCO employees today."
Sandra Caldwell also appreciates the collaborative effort that is putting more Sanger job candidates into well-paying positions with Sanger-based industries. "Reedley College is so pleased to work with the City of Sanger and the local industry to help meet the economic development and workforce needs of the community," Caldwell says. "Through collaboration and the leadership of the City of Sanger and its local industries, access to critical diversified education in career technical education has been expanded for our students.
"The City of Sanger and Fresno County Rural Transit Authority went the extra mile to provide a public transit route between Sanger and Reedley, which has opened the door for Sanger students and community members to access Reedley College and its programs," she adds. "We look forward to a continuing positive relationship as we work together toward building a stronger community."
While Sanger continues to seek additional job training resources for its residents, the collaboration between the city, its major employers, Fresno County Rural Transit Agency and Reedley College has made it possible to provide well-trained employees to local industries, reduce the area's unemployment rate and improve the local economy.
Contact: Dan Spears, community development director, City of Sanger; phone: (559) 876-6300 ext. 1520; email: dspears@ci.sanger.ca.us.
---
Photo credits: Courtesy of the City of Sanger, Reedley College and League of California Cities
---
This article appears in the May 2016 issue of Western City
Did you like what you read here? Subscribe to Western City
---