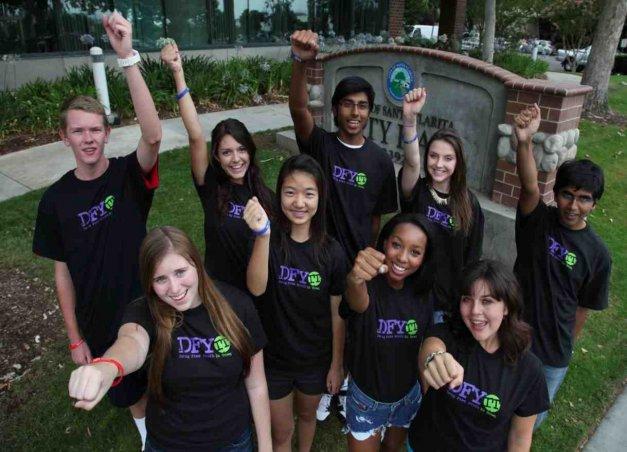 Santa Clarita Uses Collaborative Approach to Tackle Youths' Drug Abuse
The City of Santa Clarita won the Cities Counties Schools Partnership Intergovernmental Collaboration Award in the 2014 Helen Putnam Award for Excellence program. For more about the award program, visit www.helenputnam.org.
---
What causes kids from good homes and loving families to become heroin addicts? When your teenager's friends use your bathroom, do they go through your medicine cabinet? Are teens really having "pharm" parties where they combine different prescription medications into a communal bowl and take random pills to get high? These questions prompted the City of Santa Clarita and local law enforcement to re-examine issues related to drug abuse in the community.
Combating substance abuse among youths is a top priority for the Santa Clarita City Council, and the city and Santa Clarita Valley Sheriff's Department (which is a contract service provided by the Los Angeles County Sheriff's Department) have used several programs, initiatives and ongoing enforcement to tackle the problem. Despite this proactive approach, teen substance abuse increased. Heroin emerged as a drug of choice for Santa Clarita youths and young adults, and abuse of methamphetamine and prescription drugs became a growing concern. This upward trend in drug use was a nightmare for parents, a huge challenge for law enforcement and a serious concern for residents.
It was time to take a new approach before substance abuse gained a larger foothold. Local leaders recognized the need for an ongoing prevention program that directly engaged young people.
City, County and School District Launch Partnership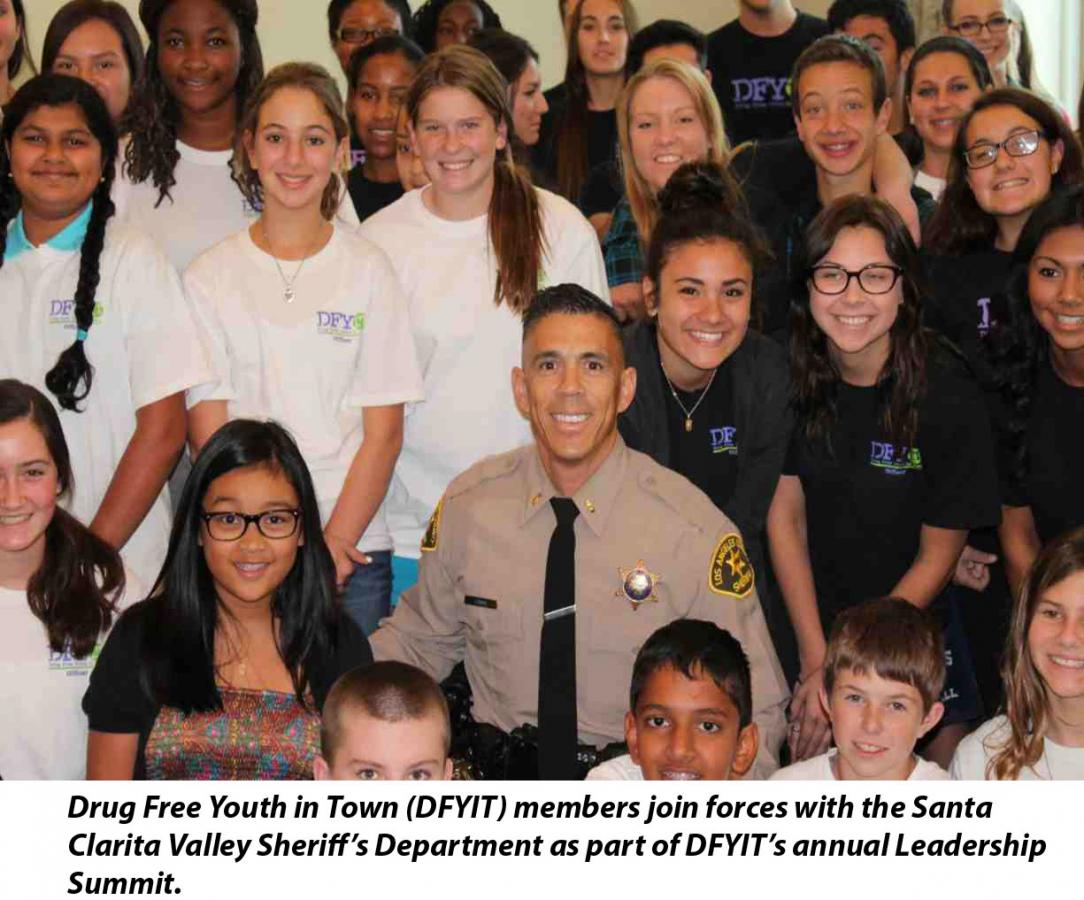 In 2012 the City of Santa Clarita partnered with the Los Angeles County Sheriff's Department, the Los Angeles County Fifth Supervisorial District and William S. Hart Union High School District to launch a new program. The Drug Free Youth in Town (DFYIT) program is a free, school-based, voluntary drug abuse prevention program that complements law enforcement efforts and local prevention and intervention programs.
Each partner agency plays a significant role in the effort. The City of Santa Clarita funds, staffs, manages and implements DFYIT in 13 public junior high and high schools. The local school district appoints a teacher from each campus to serve as DFYIT club adviser and provides meeting space, on-campus activities and off-site event transportation. The district also facilitates communication with parents.
The Los Angeles County Fifth District leverages the city's funding to implement DFYIT in unincorporated area schools. The Sheriff's Department provides technical assistance, guest speakers and updates on current drug trends. Community-based Action Family Counseling, a drug and alcohol treatment and rehabilitation program, conducts voluntary random drug testing of DFYIT members. Local businesses offer incentives for participants to avoid drugs.
"DFYIT is conducted in a school club setting that empowers and celebrates a drug-free lifestyle. Each club is run by students for students and provides a positive peer network that supports good choices," says Brad Albert, community services supervisor for the City of Santa Clarita. "The program gives teens ownership, control and responsibility for promoting a drug-free culture while learning important life skills and thriving in a healthy environment with like-minded peers."
Program Aims to Change Perspectives on Drug Abuse
City staff and school club advisers work with DFYIT officers to develop drug awareness events, community service projects, team-building activities and workshops. Club meetings focus on the harmful effects of drugs, substance abuse consequences and factors that can lead to drug use.
Staying drug-free is a mandatory requirement for DFYIT membership, so confidential, random drug testing is conducted throughout the year. The tests are not meant to be punitive, but rather give members a convenient excuse and an easy way out when pressured to use drugs.
"DFYIT is more than an anti-drug program. It's a grassroots initiative aimed at changing perspectives on drug use within our community and society as a whole," says Kathy Hunter, director of student services for the William S. Hart Union High School District. "Each campus club has its own unique culture and offers a venue for students to make friends, participate in community service opportunities, fun activities and leadership training and have positive experiences that encourage each individual to make good choices."
DFYIT members also host "Lifelines" assemblies at local elementary schools to engage, educate and connect with sixth-grade students. The presentations help prepare younger students for the transition to junior high school and introduce them to DFYIT, with the goal of increasing their chances of joining the program in high school.
Parent involvement also plays a vital role in DFYIT. Drug education classes and webinars are offered to increase awareness and provide parents with tools to help their kids stay away from drugs and alcohol. Parents can volunteer at events and participate in club activities and workshops. The program also hosts a website at http://dfyitscv.com.
DFYIT's combination of curriculum, drug testing, community service, positive peer influences and parental involvement is an all-encompassing approach to drug prevention that is proving to be successful. Heroin use in Santa Clarita has decreased, and documented deaths from heroin overdoses have dropped by 75 percent since the program's inception. The Santa Clarita Valley Sheriff's Department attributes this dramatic improvement to programs like DFYIT, coupled with renewed and focused enforcement efforts.
"From a law enforcement standpoint, DFYIT is an excellent resource for Santa Clarita," says Roosevelt Johnson, a captain with the Santa Clarita Valley Sheriff's Department. "The program empowers youths to maintain a drug-free lifestyle, be active in the community and learn valuable leadership skills."
Measuring the Program's Progress
The DFYIT program is expanding, with club membership increasing by 47 percent in the second year of implementation. Continued growth is anticipated as students find the value of belonging to the program.
Ninety-nine percent of DFYIT participants have remained drug-free. Additionally, DFYIT members have delivered their message to more than 24,000 junior high and high school students thus far. Lifelines assemblies reached more than 1,000 sixth grade students in 2013, and another 3,600 sixth grade students in the 2013–14 school year. Members also brought their enthusiastic drug-free message to the public by completing more than 2,480 hours of community service.
The DFYIT partnership serves as a powerful tool in the fight against teen substance abuse. The collaborative effort and use of resources is steadily shifting the entire community's culture — one drug-free youth at a time.
Contact: Janine Prado, human services administrator, Parks, Recreation and Community Services Division, City of Santa Clarita; phone: (661) 250-3716; email: jprado@santa-clarita.com.
---
Photo credits: Courtesy of the League and City of Santa Clarita
---
This article appears in the January 2015 issue of Western City
Did you like what you read here? Subscribe to Western City
---