Santa Monica Opens Career Doors for Young Girls
The City of Santa Monica won a Ruth Vreeland Award for Engaging Youth in City Government in the 2011 Helen Putnam Award for Excellence program. For more about the award program, visit www.HelenPutnam.org.
---
Adolescence can be a difficult time — particularly for girls, who often feel mounting pressure to follow trends and be like their friends. At the same time, a strong sense of self starts to emerge, often in direct opposition to the need to be accepted as "normal." The resulting internal conflict ultimately can have a ripple effect on academic achievement and aspirations. To help girls navigate this sometimes challenging phase, in 2001 the City of Santa Monica adapted a national model program created for private nonprofits and added civic engagement to the curriculum.
The City Becomes a Classroom
Each summer, as part of the Rosie's Girls Santa Monica program, more than 60 girls between the ages of 11 and 13 don hard hats, wield hammers and take blowtorches in hand as they go behind the scenes to find out what it really takes to run a city. Over the course of three intense weeks, the girls actively take part in nearly all city functions from carpentry to plumbing, tree trimming and more. They also sit in the hot seat behind the dais at a mock city council meeting. The combination of creative expression and daily challenges increases leadership capacity, stimulates critical thinking about gender equity and has participants looking forward to more.
"Our program takes the original Rosie's Girls model one step further by transforming the participants' hometown into a classroom," says Julie Rusk, human services manager for the City of Santa Monica and co-founder of Rosie's Girls Santa Monica. "Learning about a city from the inside out creates an extraordinary opportunity to connect girls with their community, while having lots of fun."
Building Decision-Making Skills
A financial literacy section is just one way Rosie's Girls Santa Monica makes this happen. This program component helps girls develop an understanding of municipal budgetary issues and fiscal decision-making, which are especially important lessons given the current economic climate. During a mock city council meeting in council chambers, participants debate social and economic issues. Representatives from the City Manager's Office give the girls an overview of the budgeting process and simulate dilemmas that council members and city administrators may encounter. CityTV works with the girls to film a mock council meeting; the footage is used to help them evaluate their public speaking and problem-solving skills. By the time they complete the program, the girls' real-world view into local government gives them a better understanding of their role as citizens and how divergent community perspectives influence city work.
From finance to fire protection and everything in between, staff throughout the city contribute time and expertise. About 80 city staff and members of community organizations participate each year. CityTV Manager Robin Gee says, "I'm proud to be part of a program that removes boundaries and stereotypes."
Program Includes Community Service
Involving the business, nonprofit, arts and education communities helps round out the program with community service. Rosie's Girls have worked on projects involving a domestic violence shelter, a child and family development center and a senior center, all of which are funded by the city's Human Services Grants Program. These projects help the girls understand the connection between the public and private sectors.
As Rosie's Girls Santa Monica has grown, so has its scope. Several leadership opportunities now extend beyond the core summer program, allowing alumnae to participate year-round. Each step on this leadership ladder offers chances to further hone skills while mentoring younger program participants.
"It has been fulfilling to witness the transformation of these young girls as they nervously practice public speaking at the mock city council meeting, and then a year later as they stand confident before our city council members and commissioners to discuss what they feel is important in their community," says Jennell Maze, a licensed clinical social worker who has participated in the program for several years.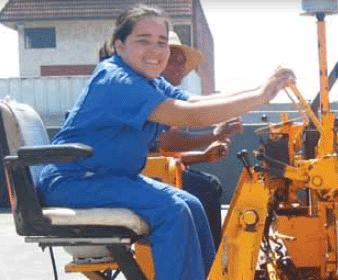 Empowering and Inspiring Girls
A recent study of the Rosie's Girls past and present found that 96 percent of respondents reported increased overall confidence, with 97 percent indicating that the program made them believe they could do and be whatever they wanted. Parents often notice this change in their daughters. Eugene, a Rosie's Girls father, believed he could see confidence building in his daughter thanks to the program; he was sure it would benefit her throughout her life. Kawal, a Rosie's Girls mother, reported that her daughter had become more helpful at home and more outgoing when communicating with others.
The program has also created a stronger community. Among past participants, 90 percent reported increased community service and advocacy and 88 percent assumed leadership roles in various settings.
By exposing young women to civic functions, professional careers and technical trades, Rosie's Girls Santa Monica encourages them to expand their view of what they can achieve and enhances their sense of community at a particularly vulnerable time in their development.
Contact: Carla Fantozzi, principal supervisor, community services programs, Human Services Division, Community and Cultural Services Department, City of Santa Monica; phone: (310) 458-8688; email: carla.fantozzi@smgov.net.
---
This article appears in the September 2012 issue of Western City
Did you like what you read here? Subscribe to Western City
---