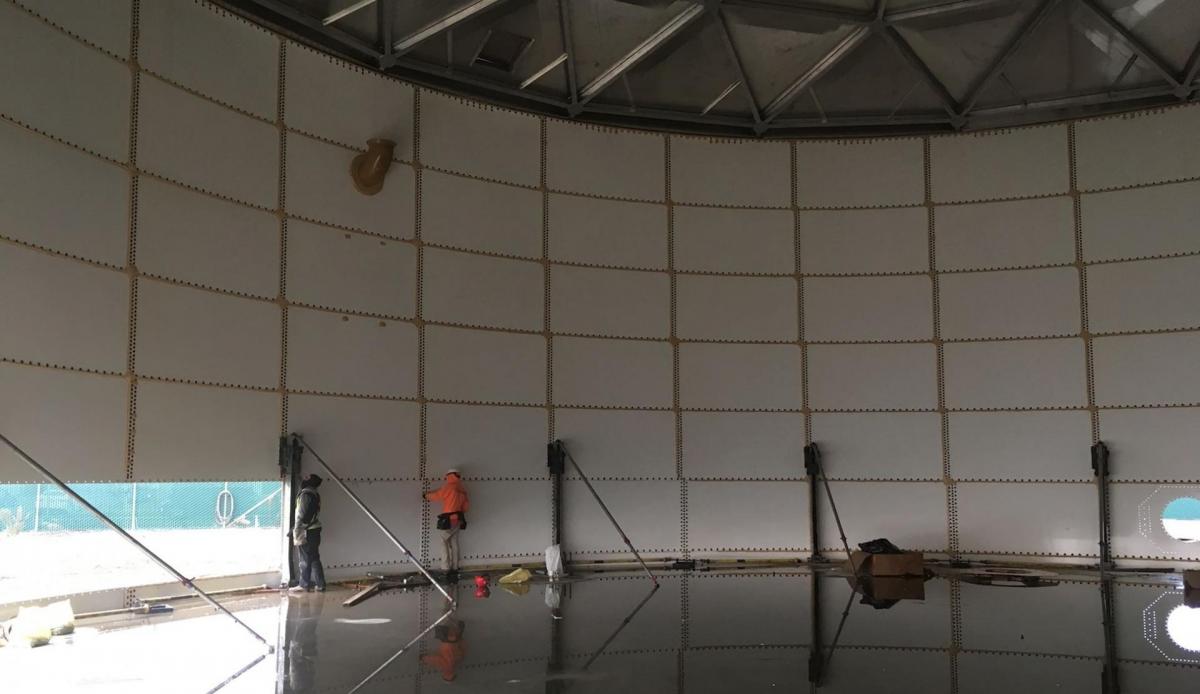 Small Cities Fund Public Works Infrastructure Projects With Clean Energy Savings
Brian Haddix is the former city manager of the cities of Sanger and Chowchilla and can be reached at brian530@comcast.net.
How can a city shift its power supply to clean energy, create jobs, complete projects on its deferred maintenance list and improve its bond rating — without raising taxes or local water and sewer utility rates? Simple: issue bonds against the savings created by using solar power versus staying on the traditional route of using increasingly expensive power from the investor-owned utility.
This is exactly what the cities of Sanger and Chowchilla did.
Rising Rates, a Recession and Lackluster Revenues Drive Change
In 2011, the City of Sanger (pop. 27,094) was struggling financially. It was grappling with deferred maintenance to its wastewater treatment plant and city water system and did not have the funds to make needed repairs. Implementing energy and operational efficiencies in its facilities offered the only solution. If done right, this strategy could also meet the city council's goal of enhancing services to residents while moving forward on environmental stewardship.
The catalyst was an ever-increasing Pacific Gas and Electric (PG&E) power bill of $1.5 million per year. An inefficient wastewater treatment plant consumed approximately 40 percent of the total bill. Electricity rates were rising 5 to 8 percent annually, revenue growth was less than 1 percent per year and the city had exhausted all traditional options for cutting costs. In addition, Sanger was struggling in the face of the Great Recession, burdened by a 25 percent unemployment rate and a community unable to afford a local utility rate increase.
"The City of Sanger was at a financial crossroad," says former Sanger Mayor Joshua Mitchell. "We needed to be smarter in how we spent the people's money while fostering economic development. This started with a classic public-private partnership business venture designed to construct one of the largest municipal solar arrays in the region that would produce cheap, clean power for city operations — all done with absolutely no increase to local utility bills."
Reducing Financial Risk for the City
Sanger used energy savings performance contracting as the vehicle for clean energy conversion to power the city and control its energy costs. This involved hiring an energy service company (ESCO) that identifies specific energy efficiency projects, costs and savings achieved through the efficiency projects. The ESCO planned to replace traditional PG&E electricity supplies with lower-cost clean energy. This information was compiled into an energy audit that was provided to the financial market as a basis for funding. That allowed bond companies to document the future savings achieved through the energy efficiency and clean energy power, compared with staying with PG&E. With the savings identified, the city sold lease-revenue bonds backed by the quantified future savings to fund construction of the project, paid off the bonds and established a reserve. Another important part of the performance contract required the ESCO to guarantee the energy savings; if the actual savings fell short of projections, the ESCO would pay the difference. This shifted the financial risk from the city to the ESCO. In short, the city was funding today's projects with tomorrow's savings, the ESCO assumed the risk and residents saw no increase in local utility rates.
Sanger used $13.48 million in future energy savings to:
Construct a 1.1 megawatt ground-mounted solar array with tracking technology;
Install 6,040 automated water meters and a leak detection system that telemetrically relays data directly to City Hall;
Make extensive wastewater treatment plant improvements;
Replace all roofs and heating, ventilation and air conditioning (HVAC) systems on city buildings;
Install new LED exterior lights at city facilities;
Replace pump controls for the community swimming pool;
Upgrade city water wells with variable frequency drives so that they were no longer either running at full speed or not at all; and
Develop a maintenance strategy to ensure that operational savings are achieved.
Sanger's approach succeeded in several ways. The contract with the ESCO required that it hire 75 percent of its labor locally. The ESCO partnered with an employment service to train residents to install solar panels, HVAC systems and more. By the conclusion of the contract, the project's local employment rate was 89 percent, and many residents had acquired new marketable skills.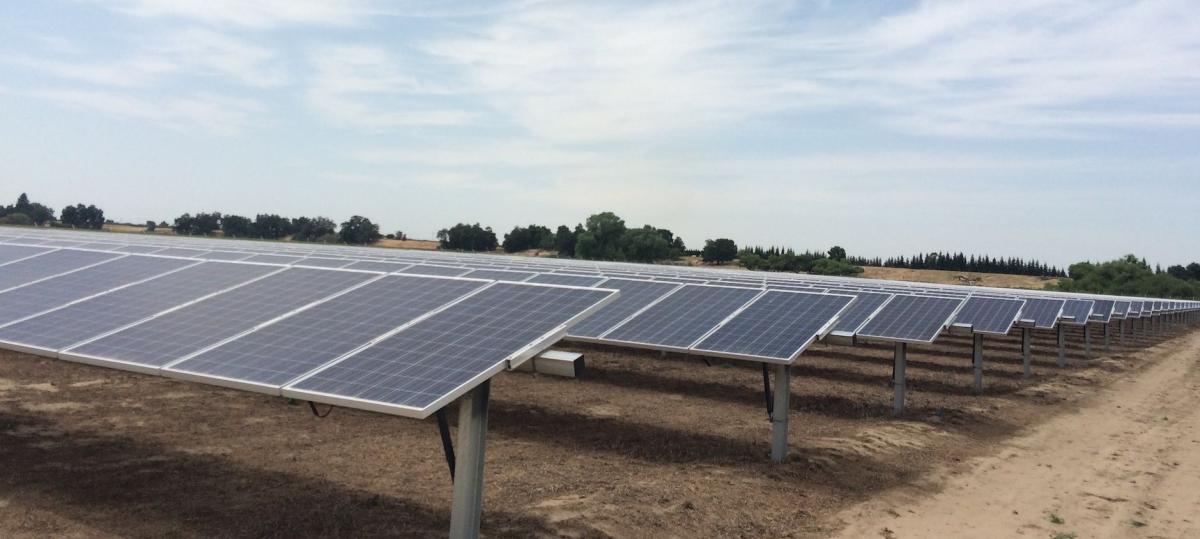 Water-Related Infrastructure Issues Threaten Chowchilla
The City of Chowchilla (pop. 18,742) modeled its clean energy program on Sanger's approach. Like Sanger, the community was economically disadvantaged and had an aging infrastructure. But Chowchilla's water table was dropping at an average rate of 10 feet per year, causing well casings to twist and crack and wells to run dry. The city had also deferred maintenance on numerous old wells. Chowchilla depended entirely on groundwater for residential, commercial and public safety needs and faced a crisis when multiple wells failed and water pressure dropped to precarious levels.
"It was a nightmare," says Chowchilla Public Works Director Jason Rogers. "We just didn't have the money for repairs."
In 2015, Chowchilla was spending $850,000 per year on electric utilities. The city could capture $28 million in savings by shifting its power supply from PG&E to solar and bonding against the savings spread over the next 20 years (with the assumption that PG&E rates would continue to climb at 5 to 8 percent annually). As in Sanger, these bonds would be repaid with future power savings. As PG&E power rates climbed and annual bond payments stayed relatively constant, the city realized future savings and applied them to much-needed infrastructure.
In addition to bond proceeds, the City of Chowchilla utilized Proposition 1 funding, state incentives and rebates. Making the financing even more compelling was the use of federal Clean Renewable Energy Bonds, which provided buyers with a tax credit in lieu of interest payments. That reduced Chowchilla's cost of borrowing by 4.8 percent and freed more money to be applied to infrastructure.
Self-Supporting System Avoids Need for Rate Increases
Like Sanger's clean energy program, Chowchilla's system paid for itself without any increases in local utility rates to subsidize capital improvements. Today, Chowchilla's wastewater treatment plant services 80 percent of its power demands with solar energy. The remaining 20 percent is captured through increased efficiencies that will be funded with the energy savings from the solar array.
In addition, Chowchilla's wastewater treatment plant utilizes a microgrid battery system that serves as an "arbitrageur," storing off-peak PG&E power and power generated by the solar array, then feeding it back into the plant's grid during times when PG&E's peak demand rates spike. In this way, the $3.3 million facility returns $8 million in savings.
Electricity from the 5,058 solar panels was also used to offset other city facility power demands. These projects included:
Retrofitting city facilities to become more energy efficient;
Powering city facilities and water wells with clean energy;
Installing booster pumps that increased municipal water pressure citywide;
Immediately drilling a new well and setting aside money for a second well later; and
Building two 750,000-gallon water tanks.
Additional Benefits and a Model Approach
The approach also benefited economic development and public safety. The second water well and storage tank were constructed in the city's industrial area, and the upgraded infrastructure and increased water pressure helped lower insurance rates through an improved rating.
As in Sanger, none of the cost for Chowchilla's projects required increases in local utility rates; all were paid through energy savings using solar power and a microgrid. Furthermore, the clean energy produced by the solar array reduces carbon dioxide emissions by 5.2 million pounds per year or 104 million pounds over the program's 20-year lifespan. The clean energy conversions not only generated savings for the city treasury, but also improved air quality and enhanced the quality of life enjoyed by all residents.
These projects offer examples of innovative thinking and serve as models for other cities grappling with similar challenges.
---
This article appears in the July 2019 issue of Western City
Did you like what you read here? Subscribe to Western City