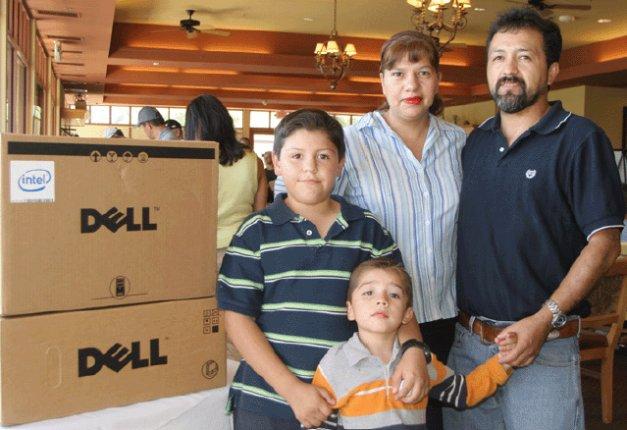 SmartRiverside Transforms Community and Fosters Innovation
The City of Riverside won the League Partners Award for Excellence in City-Business Relations in the 2012 Helen Putnam Award for Excellence program. For more about the award program, visit www.helenputnam.org.
---
Riverside was one of the nation's wealthiest communities in 1900. Jobs were plentiful, and businesses were thriving. By the late 1990s, things had changed dramatically. Riverside had evolved into a commuter community with low-paying local jobs, and many permanent residents lacked college degrees. Some neighborhoods had deteriorated, and crime rates had risen. Many residents were commuting two hours daily seeking higher-paying, more attractive career opportunities elsewhere.
The community and Riverside's leaders were concerned about five key issues:
A large digital divide. Riverside had a large (30,000+) population of disadvantaged and struggling residents who were not familiar with computer technology and thus lacked the educational and career opportunities associated with computer literacy and Internet access.
Limited Internet access. None of the major telecom carriers offered high-speed Internet service through 2005. Their dollars and efforts were instead focused in nearby Los Angeles, Orange and San Diego counties.
Graduates fleeing the college town. Nearly 20 percent (55,000+) of Riverside's population comprises students enrolled in one of the city's four higher-education institutions. After graduating, most left Riverside for higher-paying jobs elsewhere.
High-tech businesses were not locating there. A study commissioned by then-Mayor Ronald Loveridge and city management concluded that high-tech businesses with high-paying jobs were not locating in Riverside because of the shortage of skilled labor, a state government that was making it difficult to do business in California, the presence of few existing high-tech companies and no comprehensive city plan to attract or grow them. The study group was challenged to solve these problems.
Community organizations not working together. Despite the presence of outstanding innovative talent, the city, university and business communities were not focused on how they could work together and leverage technology to create a more vibrant, attractive community.
Mayor Challenges Community Leaders
Riverside needed to change. Mayor Loveridge challenged city, university and community leaders in 2004 to develop recommendations for city action to improve high-tech economic development. Their recommendations included:
Focusing on global competition;
Embracing technology businesses to also bring growth to traditional industry sectors (including retail, entertainment and hospitality businesses);
Attracting and retaining graduates;
Ensuring advanced Internet access for businesses and citizens; and
Charting a clear path to sustainable economic growth through strategic use of technology and innovation.
Taking Action
As a result of these recommendations, Riverside's high-tech businesses, city leaders, community organizations, universities, government agencies, high-tech suppliers and venture capitalists joined together in 2005 as SmartRiverside to help create one of the country's leading digital cities with economic development hot spots, regions for job growth, and attractive places to live, work and enjoy. SmartRiverside took action in these areas:
Bridging the Digital Divide. SmartRiverside's digital inclusion program offers Riverside's low-income families the available resources to take advantage of new technologies.
Providing Free Citywide Wi-Fi. SmartRiverside launched a citywide project to deliver free Wi-Fi to all Riverside residents. The city partnered with AT&T, which expanded the network to cover 78 percent of the city's developed area (50 square miles) before transferring the network to the city in 2010.
Free Computers and Internet Access. Low-income families (approximately 10 percent of the city's population) willing to spend eight hours in free certified classroom training (available both in English and Spanish) receive free refurbished computers loaded with software, a wireless broadband access device, free support (including replacement) and free Internet access, as long as they reside in Riverside and earn $45,000 or less in family income.
Gang Prevention Program. SmartRiverside staff includes former "at-risk" youth from Project BRIDGE (Building Resources for the Intervention and Deterrence of Gang Engagement). Program participants rebuild computers, operate the region's largest e-waste collection program, sell components on eBay, manage a Smartstore, handle walk-in and phone customers, and support business shows, expos and SmartRiverside's charity golf tournament.
Turning Riverside Around
Thirty-five high-tech companies have established headquarters in Riverside, and five have created high-tech incubation and commercialization centers where 15 startups have initiated operations during the past three years. Attraction incentives include collaboration with Riverside's most successful companies, a single point-of-contact ombudsman service, tenant improvements — so far, 12 companies have received $20,000 — employee relocation dollars, electric bill discounts (of 40 percent) and mortgage assistance.
SmartRiverside has helped the city earn recognition as one of the world's leading digital communities and was recognized as the Most Intelligent Community of the Year for 2012 by the Intelligent Community Forum.
Six thousand low-income families have benefited with free PCs, training and Internet access from SmartRiverside's Digital Inclusion program, with 100 or more benefiting every month.
SmartRiverside has outfitted schools, community centers and libraries with computer labs. Schools actively market the SmartRiverside Digital Inclusion program to help ensure that no student goes without technology or Internet access.
Three former "at risk" youth are now full-time employees of Xerox. One supervises the digital inclusion program. All are pursuing college degree programs and have learned skills that qualify them for employment in a technology position. One former staff member recently found a career position with a health-care facility in another state.
SmartRiverside's e-waste center collects more than 10,000 pounds of e-waste each month, which generates $5,000 in credits toward components needed for its computer refurbishment program. Its sponsorships and charity golf tournament generate more than $150,000 each year. These funds help sustain all costs associated with the digital inclusion program.
Winning Results
SmartRiverside serves as Riverside's platform for innovation. It has helped transform the city by promoting high-tech businesses, encouraging collaboration and creating a forum for communication between students and high-tech organizations.
Contact: Lea Deesing, City of Riverside chief innovation officer and SmartRiverside executive director; phone: (951) 826-5109; email: ldeesing@riversideca.gov.
---
This article appears in the June 2013 issue of Western City
Did you like what you read here? Subscribe to Western City
---