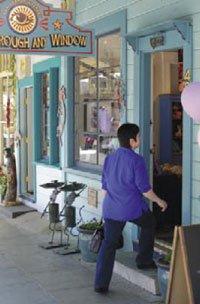 Sonoma Cultivates Small Business Growth and Economic Development
Home of the last Spanish Mission, the Bear Flag Rebellion and world-class wines, the City of Sonoma has long partnered with the Sonoma Valley Visitors Bureau to sustain tourism, its number one industry. But small businesses, which make up the majority of the city's economy, were on their own.
In 2004, the city and the Sonoma Valley Chamber of Commerce (SVCC) formed a new partnership to promote local economic development. Unable to afford staff dedicated to one program area, both agencies pooled resources to hire a part-time economic development project manager who would report to a steering committee composed of the city manager, a council member, the SVCC chief executive officer and an SVCC board member.
The city set aside $45,000 to pay the independent contractor, who would be the project manager, and an additional $30,000 for program costs. The SVCC provided meeting space, business cards, stationery, the services of its office staff, space in its monthly publications, and production of brochures and media materials.
"The key to the success of this program was its hands-on approach to problem-solving," said Pamela Gibson, who was hired to manage the program. "Being available to meet with business owners one-on-one to help them sort through their issues had not been done before."
An additional partnership was immediately created with the Redwood Empire Small Business Development Center, affiliated with Santa Rosa Junior College. The group provided a professional counselor for existing businesses one day a week in the SVCC conference room. The economic development project manager handled counseling for business start-ups, providing a checklist of necessary licenses and permits with relevant addresses and phone numbers, sources for business financing and — when needed — hand-holding for those going through a regulatory process. "Starting a new business is challenging enough without the added uncertainty of going through a conditional use permit process or design review," said Gibson. "I think it comforts people to know someone will be sitting next to them, taking notes and helping them follow through."
New Economic Strategy for the City and Beyond
The economic strategy and its action plan were completed and adopted by both the SVCC board and the city council in June 2004. The goals were to:
Assist and promote business retention and expansion;
Work with the county to enhance business in areas outside the city limits;
Support tourism;
Attract new businesses that would complement the community;
Enhance Sonoma's image as a business-friendly valley;
Work with schools and nonprofits to provide workforce training; and
Support economic development that would improve the environment.
During the first full year of the program, which ended in May 2005, 41 key leaders were contacted and 140 businesses received marketing tips, start-up or expansion counseling, regulatory compliance assistance or financial resource information. A database of vacant spaces available for lease was also established and is still updated monthly. In addition, 52 participants attended an economic summit, representing retail, industrial, tourism, nonprofit, education and government sectors. The purpose of the summit was to provide goals and objectives for a new economic strategy for the city.
"It became very clear that the program could not be limited to the City of Sonoma," said Gibson. "There were busy economic areas outside the city limits that needed the same kinds of services the city was providing. The economic strategy would have to be written for the entire valley."
"The emphasis was on 'growing your own' businesses, rather than seeking to transplant businesses from other communities," said Gibson. "Land and housing costs were too high to induce industrial development, and incentives were not possible because most of the available land was in unincorporated areas south of the city limits."
But there was a growing number of entrepreneurs in an unincorporated area north of the city, and many needed the business services provided by the partnership. So the County of Sonoma, through its Highway 12 Redevelopment Project Area, became a partner, joining the steering committee and adding funds for specific services.
Language concerns were also addressed at this stage. "Many of the new business owners in the corridor are Hispanic," said Gibson. "Regulatory processes can be particularly bewildering when your roots are in a different culture. But we had a translator on the chamber staff and soon had our materials translated into Spanish."
City, County and Business Community Work Together
With the program now in its third year, the successes have been significant, and the program continues to be popular with the business community. Some of the successful outcomes include the continuation of a business counseling service for established businesses through the Redwood Empire Small Business Development Center, as well as counseling for start-ups with the project manager. She serves both as a one-stop resource and referral adviser, linking up businesses to various services, and as an ombudsman for businesses seeking redevelopment loans or help with solving code or process issues. Laurie Decker, who took over as project manager in mid-2006, assists approximately 25 businesses each month.
The program communicates with the business community and the public at large through print, mail and the Internet. Print materials include brochures covering subjects like "green" business practices and on-site workforce training opportunities. There is also a start-up packet for new businesses. Articles on economic development have been featured in the SVCC's Sonoma Business. A "Doing Business" page has also been added to the city website. To encourage local shopping and dining, holiday ads were placed in newspapers and decorations displayed on main thoroughfares.
Other successful results include the continuation and expansion of the database of vacant commercial spaces, which is updated monthly and posted online, and the establishment of business recognition programs like the New Business Welcome Reception and Green Business Awards program. A workshop series began in early 2007 featuring subjects such as obtaining financing and using the web to grow your business. And perhaps a final sign of the program's success: Its costs have been under budget every year since the program was implemented.
"This program has reduced retail vacancies, promoted local businesses and made the business community feel appreciated and supported," said Gibson. "Best of all, it has brought the city, the chamber, the county and its businesses closer as they work together for a common purpose."
Contact: Laurie A. Decker, economic development project manager, Sonoma Economic Development Partnership; phone: (707) 327-7338; e-mail: laurieadecker@comcast.net.
---
This article appears in the May 2007 issue of Western City
Did you like what you read here? Subscribe to Western City
---